UAEU United Arab Emirates University
Home ›
UAEU United Arab Emirates University


The United Arab Emirates University (UAEU) is a comprehensive, research-intensive university enrolling approximately 13,900 students, with more than 900 faculty and 65,000 alumni holding key positions in government, industry, commerce, and all business areas throughout the region. International students and faculty representing more than 65 countries enrich and enliven the campus and classrooms while providing stimulating cultural diversity.
As the country's flagship university, UAEU offers a full range of internationally accredited high-quality graduate and undergraduate programs through its nine colleges in almost all major disciplines.
Since its inception in 1976, UAEU has evolved from an undergraduate teaching institution to a comprehensive university with greater emphasis on a research mission.
As a research-intensive university, UAEU works with its partners in the industry to provide research solutions to challenges facing the nation and the region. Nine research centers of strategic importance to the country and the region are advancing knowledge in critical areas.
In addition, the Science & Innovation Park, through its business incubators, serves as a hub for innovation, entrepreneurship, and leadership to foster the transitioning of the UAE economy towards a knowledge economy.
With its distinguished faculty, state-of-the-art campus and a full range of student support services, UAEU offers a living-learning environment that is unmatched in the region. UAEU is a mature university with significant accomplishments and a clear trajectory for continuous improvement with a goal to be recognized internationally as one of the world's best universities.
Colleges
The United Arab Emirates University has 9 separate colleges, in addition to the College of Graduate Studies and University College, hosting a comprehensive range of academic disciplines and departments.
Please visit the College pages to learn more.
University College
We are committed to excellence through creating a vibrant learning environment, and providing state-of-the-art learning facilities.
College of Business and Economics
The CBE is featured with its effective learning environment, distinguished study plans to assist students to build their future.
College of Humanities and Social Sciences
At CHSS, we promote advanced scientific research, create strong ties with the society and consolidate heritage and community service.
College of Information Technology
Our College is an ideal place that nurtures personal, intellectual, and technical growth and we are proud of our successful graduates.
College of Engineering
The College of Engineering offers distinguished, internationally repeatable programs, and strives to achieve sustainability in various fields.
College of Education
Providing modern teaching methods, the College of Education offers programs that meet the UAE educational requirements to build a distinctive knowledgeable society.
College of Law
The College of Law has a prestigious status regionally and provides research-based programs to meet the UAE society's needs.
College of Food and Agriculture
The CFA is committed to student success and offering academic programs that adopt critical thinking to acquire students with the skills required in the competitive job market.
College of Science
We provide a distinguished experiment-based learning environment to prepare graduates equipped with quality technical skills and expertise in line with international standards.
College of Medicine and Health Sciences
We provide a distinguished experiment-based learning environment to prepare graduates equipped with quality technical skills and expertise in line with international standards.
College of Graduate Studies
We offer the best programs and facilities to help students meet their aspirations of studying graduate programs. We also offer various full and partial scholarships for different programs.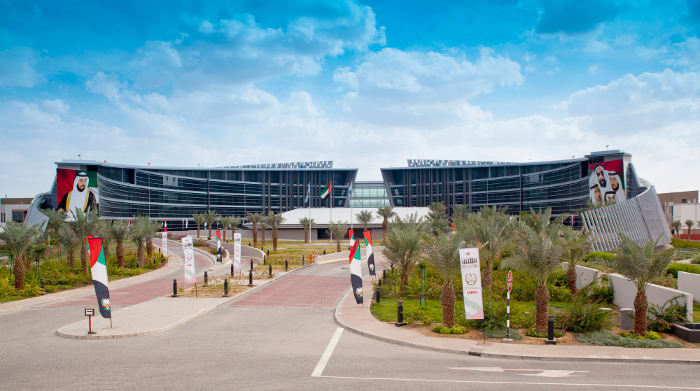 Locations
Abu Dhabi
Address
Reem Island, 8th floor of Sky Tower
Abu Dhabi
,
Abu Dhabi
,
United Arab Emirates
Al Ain
Address
Sheik Khalifa Bin Zayed Street
Al Ain
,
Abu Dhabi
,
United Arab Emirates
Dubai
Address
Hamdan bin Rashid Al Maktoum Center for Giftedness and Innovation,
Al Beda'a
Dubai
,
Dubai
,
United Arab Emirates