Wake Forest University - School of Business
Home ›
USA ›
Wake Forest University - School of Business
Read more on the school's website
Founded in 1834, Wake Forest is a private, coeducational collegiate university based in Winston-Salem, North Carolina. One of the leading institutions of its kind, Wake Forest blends the intimacy of a liberal arts college with the academic vitality of a research university. At the heart of Wake Forest is the teacher-scholar ideal. Professors are committed to personalized teaching and to their students' individual development. Guided by our motto Pro Humanitate (For Humanity), Wake Forest is dedicated to an ethically informed education in a climate that values personal growth, community interaction and individual honor.
Developing the Whole Person
At the School of Business, our mission is to shape the whole person. We help businesses create a better world through developing passionate, ethical business leaders who get results with integrity and thought the leadership that is visible and positively impacts the practice of business. We invite students who believe that accomplishment is defined by hard work, collaboration and character to join us in making a positive and lasting impact on the noble profession of business.
Meaningful Results
As a result of our commitment, the Wake Forest School of Business has consistently placed among the world's best by major ranking organizations. Our attention to competency and character leads to proven results for graduates, who enjoy the prestige of completing the rigors of our top-ranked programs, and the lifelong advantages of a robust alumni network. Our graduates attain personal success while committing themselves to higher causes. The strong core philosophies of our business programs produce principled leaders who exert influence far beyond campus and the corporate world.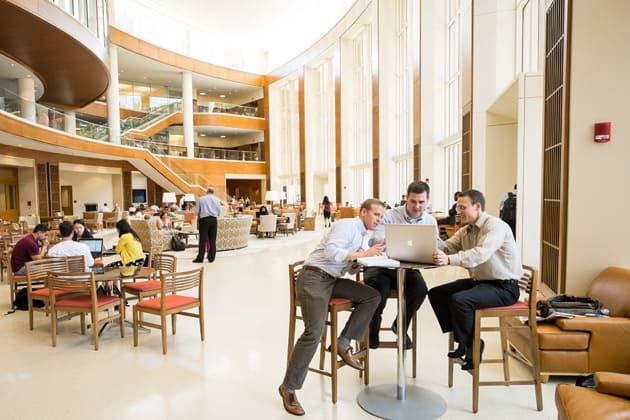 Wake Forest Reynolda Campus in Winston-Salem
Anchoring the Piedmont-Triad region of North Carolina, Winston-Salem's balance of urban opportunity and natural beauty consistently earns it high national marks for quality of life. With temperatures averaging a pleasant 69 degrees, the "City of Arts & Innovation" is a vital hub halfway between North Carolina's eastern beaches and western mountains. Winston-Salem, home of the Wake Forest main campus, has been nationally ranked among the best places to launch a business by the likes of Forbes and Money Magazine, and Bloomberg Businessweek included it among the ten most "Fun, Affordable" cities in the United States. The crown jewel of the Reynolda Campus is Farrell Hall, the new home of the Wake Forest University School of Business. The $55 million, 130,000 square foot facility opened in the fall of 2013, integrating state-of-the-art technology and flexible learning spaces with august Georgian architecture to inspire comfortable, a streamlined collaboration between faculty and students.
Wake Forest Charlotte Center
The Wake Forest experience is too important to confine to a single city. Our second campus in North Carolina's largest city, Charlotte, extends the Wake Forest brand and puts students even closer to concentrations of power in the business world. A major financial center with assets second only to New York, the "Queen City" serves as headquarters for giants such as Bank of America and Wells Fargo as well as professional sports teams such as the Carolina Panthers and the Charlotte Hornets. Responding to a tripling of its part-time MBA student population since 1995, Wake Forest University relocated its Charlotte campus to nearly 30,000 square feet of space in 2012. Residing near some of the city's most influential businesses, steps away from the diverse shopping and dining options of uptown Charlotte, this urban campus provides practical convenience and state-of-the-art services to the busy working professionals enrolled in our programs.
Wake Forest University is accredited by:
AACSB International, The Association to Advance Collegiate Schools of Business, which represents the highest standard of achievement for business schools worldwide. Accredited institutions confirm their commitment to quality and continuous improvement through a rigorous and comprehensive peer review. The Southern Association of Colleges and Schools Commission on Colleges, which is the regional body for the accreditation of degree-granting higher education institutions, serving as the common denominator of shared values and practices among the diverse institutions in the Southern states that award associate, bachelor's, master's, or doctoral degrees.
Locations
Winston-Salem
Wake Forest University School of Business
Address
Wake Forest School of Business
1834 Wake Forest Road
Building 60, Farrell Hall
Wake Forest University

NC 27106
Winston-Salem
,
North Carolina
,
USA
Charlotte
Address
Charlotte
,
North Carolina
,
USA
Accreditations