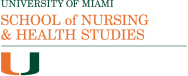 University of Miami School of Nursing & Health Studies
Home ›
USA ›
University of Miami School of Nursing & Health Studies
For 70 years, the University of Miami School of Nursing and Health Studies has established a world-class program for the study of healthcare education. Our faculty and staff include some of the nation's premier educators, clinicians and research scientists. Industry leading experts, a challenging curriculum and more that 170-clinical partners combine to provide one of the finest healthcare educational programs in the world.
Thanks to an investment in "excellence" in the field of healthcare education, University of Miami School of Nursing and Health Studies graduates today are pioneers on the front lines at some of the top healthcare facilities and research institutes in the world. As the next generation of clinicians and research scientists, our graduates will play a major role in the transformation and future of global healthcare.
At the School of Nursing and Health Studies, "excellence" is more than just rhetoric; it is the standard we live by in our teaching, research practice and mentoring. For 70 years, the School of Nursing and Health Studies has set the standard of excellence as a leader in healthcare education. Our continued dedication to world-class education and scholarship led to the creation of the five-story, 41,000-square-foot Simulation Hospital for Advancing Research & Education (SHARE™). SHARE™ is one of the nation's first education-based destination centers for simulation immersion. Our state-of-the-art facilities solidify our position among healthcare education programs worldwide.
Outstanding educators and researchers recognized for their decades of experience, leadership and expertise will be your colleagues. Our faculty includes some of the most talented educators, clinicians and research experts found at any healthcare facility in the world. You will have the opportunity to participate in local and international major faculty research efforts, often leading to publication in international health/medical journals and presentations at leading healthcare conferences around the world.
Miami's dynamic cultural mix and our school's commitment to excellence in education and culturally sensitive care provides an unmatched curriculum and prepares our graduates to work in a variety of healthcare settings with diverse populations. Our curriculum integrates evidence-based practice, cutting-edge simulated learning and real-world experience. Unmatched rigorous academic and clinical preparation serves as a catalyst for some of the highest state board passing rates in the nation. In 2017, our NCLEX passing rate was 97.22%.
The School's curriculum includes programs leading to a B.S in Health Science, B.S.N., M.S.N., D.N.P., and a research-based Ph.D. Our nursing programs are accredited by the Commission on Collegiate Nursing Education, American College of Nurse-Midwives, and Council on Accreditation of Nurse Anesthesia Education programs. The school offers an Accelerated B.S.N. program for individuals who hold undergraduate degrees in other fields and an on-line B.S.N. program for individuals who are already R.N.s. Our Master's program (M.S.N.) offers advanced specialty training in the following fields: Family Practitioner, and Acute Care / Primary Care Practitioner.
As the School of Nursing and Health Studies enters its 70th year, a new challenge comes from Dean Munro: Don't just dream, do. Be Novel - do the things that no one has seen or known before. Be Optimistic - find the path to the best possible outcome for yourself and for your community. And be World-changing - transform everything around you and make the world and everything in it better. Here at the School of Nursing and Health Studies, you can become a force for positive change and together we can make your dreams into reality NOW.
Locations
Coral Gables
Address
Brunson Drive,5030
33146
Coral Gables
,
Florida
,
USA
Programmes
This school also offers: