South University provides a warm, supportive learning environment that will encourage you to engage with a community of faculty, staff, and students eager to play a role in helping you achieve your educational goals, on-campus and online. We take pride in the South experience of small classes that offer a hands-on experience that will be important to help shape your skills and excellence in your chosen field, but also help shape your character through community involvement, volunteerism, and pursuit of life-long learning.
Mission
South University is an academic institution dedicated to providing educational opportunities for the intellectual, social, and professional development of a diverse student population.
To achieve this purpose, the institution offers focused and balanced programs at the associate's, baccalaureate, master, and doctoral levels. A broad-based core curriculum is offered, promoting critical thinking, effective verbal and written communication, and skills for life-long learning. Additionally, the University focuses on developing the requisites to appreciate knowledge as well as a pursuit of lifelong learning.
South University's approach to higher education and the resulting flexible academic experiences provide students with the intellectual insight and sensible approach necessary to create the foundation for personal and professional fulfillment. South University has a goal to provide a comprehensive education that instills within its students a philosophy that values not only learning and professionalism but also contribution and commitment to the advancement of the community.
Believing that qualified individuals should have the privilege of formal academic training, South University welcomes those who seek educational challenges. To this end, the University provides a learning environment, both on-campus and online, that helps students identify goals and the means to achieve them. With this philosophy in mind, students learn by interacting with a community of faculty, staff, and administration dedicated to South University's academic purpose.
A Part of Your Community
We are committed to building a vibrant, diverse community that works in support of your goals. Our students, staff, faculty, alumni – and the employment community – constitute a rich network that extends well beyond your time at school. As a South University student, you will become a part of this extended family that will help you identify goals while in school and then the means to achieve them. South has evolved from a one-location campus to a multi-campus university system, which currently has 11 locations.
Savannah, GA Established in 1899
West Palm Beach, FL Established in 1986
Montgomery, AL Established in 1996
Columbia, SC Established in 2002
Tampa, FL Established in 2006
Orlando, FL Learning Site
Virginia Beach, VA Established in 2009
Richmond, VA Established in 2009
Austin, TX Established in 2011
Online Programs Offered through Savannah, Established in 2004
High Point, NC Established in 2012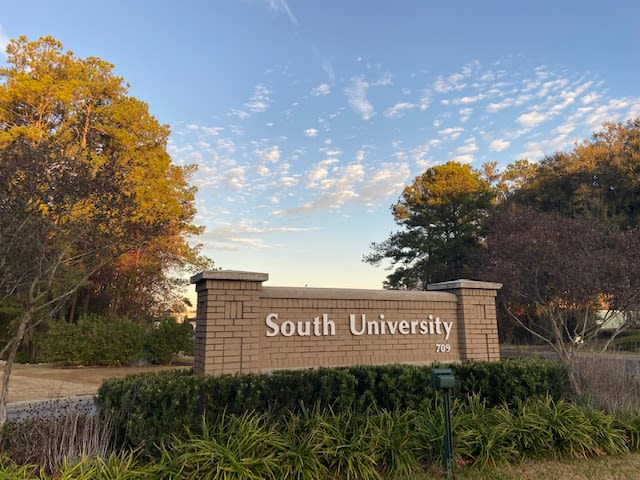 University Career Services Center
The University Career Services Department partners with students to explore their career potential, and works with them to build their professional brand throughout their educational journey. Our goal is to encourage the career potential of students by facilitating opportunities to explore their interests and gain valuable professional experience while utilizing resources that can be accessed virtually or in-person at all South University campuses. The Career Services Department welcomes all South University students to participate and attend any campus events.
Career Services Center
From day one of classes, students will have access to the exclusive South EDGE platform, which has a plethora of videos and activities, and there are no fees or costs associated with this service.
Alumni Connections
Across South University's 120-year story—past, present, and future—many students, staff, instructors and alumni have contributed to the spirit of community and lifelong learning that has become essential to our identity. South University is committed to providing intellectual, social, and professional development opportunities to not only our students but also to our inspiring community of more than 43,000 alumni around the world.
Our Alumni Connections site aims to re-engage and welcome back our alumni by recreating that supportive environment you experienced as a student. Here, you can celebrate your success by applying for an Alumni Achievement Award or nominate a former classmate who has excelled in their field. You can share with us where you are in your career today and utilize our career resources at no cost to help you pursue where you want to be in your future. What's more, you can discover ways to make a difference in the lives of our current students as a preceptor, mentor, or even employer.
Employer Connections
South University Career Services provides employers with an opportunity to find the next qualified candidate from our South University graduates through the South EDGE job portal. Post your jobs and internship opportunities here.
Transcript Requests
Click here for instructions on how current and former students may request an official South University transcript.
Locations
Savannah
Address
Mall Boulevard,709
31406
Savannah
,
Georgia
,
USA
Tampa
Address
North Himes Avenue,4401
33614
Tampa
,
Florida
,
USA
West Palm Beach
Address
University Centre 9801 Belvedere Road
33411
West Palm Beach
,
Florida
,
USA
Montgomery
Address
5355 Vaughn Road
36116
Montgomery
,
Alabama
,
USA
Columbia
Address
9 Science Court
29203
Columbia
,
South Carolina
,
USA
Orlando
Address
5900 Lake Ellenor Drive, Suite 150
32809
Orlando
,
Florida
,
USA
Virginia Beach
Address
301 Bendix Rd Suite 100
23452
Virginia Beach
,
Virginia
,
USA
Richmond
Address
2151 Old Brick Road
23060
Richmond
,
Virginia
,
USA
Austin
Address
1220 W. Louis Henna Blvd.
78681
Austin
,
Texas
,
USA
High Point
Address
3975 Premier Drive
27265
High Point
,
North Carolina
,
USA