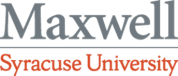 Maxwell School of Citizenship and Public Affairs - Syracuse University
Home ›
USA ›
Maxwell School of Citizenship and Public Affairs - Syracuse University
The Maxwell School of Citizenship and Public Affairs is Syracuse University's home for innovative, interdisciplinary teaching and research in the social sciences, public policy, public administration, and international relations. It includes America's leading graduate school of public affairs, offering highly regarded professional degrees alongside advanced scholarly degrees in the social sciences; and it is home to undergraduate programs across the full spectrum of social sciences.
Maxwell's strength derives in large part from its diversity — the unmatched variety of educational missions that co-exist and sometimes mix under its roof. On the graduate side, for example, Maxwell is home to strong master's degree programs in public administration and international relations, in conventional and midcareer formats. And, under the same roof, Maxwell offers MA and PhD programs in the social sciences, plus an innovative Social Science PhD program for students with unique, cross-disciplinary interests. No major graduate school of public affairs mixes these diverse elements the way Maxwell does. (The Master of Public Administration program, incidentally, is consistently ranked one of the nation's top MPA programs by U.S.News & World Report).
Undergraduates who major or minor in the social sciences benefit from the same faculty who earn Maxwell its high rankings in research and graduate education. They teach undergraduate programs in anthropology, economics, geography, history, international relations, political science, and sociology, and in the policy- and skills-oriented public affairs program. Maxwell's rich, defining interest in the nature and mechanics of democratic citizenship is served by the team-taught MAX Courses and by the School's new signature major in citizenship and civic engagement. Together, they advance a legacy of interdisciplinary citizenship education at the Maxwell School that is now 90 years old.
Maxwell scholars and students conduct wide-ranging research through nine interdisciplinary centers, each focused on a topical area within public affairs, such as social and economic policy, conflict and collaboration, public wellness, aging, energy and environment, national security, and regional studies, among others.
Most programs are housed in a pair of connected structures that include Melvin A. Eggers Hall, opened in 1993, and Maxwell Hall, opened in 1937 and substantially renovated in 1994. The complex includes a café, a suite of conference and working spaces for professional degree students, and carrel-style "grad bays" for all doctoral and many master's students.
Maxwell is one of the 12 schools and colleges of Syracuse University, a large, comprehensive, and distinguished private university located in upstate New York. Syracuse, New York, is a comfortable mid-sized city with the amenities of a metropolitan center, and only minutes from a great variety of rural and natural attractions.
Locations
New York
Address
200 Eggers Hall, Syracuse, NY
New York
,
New York
,
USA