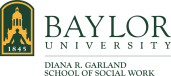 Baylor University Diana R. Garland School of Social Work
Home ›
USA ›
Baylor University Diana R. Garland School of Social Work
At Diana R. Garland School of Social Work (GSSW), you will find one family made up of caring individuals from all walks of life and from all over the world who care deeply about social work. To us, social work is about service and justice; it is about the dignity of individuals and the power of relationships; it is about integrity and competence, and our mission here is preparing social workers to do these things well.
The GSSW has two Texas campuses: Waco and Houston, and a virtual campus through our MSW and PhD online programs.
We offer three professional degrees: BACHELOR OF SOCIAL WORK, MASTER OF SOCIAL WORK, and PHD IN SOCIAL WORK.
The GSSW prepares social workers to serve in a wide range of public and private settings, from schools and hospitals to prisons and foundations, with diverse human service organizations in between. One of the competencies we help social workers develop is the ethical integration of faith and social work practice. This means we are also preparing students to serve in congregations, religiously-affiliated, and other faith-based organizations.
The Diana R. Garland School of Social Work's mission at Baylor University is to prepare social workers in a Christian context for worldwide service and leadership.
Locations
Waco
Address
Washington Avenue,811
76701
Waco
,
Texas
,
USA
Programmes
Currently no programs to display
Please refine search above, check out our popular categories below or perform a keyword search.
... or simply by choosing your degree: