Arizona State University - Thunderbird School of Management
Home ›
USA ›
Arizona State University - Thunderbird School of Management
For more than 70 years Thunderbird has been developing leaders with the global mindset, business skills, and social responsibility necessary to create real, sustainable value for their organizations, communities and the world.
Dedicated to preparing students to be global leaders and committed global citizens, Thunderbird was the first graduate business school to adopt an official Professional Oath of Honor. Thunderbird is sought out by graduate students, working professionals and companies worldwide seeking to gain the leadership skills they need to succeed in today's global economy.
Thunderbird offers a wide range of global management graduate degrees and certificate programs for full-time students, working professionals, distance learners, and companies. These programs include Full-time, Online, and Executive Education options that help you pursue a specialization in a distinct global business focus area to further refine your degree and boost your marketability.
Mission
We educate global leaders who create sustainable prosperity worldwide.
Vision
We will dramatically grow our positive impact in a world economy in dire need of the global leadership talent we were founded to provide.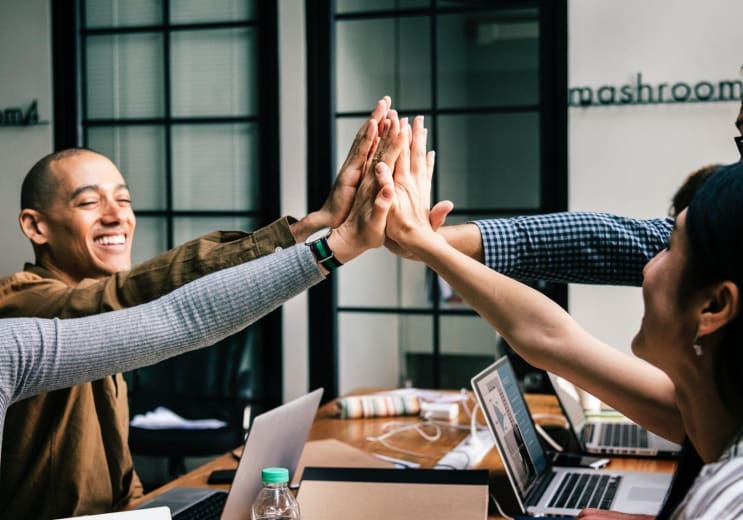 rawpixel.com /
Pexels
General Information
Thunderbird-managed online communities are intended to inform users of Thunderbird-related news and events, as well as foster discussion and a sense of community among users.
The administrators of these communities reserve the right to remove any content posted that:
Contains profanity.
Sells or advertises a product or service.
Is libelous.
Is considered Inappropriate.
Condones or encourages illegal activity.
Violates trademark or copyright laws
May be considered spam or are irrelevant to the primary contents of the page.
Cannot be translated into English using free online translation software.
Violates Facebook's Statement of Rights and Responsibilities.
Violations of the student code of conduct that occur on Thunderbird social sites may result in a referral to the Office of Student Rights and Responsibilities. Thank you for your participation on the Thunderbird fan page and for being part of our community.
Thunderbird History
Thunderbird has been one of the top-ranked international management schools for decades. With more than 70 years of experience, Thunderbird continues to produce leaders capable of tackling the world's greatest challenges. As the world continues innovating and the technology changes of the 4th Industrial Revolution alter the way we live and work, Thunderbird is developing nimble, ethical, global leaders who are equipped to craft sustainable businesses, economies, cultures, and environments around the world for the 21st century.
On April 8, 1946, Thunderbird School of Global Management (originally known as the American Institute for Foreign Trade [AIFT]) was chartered on the Glendale, Ariz. World War II airbase, Thunderbird Field, where pilots from around the world came for training during wartime. General Barton Kyle Yount obtained the airfield with the express purpose of developing a school focused exclusively on international trade and global relations. General Yount was named Thunderbird's first president, and established a vision for the school that remains today—built on the phrase coined by original faculty member Dr. William Lytle Schurz, "Borders frequented by trade seldom need soldiers." With that, Thunderbird's mission to "educate global leaders who create sustainable prosperity worldwide" was born.
As AIFT, Thunderbird became the first-ever higher-education institution to focus exclusively on international management by concentrating curriculum on cross-cultural communication, regional business studies and hands-on, real-world training in global business nuances. Thunderbird continues to deliver global management education in this same fashion today, with world-renowned faculty who have extensive practitioner and consultant experience in all facets of international business.
Joining the Nation's Most Innovative Public University
In 2014, Thunderbird became an independent unit of the Arizona State University Knowledge Enterprise, combining Thunderbird's multi-decade heritage of developing global business leaders with ASU's expansive resources, and in 2018 relocated to ASU's vibrant Downtown Phoenix campus. The move brought the world's #1-ranked master's in management under the umbrella of the nation's #1-ranked school for innovation.
Degree Transformations
As part of the merger with ASU, Thunderbird transformed its MBA program into an innovative Master of Global Management (MGM), which was ranked #1 by the Wall Street Journal/Times Higher Education for 2019. Students now choose from 15 concentration opportunities and benefit from the combination of Thunderbird's rich history of training global leaders in skills like cross-cultural management, cross-language communication, and cross-border negotiation and ASU's rich history of innovation in disciplines from bio-design to journalism, space science to humanities.
Our degree portfolio also includes the prestigious Executive Master of Global Leadership & Strategy, the Online Master of Applied Leadership & Management and two bachelor's degrees: the Bachelor of Global Management and the Bachelor of Science in International Trade, both of which are delivered on the ASU West campus.
Leading the Way in Executive Education
Thunderbird Executive Education delivers world-class global enterprise and leadership success development through open programs for individuals seeking career development opportunities and custom programs for global organizations looking for individualized development solutions for their unique challenges. Ranked among the world's best executive education programs, Thunderbird's product offerings have expanded over the years to include a robust selection of online executive certificate programs, international consortia programs, executive coaching, and more. As part of the merger, all executive education programs delivered across the ASU enterprise will be consolidated under Thunderbird, broadening the portfolio and its global reach.
Expanding Our Global Footprint
The school has often been called a "mini-United Nations" because of its diverse and inclusive global student body. Thunderbird is also known worldwide for its vast and engaged alumni network of more than 43,000 individuals in nearly 150 nations around the globe. Thunderbird has more than 170 alumni chapters that meet regularly in 70 countries.
Thunderbird's global footprint has expanded over the years as well, with operations now in Geneva, Switzerland, Moscow, Russia, Dubai, UAE, Tokyo, Japan, and Seoul, Korea. The School has plans to expand to twenty global hubs by 2025.
Locations
Phoenix
Address
400 E. Van Buren Street, Suite 900
85004
Phoenix
,
Arizona
,
USA
Accreditations