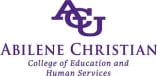 Abilene Christian University College of Education and Human Services
Home ›
USA ›
Abilene Christian University College of Education and Human Services
Abilene Christian University (ACU) is a vibrant, innovative, Christ-centered community that engages students in authentic spiritual and intellectual growth, equipping them to make a real difference in the world.
Abilene Christian University College of Education and Human Services equips students to emulate the work of Christ in the world through teaching, training the physical body, and serving the disenfranchised.
The mission of the College of Education and Human Services is to equip students for global service and leadership through exemplary practice in education and human services, informed by a Christian perspective.
The college is made up of five departments, most with both undergraduate and graduate programs. These include Teacher Education, Communication Sciences and Disorders, Kinesiology and Nutrition, Social Work, and a graduate program in Occupational Therapy.
The College of Education and Human Services is a special place focused on providing excellent programs that train you to use your strengths and passions to serve the world.
Locations
Abilene
Address
Campus Court,1600
79601
Abilene
,
Texas
,
USA
Programmes
Currently no programs to display
Please refine search above, check out our popular categories below or perform a keyword search.
... or simply by choosing your degree: