DO WHAT YOU WANT
Here you will find a space where recognized active professionals share their knowledge building new experiences with you. Approaching the real world through practical work and classes that teach you what you really need to know for your professional career. Little rhetoric and a lot of proactivity. As with the studios and agencies where you will one day work.
Do not think that Seeway is a party either. In our school you work with rigor, but at the same time with freedom, applying an alternative training method that adapts to your pace of life, put your feet on the ground and your creativity through the clouds. It's about touching, living and getting to know the profession by doing projects that allow you to learn at each stage, from conceptualizing the idea until you develop it. We've been doing it since 2001, so we can guarantee that it works.
In addition, we have a job pool, small groups and teachers who follow you closely and help you get the best out of you, demanding the same thing that your clients will demand of you tomorrow.

STUDIES RECEIVED BY THE UNIVERSITY OF SAN JORGE
Since 2013 Seeway has been associated with the University of San Jorge to grant the degree of the aforementioned University in the University Diploma, Master and Postgraduate programs. The validation of the contents and methodology by the University provides an additional guarantee, synonymous with quality and academic rigor, for the Seeway training and builds links between both organizations that favor common development.
WORK BAG
Seeway is in charge of connecting talent with the labor market through our job bank exclusively for students and alumni. Space in which we connect talent and creativity with studios, agencies or producers that need to fill vacancies in their templates.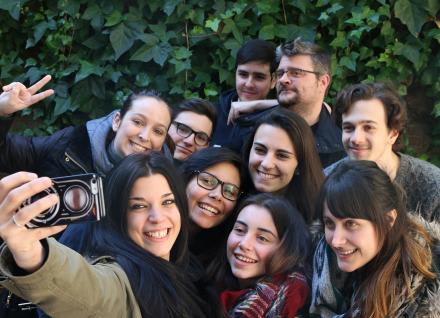 YOU FIRST
Beyond being a School of Graphic Design, Animation, Digital Marketing and Photography, Seeway is a concept. It is creativity and nonconformity . Ideas in movement. Conscious rebellion Outsider training with its own methodology based on experiential learning. Directed to talented people who choose their path and draw it themselves .
We are in the center of Barcelona. We breathe the creative breath of the city. Their aesthetics and visual culture inspire us constantly. Its open and cosmopolitan nature is part of our identity. And that shows in everything we do.
If you dare, we are waiting for you.
Locations
Barcelona
Address
Pau Clarís 115
08009
Barcelona
,
Catalonia
,
Spain