Our history
In the 80s, a group of entrepreneurs began their professional activity as window dressers and merchandisers in Barcelona. Progressively, the offer of commercial decoration services is extended to other communities, giving way in 1990 to the first window dressing course in Barcelona for the Chamber of Commerce and subsequently expanding.
During the 90s, a formative link with the Institute of Education of the University of Barcelona began, teaching in 1995 the first course of window dressing and merchandising to professors of commerce and marketing. The diversity of the team made it possible to combine professional services in internationally recognized companies and create new training plans aimed at companies, town halls, unions, associations and other professional groups.
Business ties, recognition of training and the demand for professionals gave way to the inauguration of the ÁRTIDI window dressing school, in an old metalwork of 1910, founded with the aim of training new professionals. At present, we have expanded to become the largest School in Europe in Window dressing and Visual Merchandising training and trade-related education.
Philosophy
ÁRTIDI's philosophy is a pioneer in training because we don't just teach. Our students innovate and improve sales strategies for business and commerce. In ÁRTIDI we offer the strategies and training to achieve it. ÁRTIDI students are known in the business sector not only as professional experts but as innovators in sales techniques.
Our students learn to be informed to have their own criteria and decision. Students who bring the news, create trends and discover market needs because we motivate them for it and teach them how to do it.
How do we get our students to set trends? At school they teach specific classes to analyze the market and discover the novelty. Round tables where students become Coolhunter and contribute their particular vision of new trends. Motivation and creativity classes. They participate in conferences where they are the protagonists, generate creative actions, original and with real results. Self sufficient students who create brand trends.
The methodology
In ÁRTIDI, a recognized, professional, multicultural training with an open and plural attitude different from other formations is taught. Our experience of more than 20 years of professional and teaching career has shown us that to be a good professional you must learn by doing in real spaces and with qualified professionals.
The ARTIDI methodology has a real international recognition that goes far beyond the realization of conventional courses. From the most specific and detailed theory to knowing the most innovative strategies, in our school we seek formative excellence. The training method is practical, effective and real because only ÁRTIDI has an infrastructure exclusively designed for this type of training.
Students participate in a complete training that covers all aspects such as real shop windows, design of original and decorative elements to visual merchandising in a real store and the latest computer tool for exclusive training in our school. In addition to store design, furniture, 3D product layout and business practices. The formative result is achieved with the most advanced methods promoting from training to professional values, attitudes and strategies.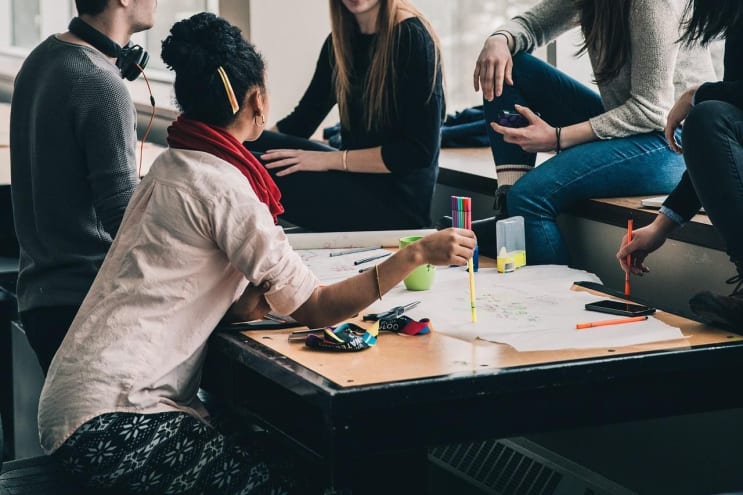 Facilities Visual Merchandising and Window Dressing Area
"What we learn to do we learn by doing" This quote from Aristotle describes the training in Ártidi. A window dresser and a visual merchandiser should be trained practicing. The design, construction and assembly is the real sequence in which these professionals should be trained. Therefore, Ártidi has the largest infrastructure in Europe dedicated to this type of training.
Representatives of "London School of Architects", as well as other national and international media have mentioned our facilities as the most equipped to create highly qualified professionals.
Theoretical classrooms; workshops equipped with multiple tools and materials; pilot shop to practice from product placement, ambience to corporate image design; 3D design classroom and more than 40 real showcases of different types and lighting bulbs that make up our more than 1000m2 of facilities. We also have more than 100 corporate mannequins, real product stores and an outdoor patio.
Our infrastructure allows students to learn in a real environment beyond standard training.
Quality and Training Guarantee
Currently conducting a training course is essential to be part of this competitive working world. For this there are different evaluation factors so that stakeholders can assess the most appropriate choice.
The seal of Quality and Formative Guarantee, is a concept of national self-regulation training of the window dressing and visual merchandising sector. Badge that guarantees those interested in courses; that the management, programming, design and planning of the educational plan as well as the teaching staff; They have been carried out and supervised by qualified professionals in training engineering.
Since 1992 we encourage and contribute to educational excellence. The CGF badge identifies Ártidi as a training center where Quality and Guarantee are present in all its training programs.
Locations
Barcelona
Address
Calle de la Llacuna, 50
Barcelona
,
Catalonia
,
Spain