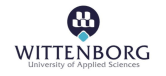 Wittenborg University of Applied Sciences
Home ›
Wittenborg University of Applied Sciences
Welcome to Wittenborg
- Management – Internationalisation - Diversity - Sustainability - Innovation - Wittenborg University of Applied Sciences was established in 1987 and is situated in Apeldoorn. With a focus on 5 key themes, "Management, Internationalisation, Diversity, Sustainability, & Innovation," Wittenborg is one of the fastest growing independent international University of Applied Sciences in the Netherlands. With around 500 students from more than 70 different countries studying on its Bachelor and Master programmes in two schools, the School of Business and the School of Hospitality & Tourism. In its 10-year plan, presented in 2013, Wittenborg is aiming at growing to a broad university with totally 5 schools. The new schools that are under the development are School of Art & Technology, School of Health & Social Care, and School of Education. Wittenborg is determined to provide cross-discipline & applied-science education to assure its graduates are more suited for the future job market, within an international context. With a clearly defined mission and philosophy, Wittenborg University offers excellent education in business studies to students from the Netherlands, Europe, and around the world, ranging from school leavers to people with professional experience and previous study qualifications. Its developing research centre, focusing on the 5 key themes Wittenborg University enables applied research to be embedded throughout its programmes. Wittenborg University operates from a closely knit international team of professional people dedicated to excellence in business and entrepreneurship. The degree programmes are all offered completely in English. In fact, with staff from more than 20 different countries and cultures, English is the only language spoken at Wittenborg! The School of Business and the School of Hospitality and Tourism offer programmes in fields such as Entrepreneurship and Marketing & Communication, as well as Hospitality Management, Finance, and Economics. The IBA specialisations also include Real Estate Management, Information Management and Logistics & International Trade. Furthermore, Wittenborg offers business-to-business training packages to companies across Europe, the Middle-East, and the Far East in English and German, together with a local language trainer.
Bachelor Programmes: The unique, business-like curriculum is offered in 3 phases, over 3 years in blocks of six weeks, by a team of international professionals - from over 10 countries - in management, business, entrepreneurship and social sciences. Because of the fact that our lecturers have one foot in the business world, our students are prepared for their future careers in an effective and fruitful manner.
MBA & Master of Science: The Master of Science programmes are offered jointly with the UK University of Brighton and fully taught in Apeldoorn by professors from both Brighton and Wittenborg Universities. Students can complete the full-time programme in 1 or 2 years and study the MSc degrees part-time for up to 6 years. Currently, Wittenborg offers MSc degree programmes in the fields of Hospitality, Tourism and International Event Management. From 2014, a full time and part-time MBA programme are offered in General Management, Entrepreneurship & Innovation and Hospitality Management.
Foundation & Pre-Master: Wittenborg offers foundation programmes and IELTS courses to both its Bachelor and Master students as well as students from other institutes.
Global and Local - the International Philosophy
International Wittenborg University Mission Statement and PhilosophyWittenborg University are one of the most international institutes of higher education in the Netherlands and this is represented by its students, staff and management. Wittenborg students and staff come from around the globe, bringing international experience, knowledge and diversity to Apeldoorn and the region. Wittenborg's goal is to provide talented and motivated students from the Netherlands and around the world with a learning experience that will prepare them for management positions in business, government, profit and non-profit organisations, both within an international environment, and the local area.
Glocal
Think Global – Act Local Wittenborg is an international concern that expects its graduates to enter management and leadership functions in a world of international business, either in their own companies or within globally orientated companies and organisations. But whilst Wittenborg is a true global thinker, we act locally and boast strong links with companies in the S3H region of Apeldoorn, Deventer and Zutphen (Stedendriekhoek). The university promotes student work experience, research projects, cultural events, and collaboration on the development of higher education programmes and initiatives for the region. By encouraging graduates to gain work experience in the Netherlands, and especially the region of Apeldoorn, Wittenborg is bringing knowledge, innovation and diversity to the S3H area.
Education Approach
Wittenborg's educational philosophy is to spur real life in its approach to education. Our differentiated programme, combining traditional knowledge-based teaching with the development of skills and competencies, leads to a vocational training situation in which students can discover their strengths and weaknesses - building on the former and improving the latter.
Wittenborg students will learn to identify the environment they are in and adapt accordingly.
Wittenborg students will learn to say what they do and do what they say.
Mission Statement
Wittenborg University of Applied Sciences sees its role as the education and training of highly qualified, internationally minded, socially responsible and intercultural, critical and independently thinking graduates, who engage in innovative and creative business in companies and organizations around the world, either working for others or in the instigation of business and entrepreneurship. Wittenborg embraces internationalisation as a key value.
To achieve this, the University engages in close dialogue with industry, government and NGOs. Wittenborg strives to bring expertise, knowledge and diversity to the local region in which it operates, thereby enhancing the economy, culture and social environment around the University.
Wittenborg's outlook is global and it aims to maintain its independent status whilst being one of the most international and diverse higher education institutions in the Netherlands. The University promotes total equality of students and staff, of cultures and genders and people with disabilities within the institute. Wittenborg promotes a working environment that is fair, and emphasises respect between and within its student and staff body. Wittenborg embraces diversity as a key value.
The practical applied sciences that are engaged within Wittenborg's programmes enable the University to maintain up to date content within a diverse range of management orientated disciplines and implement curriculum to the highest modern education standards. As a University of Applied Sciences, Wittenborg sees as important an interdisciplinary approach to higher education, which is reflected in the cross-disciplinary broad management programmes that allow students to develop their knowledge, skills and development through applied research in a manner that is not subject constrictive. Wittenborg embraces ethics as a key value.
Wittenborg's goal is to develop into a broad management orientated University of Applied Sciences in various professional field such as Business & Entrepreneurship, Hospitality & Tourism, Arts & Technology, Health & Social Care and Education. The University will maintain quality through maintaining a vigorous and transparent accreditation cycle for its programmes, ensuring dialogue with its students and staff through their active involvement of the accreditation and validation processes.
Wittenborg will strive to continue developing new methods of teaching and learning that meet the changing needs of society and technology.
Within its role as a higher education institute the University supports life-long learning through the development and implementation of up to date and industry driven professional programmes aimed at corporate employees and individuals.
Locations
Apeldoorn
Address
Laan van de Mensenrechten 500
7331 VZ
Apeldoorn
,
Gelderland
,
Netherlands
Amsterdam
Address
Laan van de Mensenrechten 500
7331 VZ
Amsterdam
,
North Holland
,
Netherlands
Vienna
Address
Liechtensteinstraße 3
1090
Vienna
,
Vienna
,
Austria