Wittenborg University of Applied Sciences
Home ›
Wittenborg University of Applied Sciences
Read more on the school's website
Welcome to Wittenborg
We are a unique business school where "Better Yourself, Better Our World" is our motto.
At Wittenborg our mission is: To promote excellence in teaching and learning international business and management, as well as to create the best environment for students and staff, where internationalisation, diversity and ethics lay the foundations of successfully applied, research-informed global learning.
With our main campus based in Apeldoorn, we introduce students to organisations in the local area and region, enhancing the region's economy, cultural and social climate. Our Amsterdam location enables us to support international entrepreneurs coming to the Netherlands, with a tailored, entrepreneurial bachelor's programme. Enter Wittenborg and you enter a highly motivated and results-driven organisation operating in a diverse and multicultural environment, in which more than 100 nationalities work, study, innovate and socialise together. At Wittenborg we believe that learning should be an enjoyable process that allows you to develop your goals and aspirations, and provides you with the constant support and the required study pressure to achieve those targets.
Wittenborg graduates are world citizens; they nurture respect and have a sense of achievement. They have developed ambition and pride themselves in excellence. They are our greatest ambassadors!

Bachelor Programmes: The unique, business-like curriculum is offered in 3 phases, over 3 years in blocks of six weeks, by a team of international professionals - from over 10 countries - in management, business, entrepreneurship and social sciences. Because of the fact that our lecturers have one foot in the business world, our students are prepared for their future careers in an effective and fruitful manner.
MBA & Master of Science: The Master of Science programmes are offered jointly with the UK University of Brighton and fully taught in Apeldoorn by professors from both Brighton and Wittenborg Universities. Students can complete the full-time programme in 1 or 2 years and study the MSc degrees part-time for up to 6 years. Currently, Wittenborg offers MSc degree programmes in the fields of Hospitality, Tourism and International Event Management. From 2014, a full time and part-time MBA programme are offered in General Management, Entrepreneurship & Innovation and Hospitality Management.
Foundation & Pre-Master: Wittenborg offers foundation programmes and IELTS courses to both its Bachelor and Master students as well as students from other institutes.
Independent & International
At any time, over 100 nationalities work and study together in its 2 Apeldoorn locations and in Amsterdam. English is the sole language of instruction in all campuses.
Over 30 years track record
Thousands of highly employable graduates, since 1987, now follow careers in the Netherlands and around the world.
triple european accredited
Degree programmes are recognised and accredited by the Dutch Ministry of Education, Culture & Science (NVAO), also by FIBAA (German, Swiss & Austrian) and the University of Brighton (UK).
Glocal & local engagement
Company visits, real-life projects, internship and guest speakers: plenty of local and regional engagement with government, companies and organisations. Thinking globally, but acting locally.
research environment
Instigating and carrying out regional, European and international projects at the Research Centre, in areas such as sustainability, technology, social innovation, education & health care.
customer-oriented approach
A personal approach, family-like environment and personal tutoring, guidance and support. Most programmes allow students to start & graduate 6 times per year.
.
Education Approach
Wittenborg's educational philosophy is to spur real life in its approach to education. Our differentiated programme, combining traditional knowledge-based teaching with the development of skills and competencies, leads to a vocational training situation in which students can discover their strengths and weaknesses - building on the former and improving the latter.
Wittenborg students will learn to identify the environment they are in and adapt accordingly.
Wittenborg students will learn to say what they do and do what they say.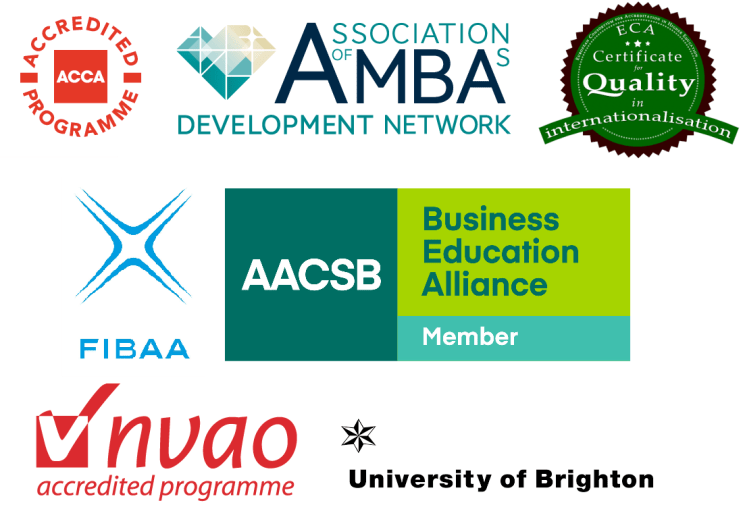 Locations
Apeldoorn
Address
Laan van de Mensenrechten 500
7331 VZ
Apeldoorn
,
Gelderland
,
Netherlands
Amsterdam
Address
Herikerbergweg 260
1101 CT Amsterdam
Amsterdam
,
North Holland
,
Netherlands