Universiti Teknologi PETRONAS (UTP) was established in 1997 and has grown to be one of the most prominent private universities in Malaysia. UTP offers a wide range of industry-relevant engineering, science and technology programmes at undergraduate and postgraduate levels and aims to produce well-rounded graduates with excellent leadership qualities and communication abilities. UTP has produced more than 10,000 graduates and currently has an enrolment of over 6,000 undergraduates and 1,200 postgraduates from more than 66 countries around the world.
In less than two decades since its establishment, the university has attained prestigious national and international recognition. UTP is the only private university in Malaysia to be ranked in the top 160 under the Quacquarelli Symonds (QS) University Rankings: Asia 2015 and was ranked at 288 for the 2015 QS World University Rankings under the Engineering and Technology Faculty.
UTP has made a commendable achievement in the QS World University Rankings by Subject in 2016. QS has recognised UTP as amongst the world's elite institutions in four of the 42 subjects featured in this ranking.
The year marks a significant improvement in ranking for Chemical Engineering and Mechanical Engineering subjects. Chemical Engineering has improved its position and now ranked as Top 150 in the world as compared to Top 200 in 2015. At the same time, Mechanical Engineering is now ranked in the Top 200 as compared to Top 250 in 2015. This is a tremendous achievement for Mechanical Engineering which only made its maiden entrance to QS ranking system only last year.
The Electrical & Electronics Engineering and Computer Science & Information Systems subjects remain in the Top 250 and Top 350 respectively.
UTP is the only private university in Malaysia to be rated a 4-star institution by QS, with a maximum five-star rating in five areas out of eight, namely employability, internationalisation, innovation, facilities and inclusiveness.
The university conducts extensive research activities in collaboration with PETRONAS and other institutions and industries locally and abroad focusing on nine niche areas which are Enhanced Oil Recovery, Carbon Dioxide Management, Deepwater Technology, Nanotechnology, Green Technology, Biomedical Technology, Hybrid Energy Systems, Intelligent Cities and Sustainable Resources.
UTP is the first and only private university to be awarded a 6-star rating (the highest performance level) by Malaysia Research Assessment for its research, development and commercialisation efforts.
UTP continues to provide distinctive educational opportunities to its students with the rating of Tier 5 (Excellent) University for SETARA (Rating System for the Malaysian Higher Education Institutions) and achieved Tier 5 for D-SETARA (Discipline-Based Rating System) in Engineering.
UTP makes its debut at QS World University Ranking 2016/2017!
Universiti Teknologi PETRONAS (UTP) has made its debut in the 2016/17 QS World University Rankings, entering in the 601-650 band. UTP is also the only private university in Malaysia to make it into the rankings. Read more at http://www.utp.edu.my/The%20University/sitepages/article.aspx?param=134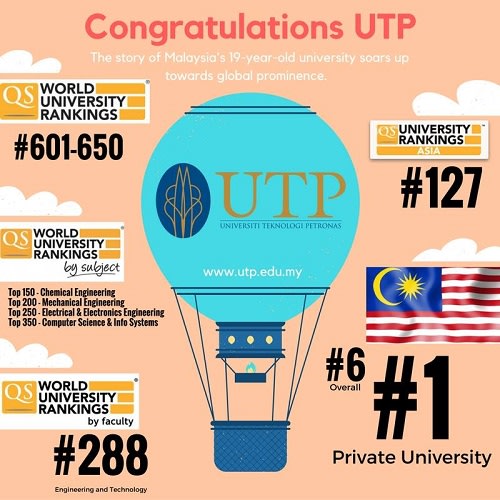 Vision
A Leader in Technology Education and Centre for Creativity and Innovation.
Mission
UTP is an institute of higher learning. We provide opportunities for the pursuit of knowledge and expertise for the advancement of engineering, science and technology to enhance the nation's competitiveness.
Our objective is to produce well-rounded graduates who are creative and innovative with the potential to become leaders of industry and the nation.
Our aim is to nurture creativity and innovativeness and expand the frontiers of technology and education for the betterment of society.
Locations
Ipoh
Address
Universiti Teknologi PETRONAS
32610 Seri Iskandar
Perak Darul Ridzuan
Ipoh
,
Perak
,
Malaysia