National University of Ireland Galway College of Engineering & Informatics
Home ›
Ireland ›
National University of Ireland Galway College of Engineering & Informatics
With over 17,000 students and more than 2,200 staff, NUI Galway has a distinguished reputation for teaching and research excellence in the fields of arts, social science, and celtic studies; business, public policy and law; engineering and informatics; medicine, nursing and health sciences; and science.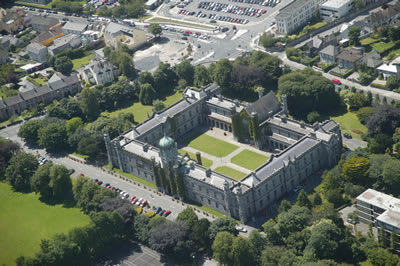 Top Class Courses
NUI Galway offers a wide range of undergraduate and postgraduate degrees and diplomas of international standard, which provide students with opportunities for personal and academic development, as well as giving them the knowledge and skills they need to pursue successful careers.
Best Career Opportunities
The University's approach to innovative programme development means that courses are developed to reflect the ever-changing needs of the job market and the economy.
NUI Galway has a distinguished reputation for teaching and research excellence.
This reputation is reflected in our performance in various University League Tables.
We are one of just two universities in Ireland who have been awarded five stars in the prestigious QS star ranking. Times Higher Education ranks us 3rd best university in Ireland. Meanwhile, five of our disciplines were listed in the QS World University Rankings by Subject. They are:
History
Computer Science and Info Systems
English Language and Literature
Pharmacy and Pharmacology
Law
Inspirational Teaching
Top quality teaching is our number one priority at NUI Galway. Our lecturers are working at the forefront of their subject area, bringing the latest ideas and discoveries into the lecture theatre. Our students are challenged to achieve their full potential by taking an active part in their learning.
Our commitment to excellence in teaching and research attracts high-calibre students from all over the world. More than 2,000 international students from over 90 countries, choose to study here.
A Research-led University
NUI Galway is a research-led University with internationally recognised expertise in selected priority areas.
Research at NUI Galway is forward-thinking and global in scale. Today we are leading the field in a wide range of areas including stem cell and gene therapy research, human rights law, environmental change, and developing the next generation of internet technology.
Our key research achievements include:
Home to two Science Foundation Ireland-funded Centres for Science, Engineering and Technology (CSETs), our Digital Enterprise research Institute (DERI) and our Regenerative Medicine Institute (REMEDI)
Awarded Republic of Ireland's first UNESCO Chair in Children's Youth and Civic Engagement
The world's leading experts in Human Rights Law
Ireland 's leading Marine and Environmental Research Centres
Ireland 's primary centre for stem cell and gene therapy research and regenerative medicine

Industry
Much of our research is translational; we have developed excellent research and development collaborations with national and multi-national industry partners. NUI Galway is Ireland's leading University for knowledge transfer with more spin out companies, licenses and patents created in the last three years, than any other Irish university.
Locations
Galway
Address
National University of Ireland, Galway
University Road
Galway
,
County Galway
,
Ireland