We excel because…
We are a leading higher education provider since 1977 Being the first private College to be founded in Greece back in 1977, we pride for our pioneering initiatives that have shaped private, higher education in Greece.
We partner with reputable UK Universities We sustain strategic partnerships with highly esteemed UK Universities, which provide a competitive advantage to our graduates in their career development.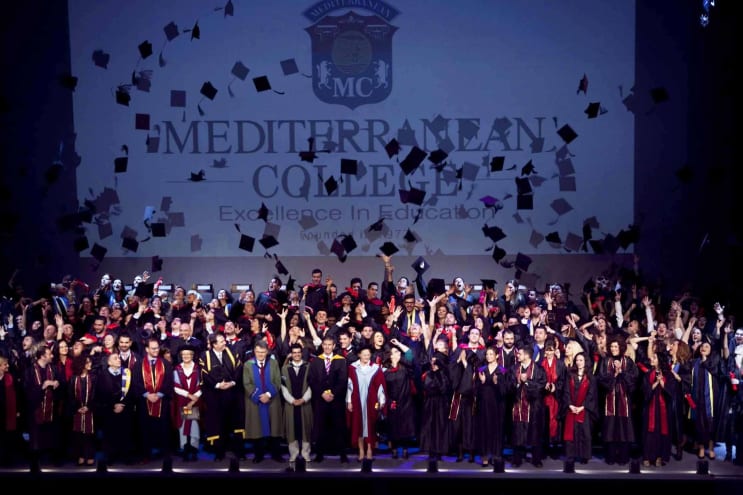 For us, every student is unique We have developed student-centred systems and services that aim to individual student support and lead to high academic performance.
We invest in our staff We apply a sophisticated staff selection and appraisal system and a structured annual staff development plan in order to deliver our promise for "Excellence in Education".
We focus on our Students' Employability Our "MC Employability Scheme" gives an edge to our students in their career pursuit.
We offer multiple opportunities for development Through our diverse academic, cultural, sports and social activities we contribute to the professional and personal development of our students.
We promise a rich student life Our Students' Union extra-mural activities and the Student Clubs & Societies provide opportunities for an unparalleled student life.
Our History
Mediterranean College is the first independent Anglophone College to be found in Greece, in 1977. Since then, it has been continuously operating according to standards of countries with a long tradition in higher education, such as the United States and the United Kingdom. The Mediterranean was the first college in Greece (in 1992) to "franchise" a degree programme from a British State University.
Today, in partnership with reputable UK universities and awarding bodies, Mediterranean College offers a broad portfolio of franchised undergraduate, postgraduate and Continuing Professional Development (CPD) courses. Students have the option of registering to programmes that are delivered on a full-time or part-time/ flexible mode and are taught in either English or Greek.
Upon successful completion of the courses, students are awarded degrees and qualifications that are issued by the collaborating Universities awarding bodies. The Mediterranean is a College licensed and approved by the Hellenic Ministry of Education and its degrees are internationally recognised and professionally equivalent to the ones awarded by Greek State Universities. Degrees are also recognised by the UK NARIC.
The College conforms to multiple quality benchmarks: It is accredited by the British Accreditation Council (BAC), as an institution providing higher education and is reviewed by the UK Quality Assurance Agency (QAA), an organisation that monitors the quality standards of UK Universities. Currently, Mediterranean College operates two campuses in Athens and Thessaloniki, located in the centre of the cities thus being easily accessible by all means of public transportation.
In a contemporary learning environment, the College offers its courses in 7 Academic Schools: Business School, School of Tourism & Hospitality, School of Computing, School of Engineering, School of Psychology, School of Education, School of Health Professions. All students are supported in their learning experience by highly qualified and committed academic staff, rich and developing libraries, extensive IT facilities and electronic resources and fully-equipped labs and workshops.
The College has also undertaken leading initiatives, including the development of a holistic Employability Scheme that enhances students' employability, in collaboration with a wide network of industry partners.
As a student-centred college, Mediterranean makes every attempt to develop strengths and capabilities in every student by offering support services, such as Personal Tutoring, Counselling, Learning Support and Career Services, Bursaries & Scholarships. The Student Affairs, the Alumni and the International Office secure our students' welfare and the active Students' Union promises an exciting student life.

Our Mission
In the 21st century, Mediterranean College – in collaboration with reputable overseas universities – has evolved to a higher education institution with a leading role in Greece, in the study fields of Economics, Business, Computing, Social Sciences, Tourism, Health Professions and Engineering. The College's high-quality academic programmes are offered within an educational environment where quality always conforms to the students' needs.
To realise its mission for academic excellence, student success, academic and technological innovation as well as a social contribution, the College works with dedicated professionals and academic personnel of high-calibre, distinguished for their teaching, student support, research and professional achievements.
Structured on solid foundations and principles, Mediterranean College aims to implement its mission and become a renowned international learning centre in Greece. Our particular aims are to:
Provide our students with a thorough preparation in their chosen field, in order to support their successful entry into the job market.
Be supportive of our students and create a learning environment that will "challenge" and discipline them, thus promoting ethics, responsibility and integrity.
Help our students develop transferable skills, such as critical thinking, creativity, analysis and synthesis ability, communication skills that they will able to apply in every professional, academic or social context.
Enhance our students' employability in every possible means and actively contribute to gaining industry experience and employment.
Prepare our students for leading positions in national and international economies, by offering them a wide and varying academic experience.
Provide our academic staff with development opportunities, by enriching their knowledge base and teaching skills for the benefit of our students.
Constantly assess and develop our programmes and services, so as to safeguard the realisation of our vision.
Make the College accessible to all students who possess the appropriate academic qualifications, by offering flexible delivery patterns and academic/ social scholarships.
Enhance our international status by attracting international students and staff.
Broaden our academic and research relations with national and international education institutions and academics of international reputation.
Participate in the social life of our community, by fostering cultural and scholarly activities.

Locations
Thessaloniki
Μεσογειακό Κολλεγιο Θεσσαλονικης
Address
2-4 Egnatia St.
54626
Thessaloniki
,
Thessaloniki
,
Greece
Athens
Μεσογειακό Κολλέγιο
Address
Pellinis 8 & 107 Patision Ave
11251
Athens
,
Central Athens
,
Greece