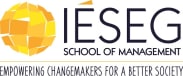 IESEG School of Management Lille - Paris
Home ›
France ›
IESEG School of Management Lille - Paris
History
Our origins date back to 1964 in Lille where the historical campus was established. In 2008, we opened a second campus in Paris in the Grande Arche of La Défense. Since then, we have achieved the ranking of a top 10 French Business School as well as the prestigious accolade of becoming a Grande École – one of the most respected and academically rigorous higher education programs in the world. The IÉSEG culture is born out of a passion for progress and ability, meaning that we focus all our energy on identifying the true potential from each student. We are proud of our unorthodox approach to business education and its ability to instill the key values of accomplishment, responsibility, integrity, solidarity, engagement – abilities that have been at the heart of our school since the very beginning.
Education
At IÉSEG, students have access to the 5-year Grande École Program: A 3-year Bachelor program covering the fundamentals of management followed by a 2-year Master in Management program in which the students deepen their management knowledge and choose a specialization. The diploma approved by the French Ministry of Education has also been awarded the grade of Master (Master's degree).
In addition, IÉSEG offers a 3 year Bachelor in International Business, 10 one year Master of Science and an International MBA entirely taught in English.
Research
At IÉSEG Research Center, our professors conduct award-winning research and publish in the best international scientific journals. The primary fields are Economics, Finance, Marketing, Negotiation, Information Systems Management, Strategy, Operations Management, and the interdisciplinary field of Health Management. IÉSEG also enjoys a unique association with CNRS, Europe's largest research organization, which reinforces our interdisciplinary approach to modern business problems.
Career Prospects
Our Career Services is a whole support system offered by IÉSEG for the construction of the professional project of IÉSEG students. It comes in many forms and evolves throughout the program.
The Career Services continue to build on the student's personal and professional reflection to allow them to have the necessary tools to effectively enter the professional world. Workshops are led by certified Career Coaches, HR and recruitment professionals.
Accreditation
IÉSEG and its programs are recognized in France by the French Ministry of Higher Education, Research and Innovation and the Conférence des Grandes Ecoles. This recognition serves as a guarantor for the School's excellence.
IÉSEG holds the "Triple Crown" of international accreditations: EQUIS, AACSB, and AMBA, and is part of a limited circle of the best business schools worldwide (less than 1%). These accreditations certify IÉSEG's excellence according to very strict international standards.
EQUIS (European Quality Improvement System)
AACSB (Association to Advance Collegiate Schools of Business)
AMBA (Association of MBAs)
Conférence des Grandes Écoles
Locations
Lille
Address
IESEG School of Management
Lille Campus
3 rue de la Digue
59000
Lille
,
Hauts-de-France
,
France
Paris
Address
IESEG School of Management
Paris Campus
socle de la Grande-Arche,
1, parvis de la Défense
92044
Paris
,
Île-de-France
,
France