EPITECH
The school of Innovation and High Tech expertise
WHAT IS EPITECH?
The largest French higher education institution specialized in Information Technology
One of the most important institutions specialized in IT in Europe
Part of IONIS Education Group, which currently consists of 20 schools, 33 campuses, 23,500 students and 65,000 alumni
A large alumni network present in 30 countries
12 campuses in France: Paris, Bordeaux, Lille, Lyon, Marseille, Montpellier, Nancy, Nantes, Nice, Rennes, Strasbourg and Toulouse
3,000 active corporate partners
100% of graduates find a job after graduation
96% of graduates are hired under permanent contract
Top-level annual salary in France
Graduates working in key management positions in major European and international companies
A unique Innovation Hub network present at each of Epitech 12 campuses: a unique sharing exchange space, a fablab connected with companies, a unique team of Tech'mentors
Over 23 student associations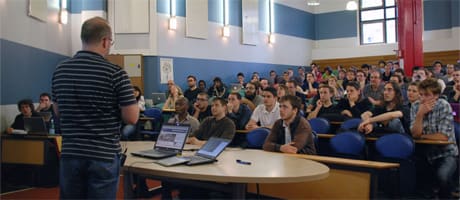 5 Good reasons to come to Epitech
INNOVATIVE PROJECT-BASED LEARNING METHOD
INTERNATIONAL AMBITIONS
CULTURE OF INNOVATION
NEW CAREER DEVELOPMENT OPPORTUNITIES
STUDENT LIFE
Our most ambitious objective is to answer efficiently and with quality to daily challenges of Information Technology. The IT sector is subject to change and revolution like no other scientific and technological fields. Turning a student into an adaptable and long-standing IT expert seems to come close to an achievement or even to an impossible challenge.
Why come to France?
FRANCE IS THE FOURTH MOST POPULAR DESTINATION FOR INTERNATIONAL STUDENTS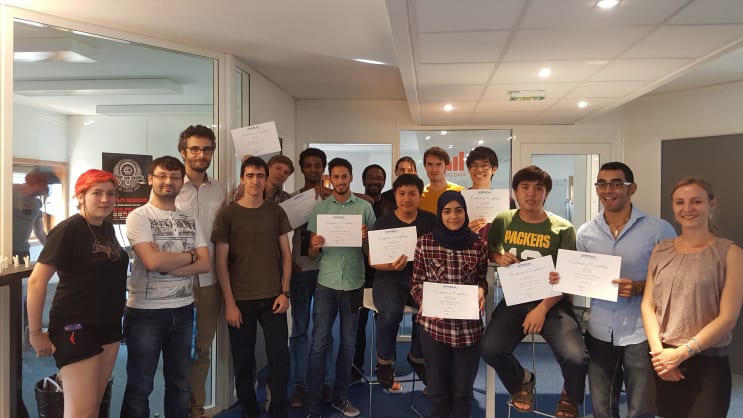 Studying in France The quality of French higher education is widely recognized throughout the world. French institutions figure prominently in the Shanghai Classification of Universities, in the rankings of the Financial Times and Times Higher, and in the European Report on Science and Technologies published by the European Commission. With more than 278, 000 international students France is the world's fourth-largest host country after the United States, the United Kingdom, and Australia. In the last 10 years, the number of international students in France has grown by 75%! Paris as a stimulating professional environment Famous for its dynamic cultural environment, Paris is also a major center of international business and offers numerous career opportunities. Located west of Paris, La Defense has the largest concentration of businesses in the Paris region with 3600 companies. There are over 1,500 headquarters registered there, among which are IT companies, such as Atos Origin, IBM Europe, EDS Electronic Data System and Oracle. The city Issy-les-Moulineaux, located close to the Epitech campus, also offers an intense business life with over 2,600 companies registered, such as Microsoft, Coca-Cola, and Cisco Systems. Learning a New Language For many students, studying in France means an opportunity to learn French or to extend one's command of the language. Doing so allows them to join a global community of 250 million speakers of the language of Voltaire, Hugo, and Camus, an official language of the Olympics, the United Nations, and the European Union.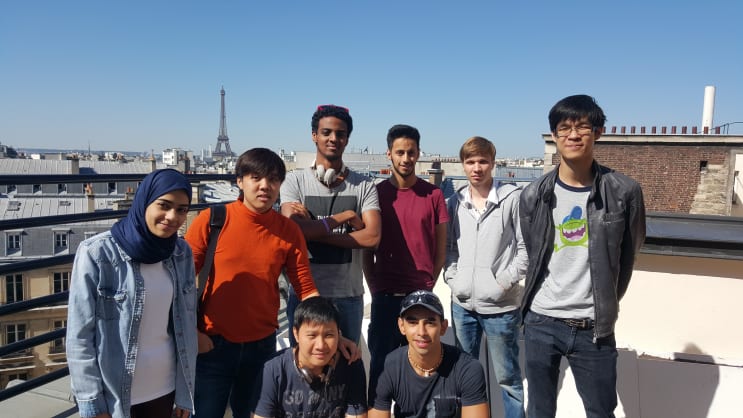 What International students say about Epitech
"It's 180° different: I used to learn in a "normal" university and normal lectures. Here there is a lot of practice just like in real world." Jumana, Ahlia University (Bahrain) "The main difference between Epitech and my home university in Sebastopol will be the expectations in terms of submitted exercises and workload intensity." Ivan, Sebastopol National Technical University (Ukraine) "At first, it was very difficult and honestly didn't know if I could continue. However, thanks to the support, as days passed, we had a better understanding and [it] became more interesting." Toshiki, Ristumeikan University (Japan) "When I was doing my studies in China, courses were more theoretical and different learning methods were used. Now at Epitech most of the classes are practical. We have many projects and through these projects, I can identify my weaknesses. In addition, being here allows me to assess my ability to learn by using self-development techniques." Rebecca, Beijing Jiaotong University (China)
Student life at Epitech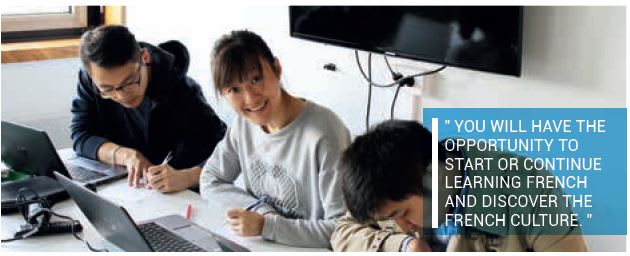 International student activities To ensure your integration, the International Relations Office will offer several specific activities for international students such as a welcome party, cultural visits, regular meetings and social events. A French class will also be included in your curriculum. You will have the opportunity to start or continue learning French and discover the French culture. Sports Activities Epitech grants its students access to Forest Hill, a sports club with 11 locations in the Paris area. The club offers various activities that may be practiced during opening hours (from 7 am to 11 pm), as well as a huge space, furnished with over 360 cardio-training machines. You will also have access to the famous Aquaboulevard water park, unique in Europe.
Pedagogy: Project-Based Learning
Our vision Modern companies are looking for people to solve their problems. Knowledge is not enough, it is now important to use that knowledge in projects. Our mission/objectives Providing students a context that will help develop skills required by companies How does it work
The Epitech method,
The Capstone Project
«The success of Epitech pedagogy is essentially based on its project-based and innovative approach. Our students gain expertise and develop deep technical abilities by developing and implementing projects inspired by concrete business cases. Our pedagogy helps develop student's creativity, self-confidence, and critical thinking and makes a real difference compared to the traditional learning methods." Axelle Ziegler, Head of Content Excellence
The Epitech method
Our vision A rigid education is not well-suited for the continuous changes in the computer science sector, and students must, throughout their careers, adapt daily, learn to become an expert in emerging technologies, acquire new competencies, communicate with non-technicians, and be an innovator by offering new proposals. Our mission With its unique educational model, EPITECH will guide each of its students, not to merely become acquainted with technologies, but to acquire the qualities expected by firms in order to enjoy a long and prosperous career in the industry.
Our Educational Methods
Epitech does not teach technologies but instills behaviors that allow each student the capacity to evolve, to learn independently, to comprehend business practices, to work in teams and to convince decision-makers. In order to accomplish this, educational methods are founded on several pillars:
Learning is done actively. Students interact with knowledge directly and it is only through the student's action that learning occurs. If they don't seek it, if they don't try, they will not learn. Therefore the "professor," as the classic intermediary between knowledge and the student, is eliminated. Instead, instructors become companions and catalysts in the student-knowledge relationship.
In the same way, and in direct opposition to traditional education, the learning process incorporates inductive methods. Students are confronted with real-life situations for which they do not yet have the technical background allowing them to resolve the issue. The student must then analyze the situation, research and acquire the knowledge and know-how necessary to resolve the problem, corresponding to how companies function persistently or react to new technologies coming to the market. Constructive exchange and experiments Through these different learning situations created at Epitech, students are led to exchange, discuss, and challenge their opinions. These exchanges, which occur not only within workgroups but also with all other students, reveal paths, questions, and even new problems. Each student is led to seek, verify and test different elements in order to confirm or deny the truth shared in these exchanges.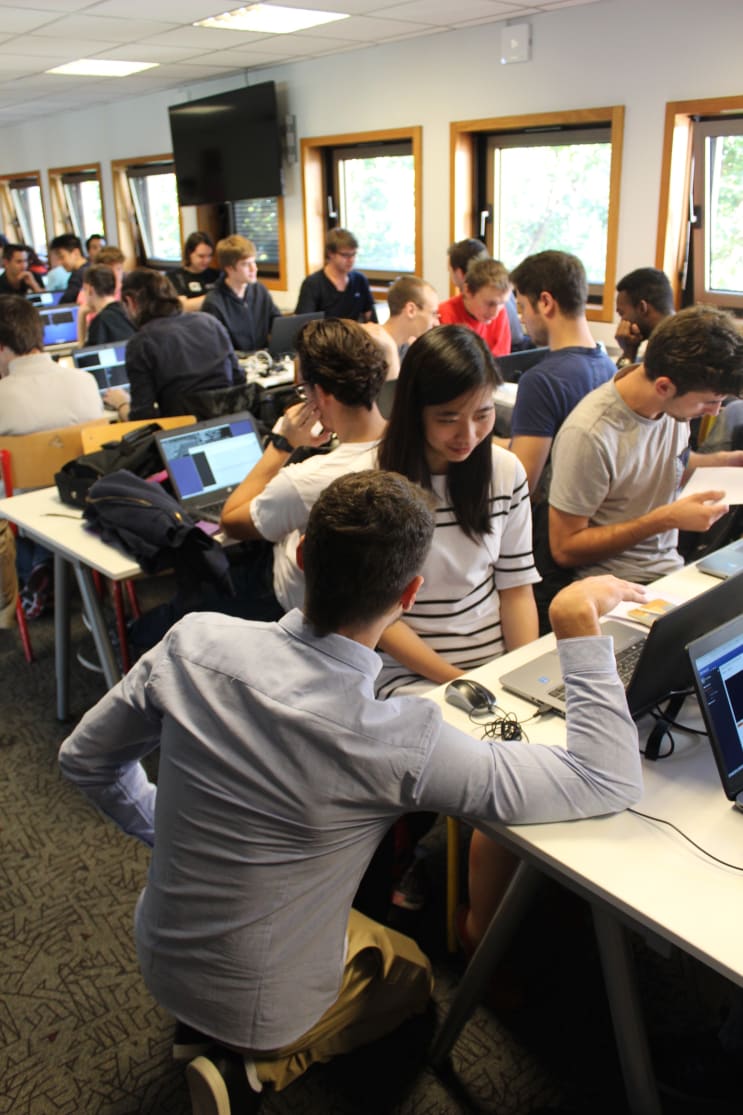 The team spirit learning method
Our vision: Nowadays more than ever before, team spirit guarantees success.
« The difference between success and failure is a great team » Dave Kerpen How does it work Joining Epitech makes students a part of a team where skills are shared and students learn from each other as well as "coaches". Accommodation Epitech doesn't offer dormitories on campus, but the International Education Office will assist you in your search for accommodation: Flat-sharing with Epitech students, Student residences, Studio apartments.
Our connected career services
Our mission: To Develop relations between Epitech and IT companies to the advantage of the students.
How does it work
Company internships: Internships let students develop all the qualities needed to be an IT expert: precision, rigor, efficiency, autonomy, adaptability, tenacity, method, creativity, curiosity, dynamism, leadership. Students will apply these qualities by taking part in 6 months of economic activity during their studies.
Epitech conferences

Concept: allow companies to share their vision of the market with students, show their knowledge or a new technology.
These are meeting points for students and companies.
Conferences allow students to face various problems, such as creating a company, managing, new technologies, etc.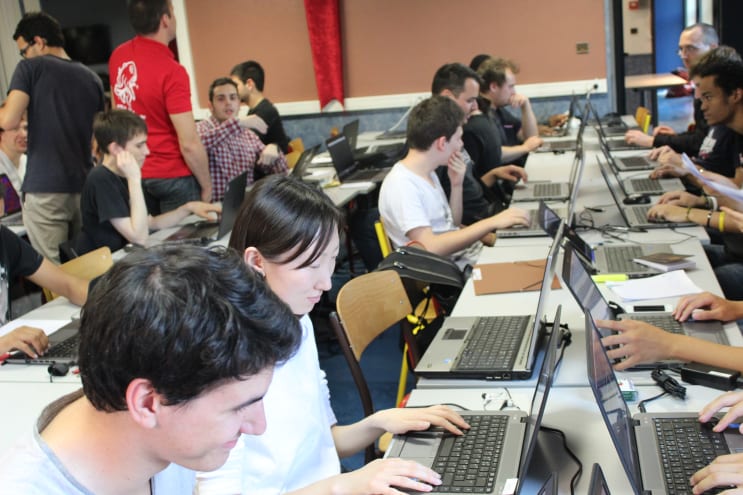 Our accomplished alumni network
Our vision: Building and developing a professional network is necessary for every student's career, so they are able to identify and take advantage of opportunities.

Our mission: To answer student's questions, to give opportunities, and mainly to help alumni and student's to keep in touch.
How does it work
Our Alumni network contains about 3000 former students
Actually, creating a startup or being hired by a great company is possible because Epitech is key to identify, in the alumni network, profiles with great experiences, exceptional and atypical careers, known skills.
Alumni will give a necessary advice to help the student in the project and help them to identify, avoid traps. The Alumni network is a very great tool all along Epitech's careers.
Our success story
Alexandre Malsh (promo 2009) and Jérémy Nicolas (promo 2009) started the Melty project in 2008. This was to be a web magazine about news, entertainment, and fashion for people aged 18 to 30.
The meltynetwork websites generate over 15 million visits each month. Meltynetwork has now expanded to Italy and Spain. Alexandre Malsh, Director-General of Meltynetwork, was also elected vice-president of the National Council for Digital technologies, founded in 2011.
Created in 2008
Turnover: 2.3 million euros in 2012, as opposed to 1.2 million in 2011
Funds raised: 3.6 millions euros
Audience: 15 million readers each month, as opposed to 9 million in September 2012
Locations
Paris
EPITECH Paris
Address
24, rue Pasteur
94270
Paris
,
Île-de-France
,
France
Bordeaux
EPITECH Bordeaux
Address
EPITECH
85 Rue du Jardin public
33000
Bordeaux
,
Nouvelle-Aquitaine
,
France
Lille
Epitech Lille
Address
EPITECH
5-9 Rue du Palais Rihour
59000
Lille
,
Hauts-de-France
,
France
Lyon
Epitech Lyon
Address
EPITECH
156 Rue Paul Bert
69003
Lyon
,
Auvergne-Rhône-Alpes
,
France
Marseille
EPITECH Marseille
Address
EPITECH
21 Rue Mirès
13002
Marseille
,
Provence-Alpes-Côte d'Azur
,
France
Montpellier
EPITECH Montpellier
Address
3 Place Paul Bec, 34000 Montpellier, France
34000
Montpellier
,
Occitanie
,
France
Nancy
Epitech Nancy
Address
EPITECH
80 Rue Saint-Georges
54000
Nancy
,
Grand Est
,
France
Nantes
Epitech Nantes
Address
EPITECH
5 Rue d'Alger
44000
Nantes
,
Pays de la Loire
,
France
Nice
Epitech Nice
Address
EPITECH
13 Rue Saint-François de Paule
06300
Nice
,
Provence-Alpes-Côte d'Azur
,
France
Rennes
Epitech Rennes
Address
EPITECH
19-22 Boulevard Saint-Conwoïon
35000
Rennes
,
Brittany
,
France
Strasbourg
Epitech Strasbourg
Address
EPITECH
4 Rue du Dôme
67000
Strasbourg
,
Grand Est
,
France
Toulouse-le-Château
Epitech Toulouse
Address
EPITECH
40 Boulevard de la Marquette
31000
Toulouse-le-Château
,
Bourgogne-Franche-Comté
,
France
Programmes
This school also offers: