Read more on the institution's website
Welcome to Aalto University
Be a Game Changer. Do you want to create something unique? Change the society, develop a new innovation – or a whole new industry?
At Aalto University, we believe in curiosity and we encourage our students to explore the unknown and do things in a totally new way. We offer the highest level of education in business, art and design, architecture, and technology in Finland.
Freedom to Choose
Aalto University degrees get you going for a successful career. In Helsinki and on the adjacent Otaniemi campus, Master's and Doctoral Programs draw talented academics from all over the world. Students get hefty discounts in transport, lodging, and dining. Except for the joint programs, Aalto University charges no tuition fees.
Aalto University School of Business is the first business school in the Nordic countries to have received all three labels of excellence from the world's leading business school accreditation bodies: AACSB, AMBA and EQUIS. This Triple Crown status is an honour held by only a few business schools worldwide.
Freedom to Do
From the beginning of your studies, you will get to participate in interesting projects and hone your practical skills. The blossoming startup scene and initiatives like Aalto Design Factory help our students generate real businesses out of their dreams and ideas. Under the tutelage of several distinguished scholars, you can also enter the realm of research and strive for the best. Freedom to Move Aalto University has extensive partnerships with over 400 universities worldwide. For example, the School of Business has exchange programs with some of the best business schools in the world. International doctoral and post-doc researchers, teachers and summer schools are a strong testimony to our opportunities.
Aalto University Schools
School of Arts, Design and Architecture
School of Business
School of Chemical Technology
School of Electrical Engineering
School of Engineering
School of Science
Tuition Fees
Tuition fees for Bachelor and Master programmes taught in English from 1 August 2017 onwards are subject to annual fees for non-EU/EEA citizens. Programmes taught in Finnish or Swedish are free of charge for all students.
The tuition fees range from EUR 12 000 to EUR 15 000 per academic year depending on the programme:
EUR 12 000 per academic year for the International Business BScBA degree programme;
EUR 15 000 per academic year for study options leading to a master's degree.
International joint degree programmes have their own tuition fees and scholarship schemes. For more information, please visit the programmes' webpage: http://www.aalto.fi/en/studies/education/international_double_degree_programmes/
Scholarships
There are several ways to fund your studies at Aalto University. Prospective non-EU/EEA students applying to Aalto University Bachelor's and Master's programmes as well as Nordic Master programmes are eligible to apply for scholarships awarded from the Aalto University Scholarship programme. Certain international joint degree programmes have their own tuition fees and scholarship schemes. There are also some possibilities to apply for a scholarship outside Aalto University.
Aalto University Scholarship Programme
Aalto University Scholarship programme seeks to recognize talented non-EU/EEA students across the world by awarding academic excellence. Scholarships may cover 50% or 100% of the tuition fee. The number of scholarships awarded is limited and depends on the budget available to the programme.
Aalto University is also building an incentive scholarship system in which an additional waiver will be rewarded to students who have made good progress in their studies.
Applicants apply for the scholarships at the same time they apply for their preferred study options with the same application form. The scholarship decision is given together with the admission decision. The decisions on the awarded scholarships are made on the basis of the academic merits of the students selected to study in the programmes.
At the moment, Aalto University does not offer any scholarships to cover living costs in Finland. Students are expected to cover all living expenses (app. EUR 800 per month) and other study-related costs from their own financial resources. Scholarship recipients must still be able to fund their living costs, as per the requirements of the Finnish Immigration Service. Students who were selected during the application period 2016 to English-taught bachelor's or master's programmes will not be required to pay tuition fees and cannot apply for scholarships.
Be sure to follow us on Snapchat!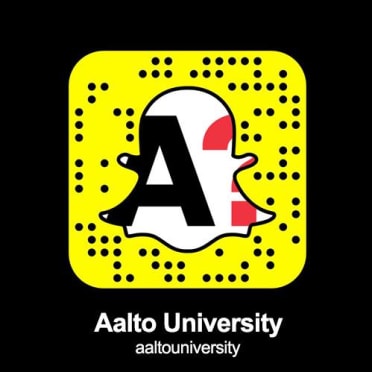 Locations
Espoo
Aalto University
Address
Otakaari 1 B
02150
Espoo
,
Finland