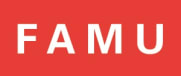 FAMU Film and TV School of the Academy of Performing Arts in Prague
Home ›
FAMU Film and TV School of the Academy of Performing Arts in Prague
Film and TV School (FAMU)
Film and TV School (FAMU) is an integral part of The Academy of Performing Arts, which was founded after World War II, in 1947. It is the fifth oldest film school in the world. Its graduates include many influential filmmakers and scriptwriters.
Studies At Famu = Filmmaking + Writing + Academic Disciplines
FAMU International has various programs in English, from one to six-week summer workshops to one semester programs organized abroad to one-year programs to full master degree programs.
Each program consists of a varying proportion of practical filmmaking, writing skills connected to practical processes and academic disciplines related to the audiovisual field with their reflections and methodologies. Each program has different conditions for admission.
Studying at FAMU means also spending your life in the heart one of the most beautiful cities in the world. Prague is a wonderful place for student life, full of culture and fun. Less than 5 hours from Vienna/Berlin/Munich/Budapest and other great cities of Central Europe.
History
The 1960s was perhaps the most brilliant period in the history of both Czech cinema and FAMU. The students and professors offered the most progressive and challenging ideas to the overall social discourse of the time.
After the occupation of Czechoslovakia in August 1968, several FAMU professors and graduates had to leave the country, among them Miloš Forman or Frank Daniel. Some of them contributed to the development of film art and industry in the world and played significant roles in the development of film education. After the fall of communism in Europe, FAMU maintained its status as the national film school but at the same time opened its gates for international students from all over the World.
FAMU is a founding member of CILECT (World association of film schools), of the European League of Institutes of Arts (ELIA), and of the European Association of Cinema and Television Schools GEECT. Works by its graduates have received many awards at international festivals and have often been co-produced with domestic television networks and broadcast over the nation.
Locations
Prague
FAMU Film and TV School of the Academy of Performing Arts in Prague
Address
FAMU International
Smetanovo nábřeží 2

11665
Prague
,
Prague
,
Czech Republic