Hasselt University is a young, dynamic centre of expertise for teaching, research, and service provision. It regards it as its social responsibility to contribute actively to a sustainable and innovative region. It aspires to be a hub in this innovation web. Hasselt University, therefore, attaches great importance to cooperation with other centres of expertise, companies, government agencies and organizations in Limburg and beyond.
As one of the drivers of regional innovation, Hasselt University focuses specifically on:
educating students so that they become highly skilled, employable professionals;
conducting applied and fundamental research in specific fields and encouraging practical applications from that research;
spreading its knowledge and expertise through collaboration with industry and other external partners;
developing foreign partnerships.
Basic principles in the implementation of these key roles are academic and scientific freedom, social engagement, attention to ethical standards and awareness of wider implications – without ideological discrimination.
For Hasselt University, the development of the human potential of all its students and staff comes first.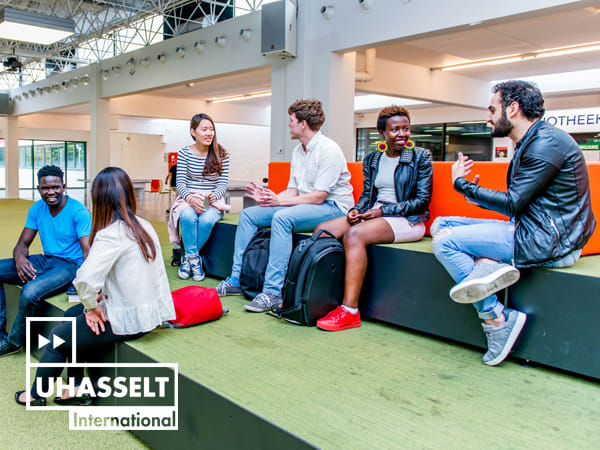 Facts and figures
6.395 students
522 doctoral students (of which 38% international students)
1.296 members of staff
independent academic staff
assisting academic staff
administrative and technical staff
2 campuses
Diepenbeek Campus
Hasselt Campus
17 Bachelor programmes
23 Master programmes (5 English taught)
6 faculties
Architecture and Arts
Business Management
Medicine and Life Sciences
Engineering Technology
Law
Sciences
+ School of Transportation Sciences
6 Research institutes
Biomedical Research Institute (BIOMED)
Centre for Environmental Sciences (CMK)
Centre for Statistics (I-BioStat)
Expertise Centre for Digital Media (EDM)
Institute for Materials Research (imo-imomec)
Transportation Research Institute (IMOB)
6 research priorities
life sciences
environmental technology
biostatistics
visual computing and human-computer interaction
new materials
road safety and mobility
Structure
Faculties
Hasselt University has six faculties that control teaching and research. Each faculty forms an education management team (OMT) and an Examination Board for each programme.
Departments
Various departments operate within the faculties. These bring together all staff performing research and teaching within the same discipline. Each department, in turn, consists of one or more research groups. These are responsible for the organization of specialist research.

Running across this classic tree structure of faculties, research groups and departments are the research institutes. These group together researchers from different research groups who perform research in certain priority areas. The entire research spectrum is covered in this way, from fundamental research via applied research to practical applications.
Locations
Hasselt
Universiteit Hasselt
Address
Hasselt University
Martelarenlaan 42
3500
Hasselt
,
Flanders
,
Belgium
Diepenbeek
Universiteit Hasselt - Campus Diepenbeek
Address
Campus Diepenbeek:
Hasselt University
Agoralaan – Gebouw D
B-3590
Diepenbeek
,
Flanders
,
Belgium