Master in
Master of Divinity / Master of Divinity by Extension
Vancouver School of Theology

Key Information
---
Campus location
Vancouver, Canada
Study format
Blended, On-Campus
Tuition fees
CAD 290 / per credit
Application deadline
Request Info
Earliest start date
Sep 2023
Introduction
OVERVIEW OF PROGRAM
The Master of Divinity, and Master of Divinity by extension, degree programs are for those seeking an academic program with practical applications within which to explore the depth of their faith and prepare for a variety of public and pastoral ministries. VST's Master of Divinity program is accepted for ordination by the Anglican, United and Presbyterian denominations in Canada and by the Presbyterian Church in the United States of America. Many other denominations accept all or part of this degree program, though some require at least a year in their denominational schools. Students should check with their denomination for specific ordination requirements.
A graduate of the MDiv program at VST will be equipped and prepared to exercise a vocation of theological scholarship in the service of the flourishing of God's people:
Self and Contextual Knowledge
Articulate critical knowledge of self, one's own denominational or faith tradition, and contemporary cultures, communities and contexts both locally and globally
Bible, Preaching and Worship
Demonstrate knowledge of biblical texts and their contexts in order to integrate biblical vision with contemporary realities in varied expressive formats such as preaching, teaching, and social ministry that witness effectively the mission of the church
Demonstrate theoretical and practical knowledge of worship traditions and lead worship services that interpret divine agency and hold space where God and people meet
Pastoral and Public Leadership
Evidence spiritual maturity to care effectively for the pastoral and spiritual well-being of individuals, congregations or communities
Demonstrate deep formation within the student's own denominational tradition
Practice effective leadership in pastoral and public situations amidst a climate of change, being a sign of Christ's presence while making use of and possibly going beyond current models of ministry
Indigenous and Inter-Religious Studies
Demonstrate awareness of a variety of Indigenous ways of knowing and being and show willingness to engage the Indigenous community locally and advocate for Indigenous issues globally
Demonstrate knowledge of and sensitivity to religious traditions other than one's own and show ability to identify and engage in areas of 'overlapping consensus' for the good of the world
Theology and History
Demonstrate knowledge of theology and history in the service of the flourishing of the church
Integration
Demonstrate integration of knowledge drawn from scripture, history and theology with spiritual and practical insights to analyze and respond imaginatively to contemporary challenges in the practice of ministry
LENGTH OF PROGRAM
This 90-credit hour degree may be completed in three years of full-time study or it may be completed on a part-time basis. There is a limit of seven years from the date of initial enrollment to the completion of this degree.
OFF-SITE STUDY AND RESIDENTIAL REQUIREMENTS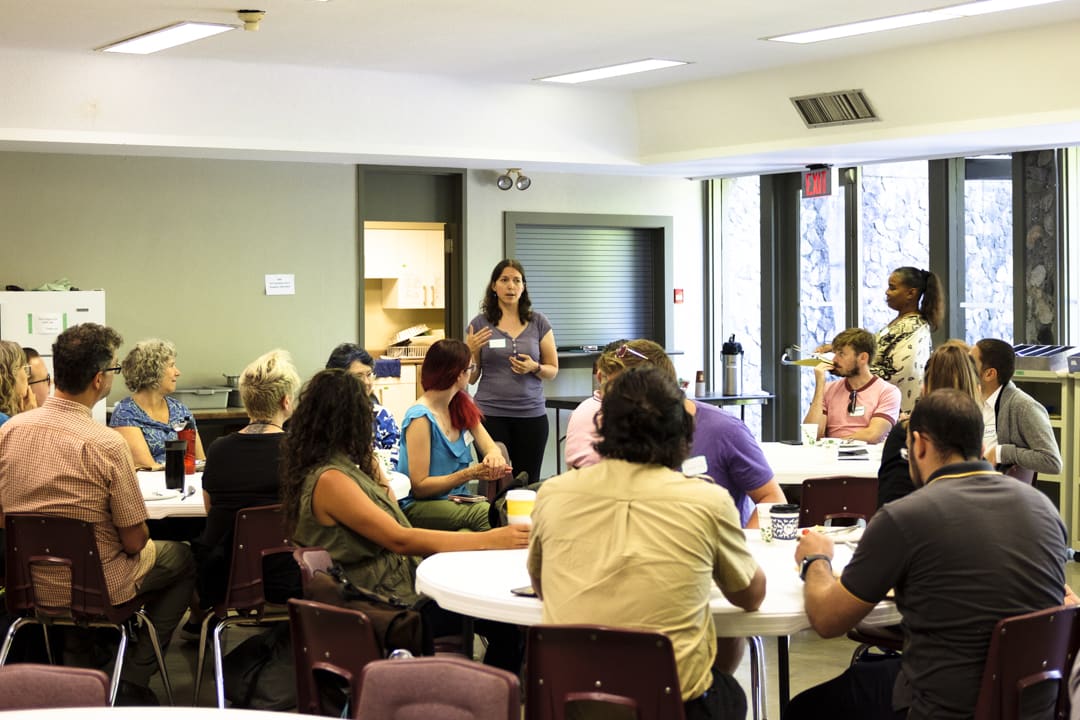 VST's main platform for off-site classes is through Adobe Connect and Moodle. M.Div students may complete up to 2/3 of their degree requirements through Adobe Connect classes. All off-site options are classes taught synchronously on-site. Off-site students can choose to connect via Adobe Connect concurrently to the on-site class time (recommended) or to watch a video/audio recording of the class at some later time in the same week. Off-site students are expected to follow along weekly with the required readings and assignments.
The M.Div Degree program requires the equivalent of one full-time year of study on campus (30 credit hours). Off-site students meet this requirement through 3 onsite intensives each year (Fall and Spring 5-day modules plus a 2-week January Interterm). In this model, students in the Off-site M.Div program can complete the degree in 4 full-time years.
TRANSFER CREDIT
VST has a relationship with UBC's Classical, Near Eastern and Religious Studies (CNRS) Department that allows VST students to take graduate courses offered by that department as electives. For a course listing and detailed descriptions, please see the CNRS Department website (cnrs.ubc.ca). Students are also welcome to take advantage of course offerings at Regent College. Please see their websites (regent-college.edu) for more details.
INDIGENOUS STUDIES MASTER OF DIVINITY BY EXTENSION

OVERVIEW OF PROGRAM
The Indigenous Studies Program M.Div. by extension (ISP-M.Div) is the only degree program for persons engaged in ministry in First Nations communities that is accredited by the Association of Theological Schools in Canada and the United States. At the present time, the program includes students from the Anglican, Presbyterian, and United Churches in Canada and several denominations in the United States.
PARTNERSHIP WITH FIRST NATIONS PEOPLES AND CHURCHES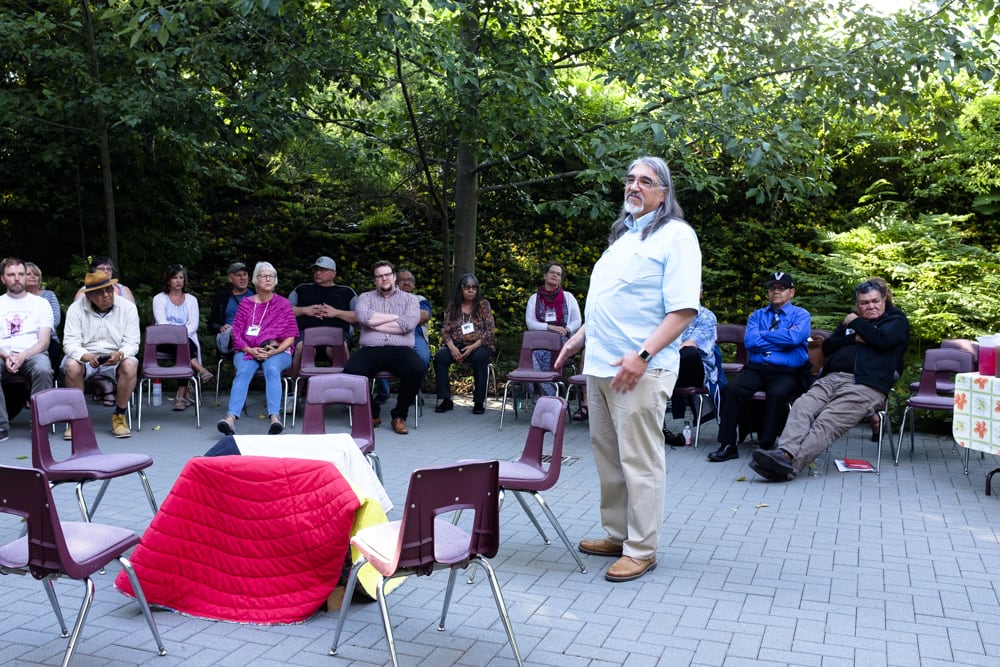 This innovative degree program was developed in partnership with First Nations people. The primary location and context for learning is the community in which the student lives and serves. This context is crucial for the student's effective engagement with the social, cultural, political, and religious values of First Nations communities. Denominational authorities are also indispensable partners. They nominate candidates and provide the necessary infrastructure for the delivery of the degree program.
Throughout their enrollment in the degree program, students normally continue to exercise some congregational ministry. In this fashion, students need not leave their cultural context, and their communities are not deprived of individuals who are already providing congregational leadership.
LENGTH OF PROGRAM
It takes between five and seven years to complete the Indigenous Studies Program's Master of Divinity by Extension program. Students are also expected to attend the Indigenous Ministries Consortium Summer School.
CURRICULUM
VST's Indigenous Studies Program Committee, which includes members appointed by the Indigenous Ministries Consortium, has primary responsibility for the M.Div. by Extension program.
The Extension curriculum encourages its students to reflect on the cultural vessel in which the Gospel came to their people and how the Gospel applies to their own culture. Students reflect theologically on nature and calling of the Church and the understanding and significance of the Gospel to their own tradition and to the history of their people. This reflection takes place in a curriculum which uses a variety of educational media and approaches, including:
Audio-visual materials
Texts
Lectures
Self-directed projects
Tutor-assisted studies
Seminars
This course of study takes place in the student's own community, in tutorials and seminars conducted by tutors and the School's permanent faculty at regional sites, and in courses taught in the annual Indigenous Studies Program Summer School.
The School's permanent faculty offer instructional resources that provide tools for historical research, biblical interpretation, theological reflection and social analysis. With these tools, students rooted and living in their own communities, apply their knowledge and skills to ministry amongst Indigenous People.