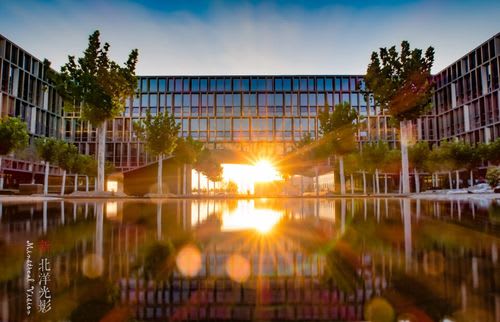 Welcome to Tianjin University
Founded in 1895 as Peiyang University, Tianjin University (TJU) is the first university in China. As the pioneer of modern higher education in China, TJU has been committed to the mission of revitalizing China through education ever since its foundation. Fighting arduously in keeping up with this mission, TJU proudly upholds the motto "Seeking Truth from Facts" while the faculty follows the guideline of "Precise Learning and Strict Teaching". To this day, over 200,000 outstanding alumni have been educated at TJU. The over 120-year history of TJU is the epitome of the progress of Chinese modern higher education. During this period of time, generations of students and faculty of TJU and its predecessor Peiyang University devoted themselves to the advancement of the nation and helped reconstruct the country with their sound knowledge of modern science and technology. While the university's motto remains unchanged, TJU has progressed over time, opening up to the world with an education of a high quality. Until now, the university adheres to its mission of nurturing high caliber talents with innovative abilities and providing education and research with social services at the same time. While moral quality is strongly emphasized in the education at TJU, the university maintains a multidisciplinary system for the well-rounded development of students. TJU is committed to recruiting quality talents and faculty, as well as building stronger relationships and international partnerships in an effort to make TJU a world-class institution. TJU has one of the most active on-campus communities in China. Every student and faculty is proud to be a member of the big family and has a high regard for each other. A variety of extracurricular activities are offered through dozens of student groups and organizations such as the Peiyang Arts Troupe, Youth Volunteer Association, International Student Association, and many other clubs around the campus. They offer social events such as the Weekend Concert, Robot Festival, International Cultural Festival, and sports events. The campus provides a unique and supportive environment in which students can learn and grow while enjoying the campus life. Why Study at Tianjin University? Tianjin University has been an academic leader in research and teaching in China since its establishment in 1895. Among the first group of universities to be included in the "211" and "985" projects, Tianjin University is committed to constantly improving its educational quality and level of scientific research in an effort to maintain its position as a world-class institution. Tianjin University welcomed its first batch of international students in 1954. Home to more than 20,000 international students from more than 140 countries and regions, TJU has become one of the best universities to study in China. 1. Academic and Research Excellence The University was the first in China to fully adopt a western style university education system. Since its establishment, it operated according to an American model, where the western style of learning was mainly taught. Over the 120 years, the University has established a reputation as one of the leading research and teaching centers in China. The University gives precedence to the study of engineering and has developed a balanced offering of disciplines including science, economics, management, literary arts, law, and education. 2. Vibrant Campus TJU's student life is a vibrant melting pot of: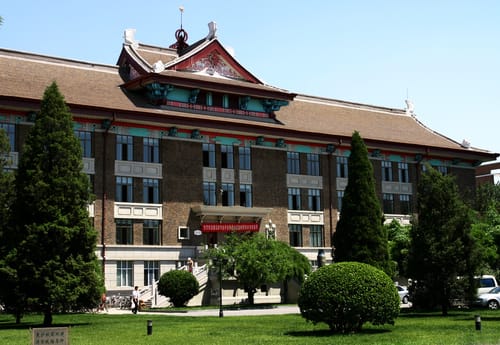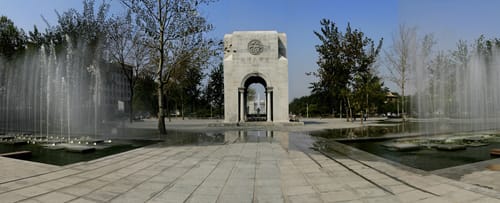 Broad spectrum of sports and recreation facilities
Nearly 300 student clubs and societies
Music opportunities almost every week
Socializing in trendy restaurants, coffee shops, and bars
Convenient stay with on-campus apartments, supermarkets, post-office, banks, etc.
3.Scholarships and Awards With its Internationalization Strategy launched in 2010, the University offers a variety of scholarships and awards to financially support qualified international students, including Chinese Government Scholarships, Confucius Institute Scholarships, Tianjin Municipal Government Scholarship, Tianjin University International Student Scholarships, and many awards for those with excellent academic performance. 4.Cosmopolitan Community Situated in the heart of Tianjin City, one of the four municipalities directly under the Central Government of China, the University offers an unrivaled student experience in a thriving, cosmopolitan community which will set the scene for the rest of your life. Known as a microcosm of modern China, Tianjin has been selected as the best commercial city and the most creative city in mainland China, also one of top ten Charming Tourist Cities in the nation. 5.Job Offers and Internship Opportunities As the permanent host city of the Summer Davos Forum, Tianjin is now an economic center, the largest international port city and an eco-city in northern China. With the national strategies of Tianjin Binhai New Area, Beijing-Tianjin-Hebei integration and Tianjin Free Trade Zone, a number of leading companies have their branches, R&D centers or even headquarters in Tianjin, which bring plenty of job offers and internship opportunities. 6.Low Cost of Living About 120 kilometers away or 30 minutes by inter-city express train from Beijing, the capital of China, Tianjin enjoys the convenience as Beijing's neighbor and has a much lower cost of living compared with other cities in its category, such as Shanghai and Beijing.
Tianjin University Statistics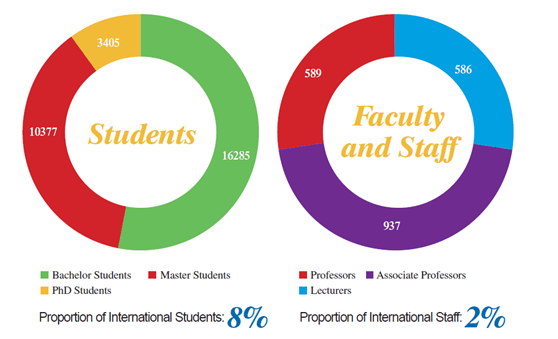 Degrees Taught in English
Bachelor's Programs in English
Chemical Engineering
Environment and Energy
Pharmaceutical Science
Master's Programs in English
Chemical Engineering
Mechanical Engineering
Environmental Science and Engineering
Civil Engineering, Hydraulic Engineering, Naval Architecture and Ocean Engineering
Pharmaceutical Technology
Software Engineering
Architecture
Urban Planning
Landscape Architecture
Doctoral Programs in English
Ph.D. in Applied Chemistry (Pharmaceutical Science Direction)
Applying to Tianjin University
1.When to Apply? 2.Admission to Degree Programs Applicants for the Degree Programs must submit all application materials for admission to Tianjin University. Before filling in the application form, please ensure that you have read the instructions on the admission procedures and requirements specified in the section of FIND A DEGREE at www.tju.edu.cn/sie/en/. After you have completed all the application materials, you must mail them in duplicate to the International Admissions Office, Tianjin University. Language requirements International applicants must provide an official language certificate as evidence of their level of proficiency in Chinese or English. The following internationally organized language tests are accepted by Tianjin University with field-specific minimum requirements: -Field of Science and Engineering: HSK 4 (Score 180 or above) for programs taught in Chinese TOEFL (Score 80 or above) or IELTS (Score 6.0 or above) for programs taught in English (Not required for native English speakers) -Field of Liberal Arts: HSK 5 (Score 180 or above) for programs taught in Chinese TOEFL (Score 80 or above) or IELTS (Score 6.0 or above) for programs taught in English (Not required for native English speakers) If the applicant's Chinese proficiency has not yet met the requirement of admission, he/she can study Chinese Language at Tianjin University for one year and obtain the required certificate of HSK. 3.Admission to Non-Degree Programs Applicants wishing to study at Tianjin University may also join the following non-degree programs: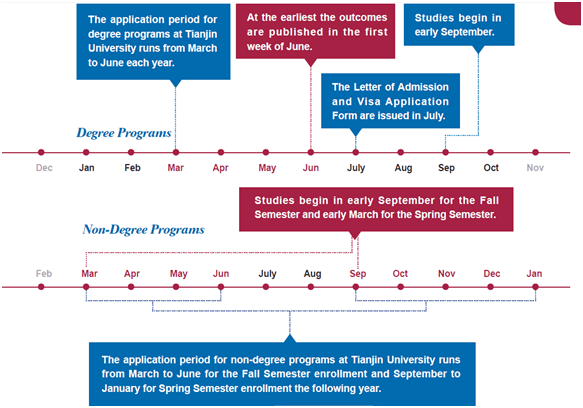 International Foundation Program (IFP) – a pathway to top universities in China
International Visiting Student/ Research Student Program
Long-term Chinese Language Training Program
Short-term Training Program of Chinese Language and Culture
Before filling in the application form, please ensure that you have read the instructions on admission procedures and requirements specified in the section of LEARNING PROJECT at www.tju.edu.cn/sie/en/. After you have completed all the application materials, you must mail them to the International Admissions Office, Tianjin University. 4.Fees 5.Scholarship Opportunities To support more outstanding international students to study a Bachelor, Master or Ph.D. degree at Tianjin University, international students who are applying for admission to TJU may apply for scholarships offered through Tianjin University. There are several categories of scholarships currently available: Chinese Government Scholarship-Chinese University Program, Confucius Institute Scholarship, Tianjin Municipal Government Scholarship, Tianjin University International Student Scholarship, and Special Scholarship in specialized categories. Further information and details about scholarships at Tianjin University are available at: www.tju.edu.cn/sie/en/ The Chinese government has also set up a series of scholarship programs to sponsor international students, teachers, and scholars to study and conduct research at Chinese universities. The website that you can refer to for scholarships from the Chinese Government is: www.csc.edu.cn/Laihua/scholarshiplisten.aspx?cid=97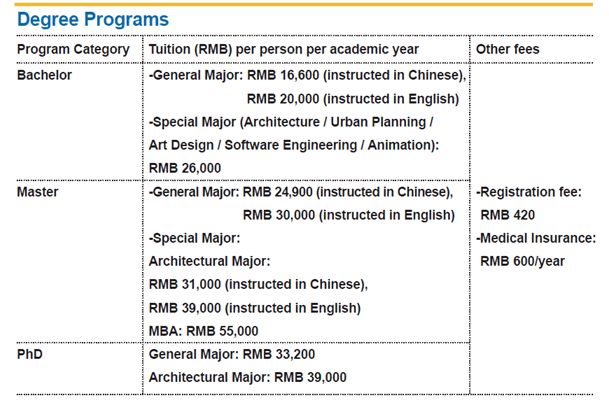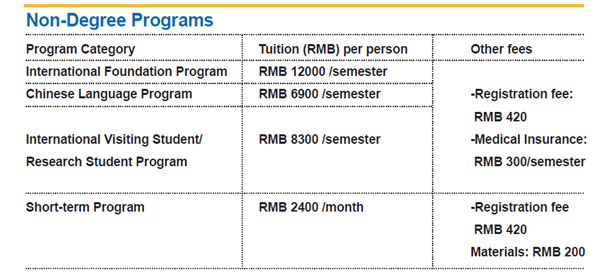 Tianjin University and Career Opportunities
TJU's faculty and staff are dedicated to your success. Professors are committed to providing high-quality education and industry linkages. The employment rate of TJU's graduates has consistently been high over the past years. Among those who were employed in 2015, nearly 22% were working for the Fortune Global 500. Some enterprises include: Living and Studying in Tianjin Follow us at: For more information, please contact: The International Admissions Office Tel: +86-22-27406691 Fax: +86-22-27406147 Email: [email protected] Website: www.tju.edu.cn/sie/en/ http://www.tju.edu.cn/english/ Address: School of International Education, No.10 East Building, Tianjin University 92 Weijin Road, Nankai District, Tianjin 300072, P. R. China