Business for a Better World
SFU Beedie, one of Canada's leading business schools located in one of the world's most livable cites – Vancouver, British Columbia, is home to those who believe in the power of business to spark new ideas, fuel social innovations, and advance society.
Segal Graduate School
Your future isn't a destination – it's you're here and now.
In our renowned graduate programs, you are free to be fearless. To question, discover and confront the status quo. From global business challenges to pressing local issues, you'll find and deliver solutions for a better world. Together, we'll take your career further than you ever envisioned.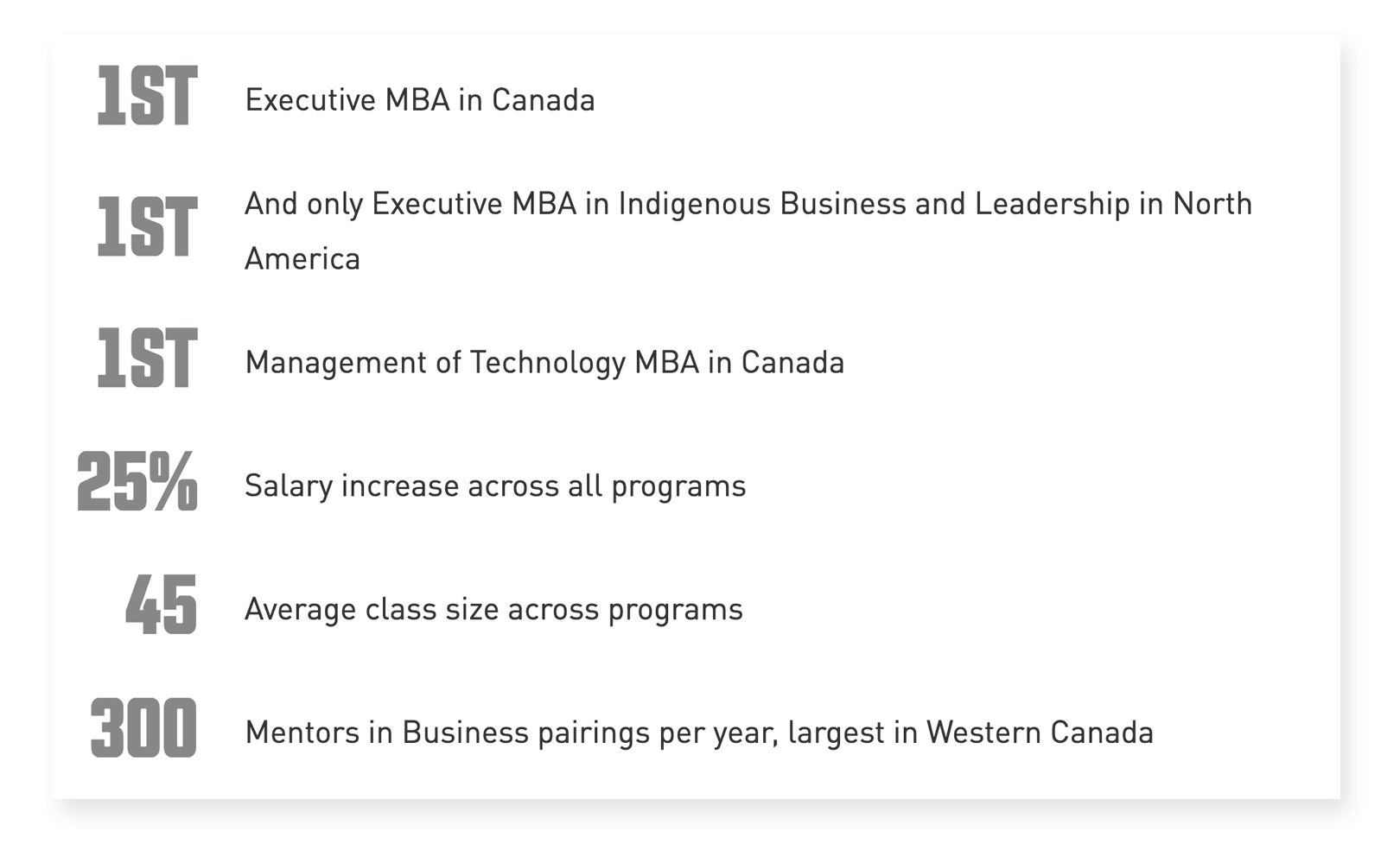 Graduate Programs
Full-Time MBA in Downtown Vancouver
Our Full-Time MBA boasts a small class and a tight-knit cohort. Twelve months of academics and a 4-month work term will help you grow professionally and personally to realize your career potential.
Part-Time MBA at the SFU Surrey Campus
Work smarter. Learn faster. Don't quit your job to pursue our Part-Time MBA — bring your learnings to the office and your work challenges to the classroom.
Management of Technology MBA in Downtown Vancouver
Optimized for tech, our MOT MBA offers the cutting-edge business practices you expect from a top-tier MBA, plus tools and contacts to help you step into a leadership role in the technology sector.
Executive MBA
Our EMBA is the catalyst that will give you the executive-level support and knowledge to unlock your full leadership potential.
Master in Science in Finance
The financial world is changing. With our MSc Finance program, you won't just keep up; you'll get ahead. This rigorous program gives you real-world experience in managing investments and risk.
Graduate Diploma in Business Administration
Our 100% online GDBA gives you a solid foundation in business. And, if you choose, it can become the foundation for an SFU MBA.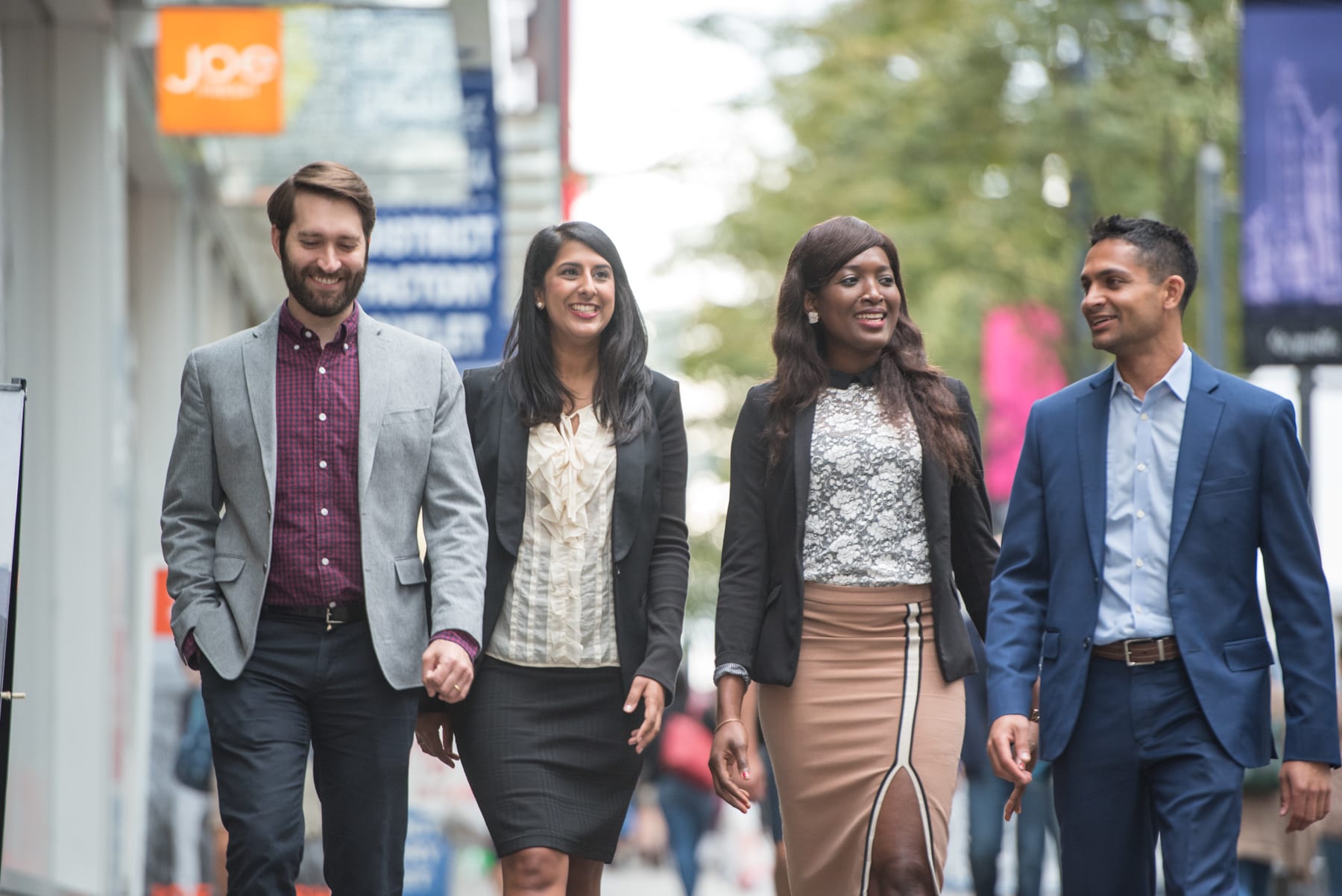 Our Vision
Our Calling
We develop innovative and socially responsible business leaders with a global perspective through education, inspired by research and grounded in practice.
Our Values
To deliver on our calling, we will live by our core values (DARE):
D: Diversity
We create a collaborative and inclusive environment through respect for one another's diverse individual passions, strengths, and contributions.
A: Action
We generate impact through our innovation, agility and thoughtful experimentation.
R: Research
We celebrate and support our scholarly curiosities to challenge convention and generate knowledge.
E: Engagement with Purpose
We produce positive societal and economic outcomes through engagement with our local and global communities.
Our Strategy
We bridge the scholarship and practice of management to develop leaders who positively impact their organizations and communities.
Our Promise
To students, we offer relevant, experiential and student-centered education inspired by our staff's professional commitment and our faculty's world-class expertise
To employers, supporters and communities, we offer innovative, socially responsible and globally-minded leaders who are ready for the world
To alumni, we offer opportunities for life-long learning and a community that supports their professional and personal development
To scholars and staff, we offer a collegial, flexible and stimulating environment that supports their effective work and thought leadership
Our People
To deliver on our vision and strategy, and to live by our values, we recruit, support and develop faculty, staff, students, alumni, and partners who are passionately committed to:
Making SFU's Beedie School of Business an outstanding business school and an attractive place to be a part of
Developing individuals, organizations, and communities through experiential, innovative and transformative learning opportunities
Embracing world-class thought leadership and teaching to benefit society
Celebrating and encouraging diversity and active engagement with our local, global and Indigenous communities
Leveraging our presence in Vancouver and on Canada's West Coast with a deep respect for its multi-cultural character and the natural environment