MSc in
M.Sc. in International Logistics and Supply Chain Management
International School of Management (ISM)
---
Campus location
Frankfurt, Germany
Tuition fees
EUR 5,700 / per semester *
Application deadline
Request Info
Earliest start date
Request Info
* apply and sign a study contract until December 31, 2022 and benefit from the current, lower study fees
Introduction
Become an expert in International Logistics and Supply Chain Management
In the Master of Logistics and Supply Chain Management, you will not only deal with logistics processes, operations research, transportation models, and value chains, but you will also be sensitized to current topics such as sustainability, smart mobility, and capacity planning.
The overarching aim of the postgraduate supply chain program is to provide graduates with tools and insights on how globalized logistics systems can be set up and sustainably maintained.
You will also gain more in-depth knowledge of data-driven subjects such as data science and analytics or international operations management. At the same time, you will dive deeper into management topics like leadership, organizational development, or project management.
Where can you study Logistics & Supply Chain Management?
You can study the Masters in Supply Chain Management at our Frankfurt/Main and Hamburg campuses. They belong to some of the main European hubs in terms of logistics, both for their location and infrastructure as well as by the number of companies in this sector.
Gain international experience in logistics
When you opt for the full-time M.Sc. Supply Chain Management and Logistics program, you will:
study 100 percent in English language,
enjoy the third semester abroad at one of about 190 partner universities and
get the opportunity to obtain a second international degree (Double Degree) at one of the partner universities.

Trully international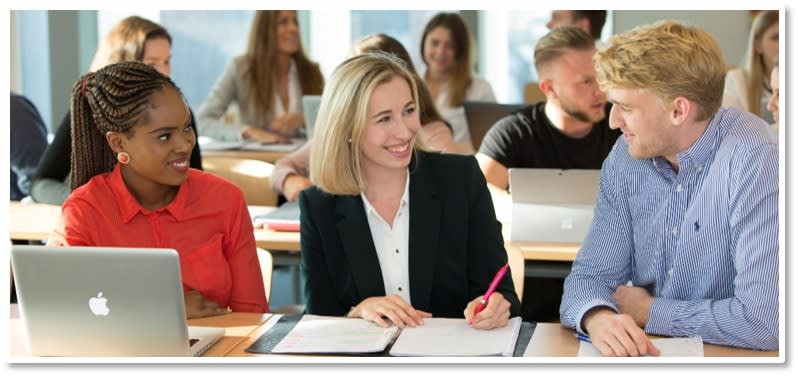 Students at ISM get to trully experience the motto "International. Individual. Inspiring". Around 84 nationalities are representated at the ISM, with over 30 percent international enrollments. Part of the regular university life at ISM are also the integrated semesters abroad at one of over 190 international partner universities as well as intensive language trainings which can be taken prior to starting as well as during the studies.
Semester abroad included

The included exchange semester abroad during your postgraduate studies is a life-changing experience you won't want to miss! You can perfect your language skills and will be ideally equipped for a successful career in an international company.
Earn an international Double Degree

When pursuing a supply chain management and logistics master's, you get the unique chance to acquire an international double degree. This means that, in addition to the Master's degree from ISM, you can earn a second Master's degree from one of our 20 partner faculties. The double degree also deepens your language and intercultural skills and expands your personal network through interactions with international students and lecturers.
Curriculum
1. Semester
Transportation Modes & Business Models
Land & Sea Transport (2 ECTS)
Aviation Transport (2 ECTS)
Infrastructure Management (2 ECTS)
Operations Management & Logistics
Process Management (2 ECTS)
Supply Chain Management (2 ECTS)
Quality Management (2 ECTS)
General Management in Logistics & SCM
Strategic Management (2 ECTS)
Human Resources Management (2 ECTS)
Business Transformation (2 ECTS)
Methodologies in Logistics & SCM
Quantitative Methods & Operations Research (2 ECTS)
Data Science & Business Intelligence (2 ECTS)
Scientific Working (2 ECTS)
Leadership Skills
Corporate Governance & Business Ethics (2 ECTS)
Cross Cultural Leadership (2 ECTS)
Negotiation, Communication & Executive Presentations (2 ECTS)
Work placement (12 ECTS)
2. Semester
Advanced Transport Management
Forecasting, Capacity Planning & Network Management (2 ECTS)
Yield Management & Pricing (2 ECTS)
Marketing & CRM (2 ECTS)
Finance & Risk Management in Logistics & SCM
Managerial Accounting (2 ECTS)
Financial Analysis & Planning (2 ECTS)
Risk Management (2 ECTS)
International Environment of Logistics & SCM
Digital & Sustainable Supply Chains (2 ECTS)
Ecology & Economics (2 ECTS)
International Law, Transport Policy & Lobbying (2 ECTS)
Project Work in Logistics & SCM
Project Management & Consulting Methods (2 ECTS)
Consulting Project (4 ECTS)
3. Semester
4. Semester - Master's thesis (30 ECTS)
Rankings
The ISM is top-ranked and unlimitedly state-approved

The ISM University is state-accreddited unlimitedly and all study programs bear the seal of quality of the Accreditation Council and the FIBAA. The quality of the education is confirmed by HR managers, ISM students and alumni and the presence in numerous rankings where ISM consistently occupies top positions since many years, such as the CHE University Ranking, Universum, Trendence and U-Multirank, especially in areas such as:
Internationality,
Support at the beginning of the studies
Graduation in due course
Professional experience and contact to professional practice,
Student mobility,
International academic staff,
Foreign language taught bachelor and master programs, etc.

Program Outcome
Your Advantages at ISM
High-quality education: first-class teaching, top-ranked and unlimited state accreditation (FIBAA).
High employability after graduation: over 80% of our students find a job before graduating.
Close to practice: the majority of our lecturers come from the corporate world and can connect theory with business practice and teach you real-life business scenarios.
Personal teaching atmosphere: study in small learning groups.
Strong internationality: students of 84 nationalities. Ratio of 30% international students.
A Network of more than 190 partner universities to choose from for your semester abroad.
You can study Logistics & Supply Chain Management at two major logistic hubs of Germany: Frankfurt am Main and Hamburg.
Career Opportunities
Do you see your future in the logistics field and would like to be an expert in global supply chains or operations one day? Then this full-time postgraduate program is for you, as it will give you the knowledge and range of skills to prepare you for roles in international operations management in a wide range of industries and settings.
As an expert with experience in national and international logistics, you have ideal prospects for a successful career upon completing the M.Sc. Logistics and Supply Chain Management program, graduates have a varied range of career options to choose from, with job opportunities such as global logistics manager, supply chain manager, procurement manager, inventory manager, consultant, production manager, etc.
Do you want to know what your career options in logistics are? Read more in our ISM Guide "Careers in Logistics"

***
"We received valuable first-hand information from which I still profit in my job today". Lasse Laging was one of the first graduates of the Logistics Master at the ISM campus in Frankfurt am Main. He particularly liked the extensive internships and practical aspects of the lecturers during his studies. In search of an internationally-oriented position, he moved to Continental AG, one of world's largest automotive suppliers and market leader in tire production in Germany. Lasse now works there as Corporate Real Estate Manager.