Our Vision
Modern, accessible, personally supervised eLearning study programs for all people - this is what we have been aiming for with the eLearning Academy for Communication since its foundation in 2016.
We set new standards not only in terms of content in the fields of marketing communication, media and business, but also in terms of implementation in the digital education market.
We offer you practice-oriented academic high-level courses with an accredited master's degree. The focus is on comprehensible and multimedia-based content that can be studied independently of time and location: for an individual learning pace with personal feedback, constantly evolving topics and study content, and academic reflection.
Our Mission
Your success is a personal concern for us. The eLearning Academy for Communication therefore enables individual study at the pulse of time – when and where you want - with a competent academic company and its partners. In this way, we contribute to the education, training, professional empowerment and self-realization of you.
How it all began
In 2016, the eLearning Academy "fell into its founders' laps". Prof. (FH) Dr. Silvia Ettl-Huber and Prof. (FH) Dr. Michael Roither are actually two busy professors at the University of Applied Sciences Burgenland. Both had previously worked at the Danube University in Krems, Austria, and both were still sceptical when it came to distance learning at the time.
The two happened upon a blended learning study that looked at programmes that are based on mailing study materials to students and the two made an interesting observation. On average, students who worked with a higher proportion of distance learning were got slightly better grades than the students in face-to-face programmes at their final exams. This made them think. It suddenly seemed logical that a consistently growing, updated and multimedia-based study content would ensure consistent teaching quality. Above all, distance studies offer a comprehensive line of subjects.
Where there is a thought, a way is soon found. The Austrian Institute of Management at the FH Burgenland let the founders pursue their idea to the end and so they built a course of study based entirely on distance learning. Enriched with the secret ingredients, the founders bring along from decades of experience in part-time education and training.
The eLearning Academy method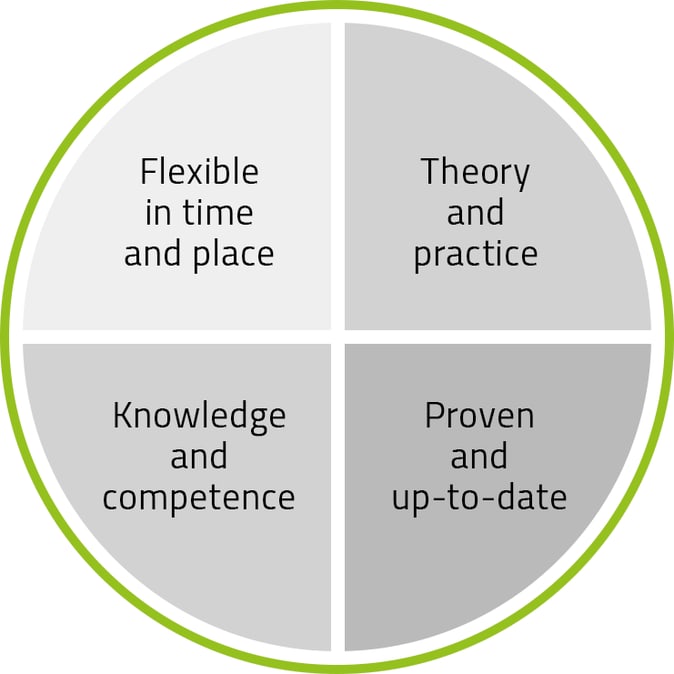 Finally, stress-free studies combined with individual support!
The fear of classic exam situations, an aversion to group work, in which the coordination of tasks uses up more energy that doing the tasks themselves, the memory of impossible schedules due to mandatory face-to-face studies and a lack of practical relevance – these are just some of the things that students don't want to face.
Studying with the eLearning Academy means: a pleasant way to deliver with personal feedback, independent of time and place, a resource-conserving study programme without travel times and travel costs, courses with module managers that have close ties to the working world, solid basic knowledge with the advantage of consistent quality, combined with up-to-date cases and the transformation of knowledge into competence.
We sometimes call it the eLearning Academy method and we are constantly improving it to serve our favorite disciplines: communication, marketing, sales and management.
Master's Programmes
The eLearning Academy for Communication offers the Master's degree in Marketing Communication in three specializations and two languages in the fields of communication, marketing, sales and management as a part-time distance learning program.
The courses are aimed at those who want to
increase their chances of career advancement in marketing by obtaining a master's degree,
at practitioners who want to substantiate their expertise scientifically,
and at career changers in marketing communications.
The distance learning programme is 100% online. You organize your studies up to the Master's degree completely independent of time and place with the support of our competent study advising team led by Anria Brandstätter. No attendance phases, attendance requirements or fixed exam dates – you study when and where you want. Multimedia-based learning materials, continuous self-checks in the form of knowledge reviews and personal feedback on practice-relevant module work help you to achieve the internationally recognized title "Master of Arts".
Examination modalities
You will complete 14 of the total of 15 modules in this part-time master's program with module papers. These are papers of around 15 pages with special assignments that combine theory with practice. You will complete the 'Law' module with an online test. Within each module, you continuously test your knowledge by means of integrated self-tests. You must complete these self-tests positively before you can hand in the module thesis.
You complete your studies by writing, presenting and defending your master's thesis. You can do this on site or online.
Accreditation of eLearning Academy