MSc in
MEITIM – MSc in Entrepreneurship, Innovation and Technology Integration in Mining
EIT RawMaterials Academy - MEITIM
---
Campus location
Lahti, Finland
Application deadline
Request Info
Earliest start date
Sep 2024
* tuition fees may vary depending on the study track chosen
Introduction
The raw materials sector is entering a new era that requires companies to transform their operations, create new business models, and foster a digital culture. In this context, the minerals industry is facing a changing talent landscape, necessitating of new skill sets in their workforce. Companies need to ensure that their staff is properly constituted to support this transformation process.
In the raw materials sector, technology is not an end in itself. The greatest impact will come from embedding different new technologies as an integrated whole and all across the mining value chain. Each opportunity is significant in itself, but achieving the full potential of all opportunities is possible only if they are pursued in an integrated way. The key to doing this is to have cross-functional teams that understand both mining operations and the technologies and are able to integrate new technologies into operations. Companies must be able to get the right people with the necessary skill set to maximize value creation. Miners must prepare their workforce today to meet the demands of tomorrow's digital age or risk future growth and innovation.
Over time, mining work will evolve toward knowledge-based jobs that solve the same challenges as today but do so through different means, and at the same time, face new challenges. The mining companies that recognize this shift today and best navigate the changes ahead will be the winners of tomorrow.
Double Diploma: Graduates of the MEITIM program will be awarded a double Master of Science degree, depending upon their chosen pathway. Graduates will also be awarded the EIT Label Certificate.
Participating Universities
Universidad Politécnica de Madrid (Technical University of Madrid Spain
Lappeenranta-Lahti University of Technology Finland
Wrocław University of Science and Technology Poland
Curriculum
MEITIM is a two-year program organized into four semesters and accounts for 120 ECTS or 30 ECTS per semester.
Students study one year at an 'entry' university and one year at an 'exit' university, both of which are partners of EIT RawMaterials and the MEITIM Project. The first year is focused on basic courses and electives that lay the foundation for the chosen technical program, together with intense and integrated learning and training in innovation and entrepreneurship (I&E):
Students are introduced to business and management from the first year.
During the second semester, a design project is combined with business development exercises to demonstrate how technology can be transformed into a successful business.
Students are taught how to prepare and present a convincing business plan and have the option to take elective courses.
Between the first year and the second year, the summer school program addresses business opportunities within a socially relevant theme.
The second year offers specialization and a graduation project. The graduation project includes an internship at a company or a research institute and culminates in the development of a Master's thesis which features a strong innovation and entrepreneurship dimension.
Graduates receive degrees from the two universities and the EIT Label certificate awarded by the European Institute of Innovation and Technology (2 diplomas + 1 certificate in total).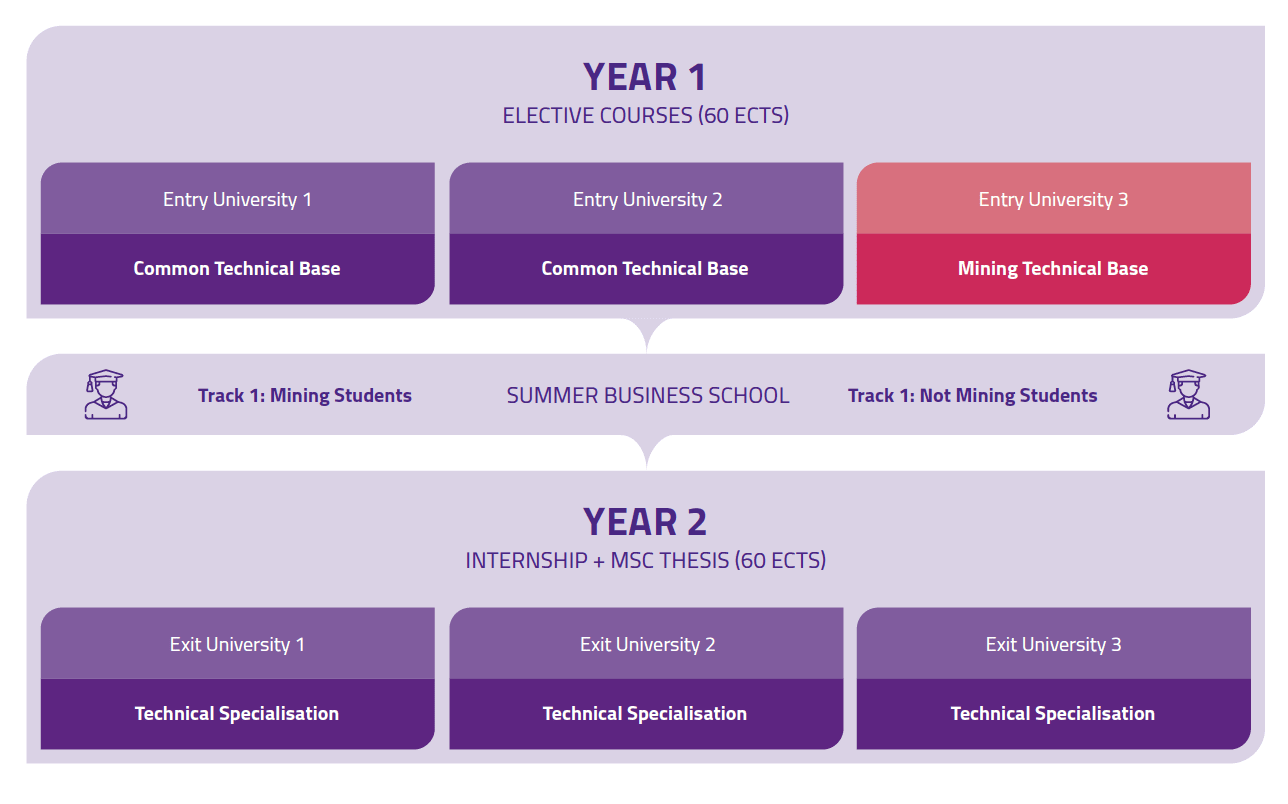 Scholarships and Funding
For students beginning in September 2023, EIT Label scholarships from EIT RawMaterials of €13,500 per eligible student are available. For information on how EIT Label scholarships will be awarded and who is eligible, please contact the coordinating university directly. Additional scholarships and grants may be available – contact us for details.
Career Opportunities
Graduates of the MEITIM program will have the training and preparation to participate actively in the transformation that the mining sector is undergoing, including through a sound knowledge in the latest technologies through practical training, and the ability to integrate innovation and new technologies into feasible business solutions for the raw materials value chain. The MEITIM program aims to give students the ability to understand technical, business, social, and economic aspects and, with this, to stimulate their technological innovation and technologies integration capacities with the vision of creating new opportunities and added value.
Graduates of the MEITIM program will be fully qualified to expand the relationships of professionals in this dynamic and innovative activity sector and to work for:
Mining and metallurgical companies
EU bodies (raw materials and industry)
Investment banks (raw materials sector)
Venture capital (raw materials sector)
National/regional government agencies
Engineering and consulting firms
Freelancer and entrepreneur
Knowledge institutions, research institutes, and think-tanks