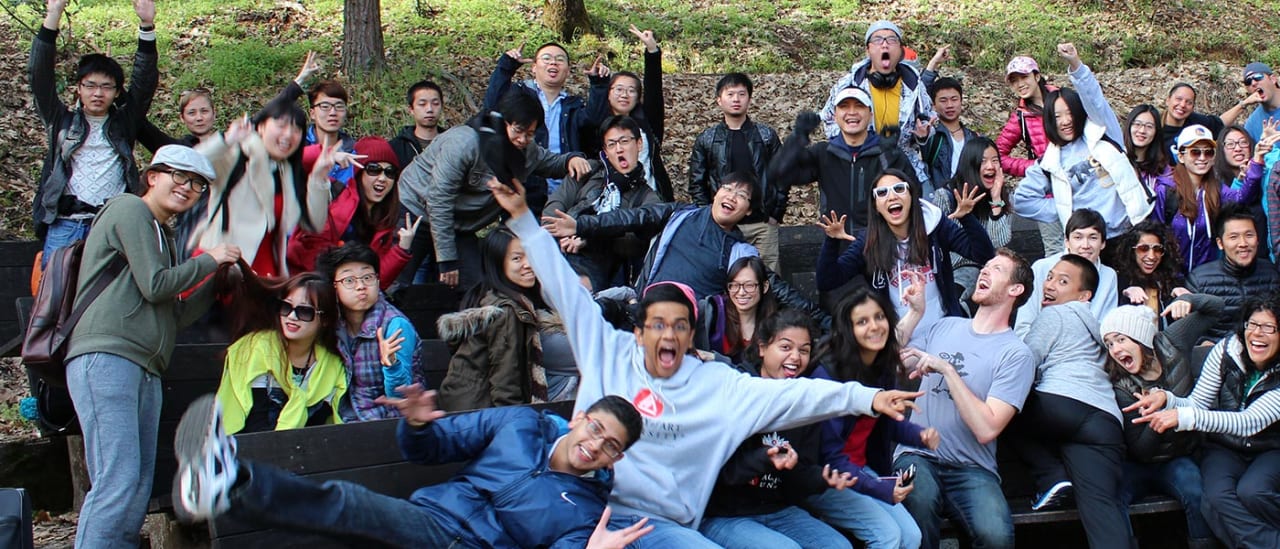 MA in
Master of Arts (MA) in Sound Design
Academy of Art University

Key Information
---
Campus location
San Francisco, USA
Study format
Distance learning, On-Campus
Application deadline
Request Info
Earliest start date
Feb 2024
Introduction
The MA in Sound Design provides students with focused studio training in sound design, digital audio workstations, and industry standard practices in creating sonic worlds for visual media. Emphasis is placed on creative sound design techniques, and editorial practices in layering sounds in synchronization with visual media.
Program Outcome
Graduate students will meet the following student performance criteria:
Listening Skills and Critical Thinking
Demonstrate an advanced understanding of the singular elements and overall combinations of sound design
Soundtrack for Visual Media
Create sound which supports or heightens the emotional impact of visual imagery
Production Skills and Technical Knowledge
Demonstrate proficiency with software related to contemporary sound production techniques
Professional Readiness
Think critically and demonstrate flexibility in creating or editing audio for client needs
Complete a final project which reflects professional goals
Academy of Art University Learning Outcomes
Graduates of the Academy of Art University will demonstrate the ability to:
Produce a body of work suitable for seeking professional opportunities in their chosen field of art and design.
Solve creative problems within their field of art and design, including research and synthesis of technical, aesthetic, and conceptual knowledge.
Communicate their ideas professionally and connect with their intended audience using visual, oral, and written presentation skills relevant to their field.
Execute technical, aesthetic, and conceptual decisions based on an understanding of art and design principles.
Evaluate work in their field, including their own work, using professional terminology.
Recognize the influence of major cultural and aesthetic trends, both historical and contemporary, on art and design products.
Learn the professional skills and behaviors necessary to compete in the global marketplace for art and design.
Career Opportunities
Academy of Art University offers some of the best training and hands-on experience to help accelerate careers in music production. We pride ourselves in doing an exceptional job preparing you to excel in your chosen profession. Our degree programs are designed to equip aspiring music professionals with a comprehensive toolbox of marketable skills that lead to success in the music industry.
Score Composer
Compose original music to accompany narrative storytelling in visual media. Work with sound editors and mixers to balance music with other soundtrack elements, creating the sonic world in which characters live. Drive the emotions of the audience by crafting musical ideas that reflect the unspoken thoughts of a character.
Music Editor
Work closely with a composer to effectively create music scores that drive the emotion of the scene. Create temp scores. Edit music to fit specific cue lengths and effectively create just the right music cues to fit the scene.
Production Recordist
Manage the set and location sound recordings. Quality checks all recorded material from set and location. Assist the production mixer in all duties. Maintain equipment.
Re-recording Mixer
The last step in post-production is the final mix. Effectively balance music, dialogue, and SFX into a cohesive soundtrack that supports and enhances visual storytelling. Work on large format audio consoles with hundreds of audio tracks, and craft the sonic world for visual media.
Sound Designer
Be responsible for the overall aural concept of a film, game, or other media. Collaborate with other creatives to develop a cohesive sound and create specific sounds for visual media.
Sound Editor
Edit dialog, sound effects, ambiances, and other sounds to fit with the visual material. Use filters and plug-ins to transform audio for a specific setting. Work with the Supervising Sound Editor to deliver all audio assets for a given project, whether film, game or animation.
Curriculum
Unit Requirements
| | |
| --- | --- |
| Major | 33 |
| Graduate Liberal Arts | 3 |
| Total | 36 |
Degree Requirements
Successful completion of Final Portfolio Review
Minimum 2.0 cumulative GPA
A minimum grade of C in all required 36 units
Curriculum
Semester 1
MPT 632: Sound Design (Major)
MUS 601: Pro Tools User Certification Preparation (Major)
MUS 602: Soundtrack Industry Overview (Major)
Semester 2
GLA 658: Creative Perspectives in Sound Design (Graduate Liberal Arts)
MUS 616: Audio Production (Major)
MUS 643: Creative Sound Design for Visual Media (Major)
Semester 3
MUS 617: Sound Design for Games (Major)
MUS 629: Music Editing for Visual Media (Major)
MUS 701: ProTools 2 Operator Certification Preparation (Major)
Semester 4
MUS 705: Experimental Sound Design & Synthesis (Major)
MUS 715: The Music Mix (Major)
MUS 780: Music and Sound Design Professional Practices (Major)
English Language Requirements
Certify your English proficiency with the Duolingo English Test! The DET is a convenient, fast, and affordable online English test accepted by over 4,000 universities (like this one) around the world.