Specializing Master in Luxury Goods Management (Milan)
Home ›
Master ›
Specializing Master in Luxury Goods Management (Milan)
Programme Description
The Master in Luxury Goods Management - EMLUX is aimed at those students who wish to begin their career path in the luxury industry, a sector that requires both an understanding of the process of creativity and a solid managerial approach in order to succeed in an international multifaceted environment. With a concrete approach, EMLUX allows students to understand the peculiar logic and strategies of luxury companies, who master the ability to craft products that are desired by clients worldwide.
Learning objectives
Starting from the necessary cultural foundations of luxury and the understanding of the utmost importance of craftsmanship and of the métiers d'art which are vital for this industry, EMLUX proceeds to unravel the managerial tools that dominate the functions of a luxury company, with a particular focus on brand management, retail, finance and accounting, which are key to obtain economic stability and long-term growth. Our cross-functional approach is the key for future managers, who need to understand the implications and impact of company decisions.
Career opportunities & professional recognition
EMLUX is especially designed to enhance diverse skills related to the particular operational, financial, marketing and product issues that impact strategic and business decisions in the luxury industry. Participants will, therefore, be exposed to the fundamentals needed to start the following careers:
Marketing or brand manager
Product manager
Licensing manager
Retail/wholesale manager
Communication manager
Area manager
Buyer/Merchandiser
Can I learn Italian while studying?
The Master offers a compulsory Italian Language and Culture course to international students. Classes are scheduled twice a week.
Are there internships opportunities?
The Master does not include a mandatory internship. However, students can find placement opportunities within the network of the University. An online platform gives access to plenty of internship offers, and students can contact the company/firm directly. Some internships may include a reimbursement (lunch and transportation), others may offer a monthly compensation, and finally, some internships may not be paid. This information is provided in each offer.
Can I work while studying?
Yes. Non-EU students entering Italy on a VISA are permitted to work part-time (20 hours per week).
Course components
Luxury: definition, environment, and characteristics - introductory course
Sociocultural analysis of luxury
Human resource management & business organisation
Cross-cultural management & organisation
Marketing management
Brand management
Global integrated marketing communication
Research techniques in the luxury industry
Accounting, financial management, and performance measurement
Pricing and retail in the luxury industry
Sales and customer relationship management
Legal issues
Supply chain strategy and network design
Manufacturing, distribution & operations
Product design, development & management
Innovation & trends
Italian language course
Admission requirements
Completion of at least an undergraduate degree, obtained after a minimum of 3 years of study (180 ECTS)
The undergraduate degree must be obtained before the start of the program
Università Cattolica will evaluate candidates' academic and personal background and decide if they meet the specific conditions for admission to the chosen graduate program
For applicants whose first language is not English:
TOEFL iBT overall score of at least 80, or
Academic IELTS overall score of at least 6.0, or
Completed a degree program taught entirely in the English language
Last updated Jan 2018
About the School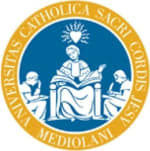 Università Cattolica del Sacro Cuore is the largest private university in Europe boasting over 41 000 students across 12 Schools. Cattolica distinguishes itself for its multidisciplinary curriculum, i ... Read More
Università Cattolica del Sacro Cuore is the largest private university in Europe boasting over 41 000 students across 12 Schools. Cattolica distinguishes itself for its multidisciplinary curriculum, industrial ties, and strong international focus.
Read Less