Research Master in Cognitive & Clinical Neuroscience: Neuropsychology
Home ›
Master ›
Research Master in Cognitive & Clinical Neuroscience: Neuropsychology
Programme Description
Neuropsychology
***Awarded 'Top Rated Programme' label, Keuzegids 2018***
Are you fascinated by the relationship between the brain and behaviour? Would you love to learn more about neuropsychiatric disorders like attention deficits, schizophrenia and dementia? Are you curious about how certain drugs can influence the processing of information in our brain? Then you should consider specialising in Neuropsychology. You'll study both the cognitive and the emotional-affective aspects of human behaviour, and you'll learn more about how behaviour can be influenced through food and medication. The programme also contains several courses that focus on improving your academic skills, such as writing papers and research proposals, providing you with an excellent basis for an academic career. But you will also have the opportunity to combine clinical and research internships, which means that positions in healthcare will also be open to you.
Why this programme?
The brain is a challenging topic to explore if you want to understand behaviour. Yet, the complexity of its myriad of neurons, dozens of biochemical messengers and infinite neuronal interconnections attract many researchers to this highly challenging field.
The Neuropsychology specialisation offers an integrated curriculum that includes most aspects of basic and applied neuroscience. Under the guidance of a multidisciplinary team of mainly psychologists , psychiatrists and psychopharmacologists as well as biologists, you will learn to use state-of-the art clinical and neuroimaging techniques (like EEG and fMRI) and behavioural laboratory facilities.
Internships
From November of the second year, you will devote your time to the preparation and execution of your research internship and master's thesis. You will conduct your own research project (very often as part of a larger ongoing study), including the writing of a proposal, acquiring and analysing the data. The work is reported in a master's thesis, written in the style of a scientific journal article. Given the strong multidisciplinary research infrastructure here in Maastricht as well as extensive international networks, you will have ample opportunities for internships related to any aspect of Neuropsychology, either locally or at other top universities throughout the world. We will help you find a topic and location that best fit your own interests and career goals. Curious about the kinds of projects students have conducted?
If you specialise in Neuropsychology, you may also choose to conduct an optional clinical internship in an approved setting, for at least 13 weeks. This can be done in conjunction with the required research internship or separately. Based on client/patient-based investigations you perform during the clinical internship, you will submit an additional, brief research report: the minor thesis. The length of the research internship and associated credits will be adjusted accordingly, so that you can complete both internships within the 2-year timeframe of the curriculum.
Teaching staff and research environment
Research covers a broad range of topics, with a primary focus on understanding cognitive (e.g. memory, perception, attention) and emotional-affective (e.g. mood, motivation, arousal) aspects of human behaviour. Starting from the perspective of brain structure and function, neuropsychology investigates the continuum from normal behaviour to psychological dysfunctions (e.g. depression, addiction and eating disturbances, schizophrenia, ADHD) across the lifespan. In addition, brain-behaviour relationships are studied by pharmacological or dietary manipulation of brain neurochemistry and function, mainly in humans. At Maastricht University, scientists affiliated with the European Graduate School of Neuroscience (EURON) conduct experiments that include the use of psychoactive substances in combination with behavioural, psychophysiological and functional neuroimaging techniques.
Courses & curriculum
The curriculum of the Research Master in Cognitive and Clinical Neuroscience is divided in two parts.
The first part focuses on a set of modules offering theoretical and practical research training, and covers the first year as well as the first eight weeks of the second year (for detailed module descriptions please scroll down). In each specialisation, you will participate in domain-specific intensive core courses covering important theories, models, and analytic approaches. Depending on the specialisation you choose, the courses will cover genetic, environmental, affective, cognitive and neurobiological processes underlying the human mind and behaviour, in health or disease. In addition, you will take advanced statistics courses and practical workshops that will allow you to develop your proficiency in general skills like data analysis, scientific writing, and data acquisition with methods and techniques specific for your chosen field.
The second part of the curriculum, occupying most of the second year, focuses on an internship in which data are collected that form the basis for your research master thesis. In the specialisations Psychopathology and Neuropsychology, you have the option to do an additional clinical internship, which also entails a smaller research project and minor thesis. Once enrolled in the Research Master, you will receive timely and detailed information on how to choose a thesis topic, how to approach potential supervisors, and how to choose a good host for the local or (inter)national internship. The curriculum as a whole corresponds to 120 European credit points.
You will be able to tailor some aspects of the curriculum to your specific interests, for example by choosing an elective outside the required curriculum of your specialisation. There are three types of electives: attending regular modules of another specialisation, writing a review paper, or assisting in an ongoing research project. In addition, to foster a better understanding and appreciation of the rich interdisciplinary connections linking cognitive and clinical neuroscience, the curriculum also includes a colloquium series, with interactive lectures by UM faculty as well as visiting national and international speakers. The research grant writing component of the curriculum entails a workshop at the end of year one and a core module at the beginning of year two, during which small groups of students from different specialisations work together to formulate an interdisciplinary research proposal. This primes you to think concretely about all aspects of doing research, which is an excellent preparation for the internship and thesis that follow.
Admission Requirements
See website www.maastrichtuniversity.nl/fpn/researchmaster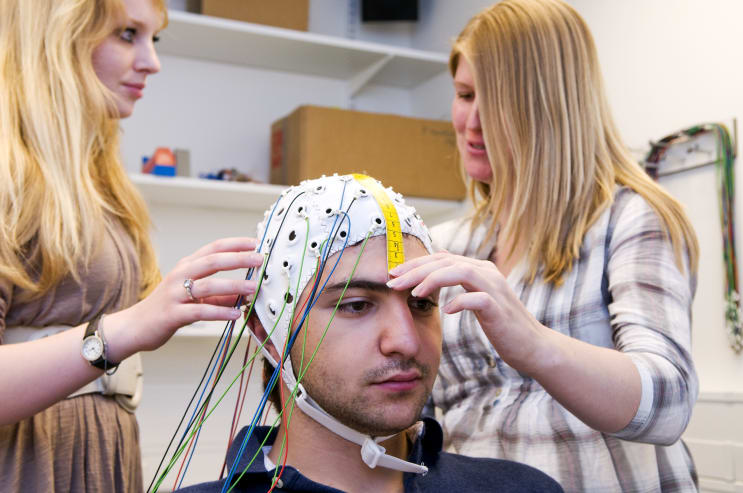 Last updated Mar 2020
About the School
Dear prospective student, Thank you for your interest in our master's programme. Please use the form to request our newest study brochure 2016-2017.
Dear prospective student, Thank you for your interest in our master's programme. Please use the form to request our newest study brochure 2016-2017.
Read Less