Programme Description
INTRODUCTION AND OBJECTIVES
The Master of Advanced Studies in Spanish and Latin American literature It offers a high-level academic program that will allow students to complete their training in philology through in-depth study of Spanish and Latin American literature. The launch of this program responds to the growing interest in the language and Hispanic culture in all areas and international circles, especially in the Anglo world.
Deepen the appeal of literary works written in Spanish, joins linking UNIBA and UB with Barcelona, ​​one of the most important publishing centers of Spain, and from the numerous Spanish and Latin American authors have disclosed level international. We must also not overlook the close relationship that this city has maintained historically American literature, from the boom of the Latin American novel to date.
With this curriculum:
You know the different lines of research that exist in Hispanic studies, their main problems and study methodologies.
You will develop the most of your research and academic in the framework of the Spanish and Latin American literature competition.
You master the basic theoretical and practical concepts of historical, cultural and literary fields in the Spanish and Latin American context.
You can establish relationships between Spanish and Latin American cultures, and between them and European and American cultures, identifying common elements.
Know position and evaluate any written or artistic in its historical, literary, ideological or aesthetic context demonstration.
You will be able to analyse the Spanish and Latin texts and documents from a historical, literary, philosophical and artistic perspective.
This master provides the perfect complement to your studies of philology or any program from the philological branch. With the university master's degree in American literature you have the perfect opportunity to combine passion and profession.
At the end and overcome your studies get the Master in advanced studies in Spanish and Latin American literature, an official certificate that gives you the University of Barcelona. This qualification is recognized and adapted to the European Higher Education Area (EHEA) and it'll increase your career options and / or extend your studies to access a doctorate.
ENTRY REQUIREMENTS
To access this curriculum, those interested will have to meet any of these requirements:
General requirements
According to the provisions of Article 16 of Royal Decree 1393/2007, of 29 October, to access the official master's degrees, one must be in possession of one of the following titles:
Spanish official university degree.
Title issued by a higher education institution in the EHEA that entitles the country of issue, to access official master's teachings.
Outside the EHEA title. In that case, the approval to a Spanish official university degree or preflight (without approval) by the University of Barcelona to be necessary if the studies completed are equivalent to the official Spanish university qualification and empower the studies completed in the country issuing the degree, access to official master studies. Acceptance into an official master does not, in any case, prior approval of title or recognition for purposes other than pursue a master's teaching.
Specific requirements
According to Royal Decree 1393/2007, the / the student must be in possession of any of these titles or graduate degree issued by any Spanish or European university: Grades and degrees in History, Art History, Philosophy, Romance Philology , Classical Philology, Catalan Philology, Spanish Philology, Literary Studies, Linguistics and Humanities. Bachelor of English, French Philology Galician Philology, Portuguese Philology, Philology Hebrew, Semitic Philology and Theory of Literature and Comparative Literature. Degrees of English Studies, Modern Languages ​​and Literatures and Arab and Hebrew Studies. Similarly, other courses are valid, despite not match these, share with them objectives and competencies.
GRANTS
In order to provide you access to your studies, UNIBA offers you various types of scholarships:
Academic merit scholarships
Own scholarships: awarded to students with good professional record by the admissions committee.
Scholarships and grants the Ministry of Education or other state government agencies.
At all times our educational advisors will inform you of the validity of each and can guide you on the needs and steps to follow when applying for any of these scholarships.
PROFESSIONAL OUTINGS
The Master of Advanced Studies in Spanish Literature enables you to work as:
Teachers in secondary education or university.
Teacher and researcher / to foreign universities.
Technical / a publisher.
Professional media.
Technical / a in foundations and cultural institutions.
Professional advertising field.
Senior / a literary.
Reviewer / a.
Digitizer / a book.
Editor / to blogs and other Internet content.
Branding specialist.
Evaluator / a original.
Last updated Mar 2020
About the School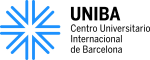 The International Center of Barcelona (UNIBA) is an institution attached to the University of Barcelona (UB) , created with the aim of offering a wide range of online degrees and master's degrees with ... Read More
The International Center of Barcelona (UNIBA) is an institution attached to the University of Barcelona (UB) , created with the aim of offering a wide range of online degrees and master's degrees with an international vocation.
Read Less