Master of Science in Strategy & Design for the Anthropocene
Home ›
MSc ›
Strategy ›
Master of Science in Strategy & Design for the Anthropocene
Programme Description
Transforming Organizations Facing A Big Challenge
Today's reference to sustainable development as a response to environmental "crisis" no longer allows us to grasp the deep transformations witnessed by the Earth's entry into a new geological and climatic epoch: the Anthropocene. This term refers to a new geological period dating back to the Industrial Revolution marked by the impact of human activities. Well beyond the design of a new product, a new service, or a new business model, design today needs to tackle the issue of strategic anticipation that is impacting all socio-economic activities. It is precisely to address this imperative and the growing demand from students who are increasingly concerned about these challenges that ESC Clermont Business School and Strate Ecole de Design are offering this new program which is the first of its kind in the world.
Objectives
Training professionals from different fields mainly associated with the design and strategic management; developing means of action to transform organizations; adopting a prospective approach and taking into account ecological disruptions in the Anthropocene Era. This program responds to strong societal demand from organizations, as well as the academic world, from both students and scholars alike.
Value Proposition
Addressing the Anthropocene through the prism of design, integrating the strategy of the humanities and the strategy of organizations.
In-depth reframing of issues historically associated with sustainable development and corporate social responsibility.
Taking into account the contributions of environmental, climate, and engineering sciences, especially for decision-making and organizational transformation.
Targeted Skills & Competencies
MSc students will acquire new technical and operational skills to initiate transition policies within organizations that wish to implement change by making proactive, rapid and effective ecological redirections. They will also be trained in the processes, methods, and techniques that will enable them to design desirable futures within ecological, climatic, legal, social and political constraints. They will learn how to set up new forms of investigation to address unusual critical situations: accelerated changes in an ecosystem, the collapse of a resource or living environment, situations of scarcity, humanitarian and social crisis, strategic crisis, forward-looking strategies, etc.
"Tomorrow's managers, engineers, and designers will have to be able to play a transformative role, proposing methods and engineering skills to «redirect», as you propose, the technological organizations and innovation projects, making them compatible with the ecological transition, or even radically reinventing them. We believe that the players in our ecosystem - and ourselves - may be interested in hosting your future students on a work-study (internship or apprenticeship) basis."
Jacques-François Marchandise
General Delegate of the Fondation Internet Nouvelle Génération
"I am convinced that the profile of the graduates of this Master of Science will be coveted on the job market, and in many sectors and that your training will be pioneering and is destined to show the way that others will inevitably follow."
Matthieu Auzanneau
Director, The Shift Project (the transition carbon think tank)
Career Opportunities
Ecological transition design manager
CSR manager
Ecological transition consultant
Territorial development manager
Prospective manager
Sustainable development manager
Programme Content
Semester 1
Learning Expedition: Inquiring Critical Zones
General introduction, 6 hours
Learning Expeditions and Inquiry
Critical Zones and Earth-System. Micro & Macro Levels: New Inquiry Methods and Protocols
Introduction to Inquiry, 32 hours
Investigating Territories in Critical Ecological Zones, 8 hours
New Inquiry Protocols, 11 hours
Archiving and Documenting Inquiries Workshop, 6 hours
Critical Zones and Earth-System. Macro Level: Diagnosis and Modelling
Reports & Narrative of The Anthropocene, 27 hours
Introduction to Complex Systems Modelling, 27 hours
Scales of the Anthropocene: Territories, Milieux, Controversies, 6 hours
Semester 2
Strategical Foundations for the Anthropocene: Technics, Institutions and Organizations
A Deep History of the Anthropocene, 18 hours
Anthropology of Nature, 6 hours
Towards and Beyond the Organizational World: a Historical Perspective, 15 hours
An Analysis of Institutions and Economics, 9 hours
Strategy, 21 hours
Organizations in the Anthropocene, 12 hours
Innovation in the Anthropocene, 27 hours
Technics in the Anthropocene, 42 hours
Complex Systems and Environment: a Case Study, 13 hours
Learning How To Do Things (Micro Level): Community-Engaged Design
Rural Community-Engaged Learning Expedition
Institutions, Corporations, Territories, Risk, Vision and Scenario Mapping, 24 hours
Designing, 42 hours
New Arts & Crafts and Local Productive Models – Workshops, 24 hours
Biotic and Human/Non-Human Communities Design 24+ Workshop, 6 hours
Designing Engaged Design, 15 hours
Esthetics and Experience, 12 hours
Designing Organizations for The Anthropocene
Designing and Engineering at the Meso Level, 20 hours
Environmental Accounting, New Metrics, and Territorial Metabolism, 27 hours
Industrial Organizations and Arbitration Protocols, 6 hours
Redesigning Business Models and Ecological Redirection, 9 hours
Design of the Commons and Public Policy, 15 hours
Designing "Entreprises à Mission", 15 hours
Designing Law, 12 hours
Designing Negative Commons, 12 hours
Semester 3
Professional Mission & Thesis
Master's Thesis
Oral Defense
Company Assessment
Career Path and Internship
Documenting Workshops
Tools for Professionalization
Designing Jobs and Business-Models
Admission
Entry Requirements
A 4-year Bachelor's degree or Validated Master 1
Proficiency in English (Official TOEFL score of 550 at least, or TOEIC of 750, or IELTS 6.0)
Scholarships
Early bird scholarships: Reduction on the fees for students who pay the full fees before starting the program.
Scholarships provided by ESC Clermont Foundation: Scholarships based on three criteria: Financial situation, academic performance, and behavior of the students.
Scholarships to go abroad: Scholarships allowing students to finance part of their stay in Europe as part of their study abroad in partner university or internship.
Application Procedure
All applications are to be submitted online.
Candidates will be invited to take a skype interview on an automated video conference aiming to evaluate their academic profile, motivation, and linguistic skills.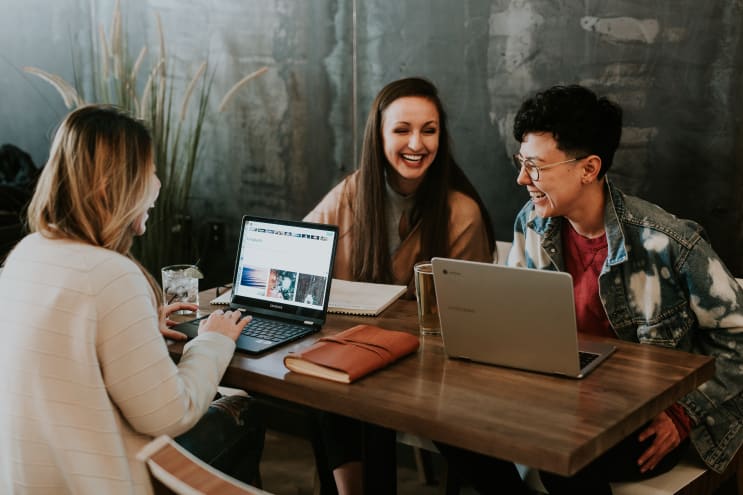 Brooke Cagle / Unsplash
Last updated Feb 2020
About the School

Founded in 1919, ESC Clermont Business School is a 'Grande Ecole' business school in France. The business school offers undergraduate and postgraduate programmes that train and prepare business leade ... Read More
Founded in 1919, ESC Clermont Business School is a 'Grande Ecole' business school in France. The business school offers undergraduate and postgraduate programmes that train and prepare business leaders evolving an in international context. The school is committed to its slogan of being a 'School For Life', the distinctive positioning of the school is highlighted through its innovative pedagogic approaches, national and international recognitions, strong corporate network and proximity to companies.
Read Less