Master of Science in Project Management (MSc)
Home ›
MSc ›
Master of Science in Project Management (MSc)
Programme Description
Information Session
Structure
This programme aims to meet the growing needs of the African public and private sector enterprises in the area of project management. Investors and managers are becoming more concerned with the use of scarce and often difficult to mobilize financial resources. Meanwhile, there has been an increase in the demand for and management of quality public and private sector investments. This course will develop an in-depth understanding of different approaches to development planning and economic policy issues, with thorough training in techniques for the planning, design and economic analysis of African development projects and programmes. There is a strong emphasis on issues and analytical techniques relating to choices in project design and cost-benefit analysis. The environmental analysis will be covered in detail to reflect the need for better management of natural resources.
The MSc Project Management programme is offered in the evenings from 5:00 pm - 10:00 pm. Classes run for two to three weeks every two and a half to three months.
Programme Venues
The evening class MSc Project Management is offered in the ESAMI member countries in the following venues:- Arusha, Dar es Salaam and Mwanza, Tanzania; Nairobi, Kenya; Kampala, Uganda; Lusaka, Zambia; Lilongwe and Blantyre, Malawi; Harare, Zimbabwe; Windhoek and Oshakati in Namibia; Mbabane, Swaziland; Maputo, Mozambique and Mahe, Seychelles.
Fees Structure
Total fees for the 2-year Master's degree programme is US$7,000. Advance payments are made annually or per semester by arrangement. The fees cover tuition and limited materials. It does not include textbooks among other exclusions.
Admission Criteria
Candidates eligible for Masters programmes must possess the following qualifications:
Bachelor's degree from a recognized University or equivalent qualification.
Internationally recognized full professional qualification. Candidates must have passed ALL qualifying examinations.
At least three years of work experience.
Application procedures
The candidate must submit an application form with the following:
Current curriculum vitae
Certified copy of degree or professional certificate
Certified copy of the official transcript
At least one letter of recommendation from a person who is in a position to judge the candidate's ability
A non-refundable processing fee of US$30.
All documents accompanying the application must be in English
Course list
FPG09101 Fundamentals of Project Management
PFG09102 Project Finance
MPG09103 Managing Procurement in Projects
TMG09104 Total Quality Management and ISO Standards
CMG09251 Negotiation and Conflict Management
MPG09252 Managing People in Projects
AMG09153 Project Asset Management
RMG09459 Research Methods
MIG09454 Project Management Information Systems
PMG09355 International Project Management
EIG09256 Environmental Impact Assessment
MRG09257 Risk Management
LCG09458 Leading Change in Project-Oriented Settings
PPG09359 Managing Public-Private Partnership Projects
PCG09360 Project Consulting
MEG09361 Project Monitoring and Evaluation
PCG09462 Managing Project Closeout
RMG09420 Thesis in Development and Project Management
Last updated Jun 2020
About the School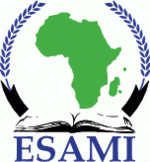 The Eastern and Southern African Management Institute (ESAMI) is an intergovernmental regional management development centre. ESAMI's head office is located in Arusha, Tanzania.
The Eastern and Southern African Management Institute (ESAMI) is an intergovernmental regional management development centre. ESAMI's head office is located in Arusha, Tanzania.
Read Less
Arusha ,
Nairobi ,
Dar es Salaam ,
Lusaka ,
Kampala ,
Windhoek ,
Mbabane ,
Harare ,
Maputo ,
Lilongwe
+ 9 More
Less