Master of International Hotel Management
Home ›
Master ›
Master of International Hotel Management
Programme Description
Studying a Master Degree in International Hotel Management at BMIHMS at Torrens University
Course Entry Requirements

When considering postgraduate study it's important to take into account the reputation of the institution. It will indicate to an employer the quality of education the student has received. The BMIHMS at Torrens University, Master of International Hotel Management course was designed in response to demand from corporate organisations. This is to meet the need for professionals with higher-level qualifications, and from competitive individuals wishing to accelerate their career progression.
How our postgraduate course works
This course enables undergraduates or those wishing to develop their career path, the opportunity to enhance their hospitality knowledge and capabilities with a higher qualification, which can accelerate career progression. It is conducted at the Sydney campus or Melbourne campus. This is a unique Master Degree providing the added benefit of an industry placement as an integrated part of the curriculum.
Course Units Summary
The list below details each of the units within the International Hotel Management Master degree throughout the 2 years of study. You can view a summary of a unit by clicking on the Course Unit List. Every effort is taken to ensure accuracy of information units and lecturers do sometimes change. Current Students should always refer to the "Student and Staff Information System" (SSIS) for up to date information on lecturers, learning outcomes and assessment items.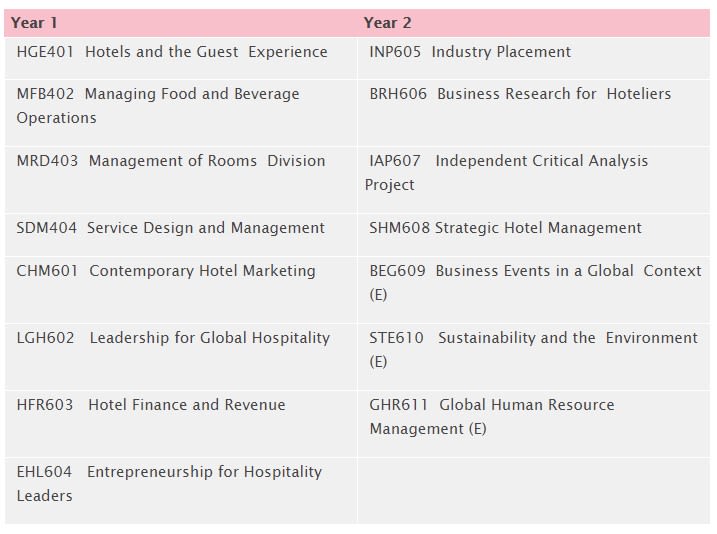 *(E) – Is an Elective Subject. Students can select 1 Elective. Electives can be selected from the electives listed above, or from any subject from the GBM or any MBA Torrens Elective
Why study International Hotel Management?
Hospitality is a dynamic and fast-growing international industry, which provides excellent opportunities to develop a global career. You will learn a combination of management and practical skills that are invaluable when pursuing career opportunities. BMIHMS at Torrens University students also benefit from enhanced knowledge and skills due to their industry placement, an integral part of the course adding real working experience.
This Master degree enables those looking to change careers enter the world of hotel management. It also provides the opportunity for those who have an undergraduate degree in a related field and wish to extend their learning. All classes are held at our non-residential, Executive Business Centre, Sydney campus.
Master students can take their current Bachelor degree and build on their business knowledge while learning the core hospitality skills to ensure a successful career in hotel management. If you do not have an undergraduate qualification but have 3+ years in a supervisory role you may also be eligible.
Why choose Blue Mountains International Hotel Management School at Torrens University?
Our master's degree is the only course of its kind in Sydney. By studying with us, you will gain a deep understanding of hotel management, operations and business, designed to secure you a management position in a leading hotel on graduation. The program offers a six-month paid industry placement in Australia, yet another opportunity that will set you ahead of the competition.
If you are looking for a business career that allows rapid employee development, has scope for travel, is fast-paced and people orientated, then this is the career for you.
Career opportunities
There is an enormous range of positions in the hospitality industry, so there is no need for you to get stuck in any one niche. Even if you choose to stay with the same employer, over a few years you could move from concierge, front desk to reservations manager and beyond.
Industry placements
As with the Bachelor degree, numerous hotel chains partner with us in placing students in one hospitality industry placement during the Master degree, lasting up to 24 weeks (6 months).
Students put into practice the skills built while studying at BMIHMS at Torrens University, gaining real-life work experience that counts towards their degree. The paid placements also allow crucial contacts and peer networks to be developed.
Professional Development Workshop
This course incorporates a professional development workshop to support our students with greater awareness of what lies ahead when entering their first role.
It provides a realistic view of what they will encounter when entering the hospitality sector.
Within the workshop students learn about: future leader qualities and attributes, cultural awareness (adaption and flexibility), business communications (verbal and non-verbal), professional use of social media and the importance of grooming.
Last updated Feb 2018
About the School

Laureate is the largest education network in the world. Laureate International University Institutions offer hundreds of career-focused, undergraduate, master and doctoral degree courses in fields in ... Read More
Laureate is the largest education network in the world. Laureate International University Institutions offer hundreds of career-focused, undergraduate, master and doctoral degree courses in fields including architecture, art, business, culinary, arts, design, education, engineering, health sciences, hospitality management, information technology, law and medicine.
Read Less
Sydney ,
Sydney ,
Sydney ,
Sydney ,
Sydney ,
Leura ,
Fitzroy ,
Melbourne ,
Brisbane ,
Adelaide ,
Adelaide ,
Auckland
+ 11 More
Less