Programme Description
Master of Higher Education Business Administration
A unique new degree, delivered with the latest multi-modal technologies, the Master of Education (M.Ed.) in Higher Education Business Administration (HEBA) combines the skills of a campus administrator with the tools of strategic positioning and financial management.
This degree program prepares a new generation of higher education professionals who will confront a changing and global marketplace where academic expertise extends beyond the challenge of creating the most appropriate teaching and learning environments.
The University of South Carolina's College of Education and Darla Moore School of Business is pleased to work together on this groundbreaking program. The interdisciplinary program consists of courses offered in the College of Education (Department of Educational Leadership and Policies) and the Moore School (Departments of Marketing, Accounting, Management, and Economics).
The degree is designed for mid-level working professionals in institutions of higher education and related organizations and agencies and includes lock-step courses and an action research/field problem component that serves as an integrative capstone experience.
"The challenging environment of contemporary higher education requires leaders at every level who can apply both expertise in effective business practices and thorough knowledge of higher education functions. This unique, multi-disciplinary degree program is aimed at developing those managers and leaders."
— Dr. Harris Pastides, president of the University of South Carolina
The dynamic nature of higher education and its institutions and systems in the 21st century has brought to this field ever-growing needs for innovation, market strategy, financial expertise, data-driven decision making and other approaches typically perceived as the purview of degrees in business administration.
The degree includes exploration of higher education governance, marketing, economics, ethics, administrative leadership, and financial and legal environments. Through the use of case studies and assignments in practical data development and decision/policy making, students will gain practice in applying administrative, political, economic, and cultural realities to a rich variety of issues and challenges consistent with the current and anticipated realities of higher education institutions, systems, and related organizations.
Admission
Undergraduate performance
An undergraduate degree from an accredited institution is required to be considered for admission to the HEBA program.
The average undergraduate grade point average (GPA) is approximately 3.3. Graduate coursework (whether a degree has been earned or not) will also be taken into consideration. Transcripts from all institutions of higher learning attended must be submitted.
GMAT/GRE
Applicants must provide a valid (five years old or less) Graduate Management Admissions Test (GMAT) score or the Graduate Record Examination (GRE) score to be considered for admission to the HEBA program. The GMAT and GRE are composed of verbal, qualitative, and analytical sections.
Professional Work Experience
A candidate's work experience is evaluated, as it is often a valid predictor of not only a candidate's success in the program academically but also of success from a career management perspective. It is strongly encouraged that candidates have at least two or more years of full-time, post-bachelor, professional work experience. Candidates are encouraged to highlight leadership experience, as well as any part-time, volunteer, or other academic-related work experience (internship, co-op, etc) in the application and/or resume.
Letters of Recommendation (2 required)
Letters of recommendation are required for the admission review. It is acceptable to present professional or academic letters of recommendation. These letters should demonstrate the candidate's capabilities in working with others, project management skills, and leadership potential.
TOEFL/IELTS
International applicants who do not hold a degree from a U.S. institution must also submit a valid (no more than two years old) test score demonstrating their command of the English language. The minimum score for the Test of English as a Foreign Language (TOEFL) is 100 (Internet-based) and 7.0 for the International English Language Testing System (IELTS).
Admissions Decisions
Admission decisions are made when the application is complete, i.e., all documents and the GMAT/GRE score report are received. Primary criteria considered for admission include undergraduate performance, standardized test score, and work experience.
Last updated Jan 2018
Keystone scholarship
Discover the options our scholarship can give you
About the School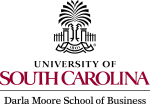 Since its founding in 1919 as the School of Commerce, the Darla Moore School of Business has grown into a thriving center of academic excellence, with an enrollment of nearly 4,000 undergraduate stude ... Read More
Since its founding in 1919 as the School of Commerce, the Darla Moore School of Business has grown into a thriving center of academic excellence, with an enrollment of nearly 4,000 undergraduate students and over 800 graduate students.
Read Less