Read more about this programme on the school's website
Programme Description
Advancing Leaders in Engineering Management
Rutgers Master of Business and Science (MBS) degree in Engineering Management combines advanced education in engineering management with a professionally guided business curriculum that focuses on key areas including finance and accounting, project management, marketing, leadership skills, innovation, management of science and technology, ethics and entrepreneurship.
The Engineering Management concentration equips our students to manage cross-disciplinary engineering and science-based teams, develop new products and technologies, advance innovations from concept to market, and improve organizational infrastructure.
Our graduates step confidently into today's engineering workforce equipped not only with the innovative, cutting-edge academic knowledge but with the business skills necessary to excel in leadership roles in the ever-evolving and increasingly globalized engineering industry.
Degree Options
Our Engineering Management concentration is ideal for professionals looking to advance their careers or pursue graduate-level education for application in engineering and technical disciplines.
MBS degree (43 Course Credits)
Students will need to complete 24 credits in engineering management along with 19 credits in business. In addition, students must attend events to earn a total of 12 colloquium credits. Each concentration has a list of mandatory and elective courses. Students can also choose electives from other concentrations that suit their career goals.
MBS non-degree option
Students who are enrolled in the non-degree option can switch to the degree program and have their completed courses counted towards graduation.
Rutgers MBS allows you to focus on your career and life
Customizable: Choose courses to fit your career goals; courses are offered online, on-campus, or a combination of both - making ours one of the most flexible STEM-based degrees in the nation.
Flexible: Complete your degree part-time or full-time, with courses offered on evenings and weekends. You can switch to part-time or full-time based on your schedule – no separate application necessary.
Executive Courses: Immersive-style courses geared toward experienced professionals interested in enhancing their scientific and business skills in a short time.
Focus on professional development: Unlike research-based master's programs, the Rutgers MBS focuses on advancing you to your next career with internship and externship opportunities, executive coaching, career workshops, and networking events.
Why Rutgers' MBS degree in Engineering Management?
Our professionally focused curriculum along with valuable experiential learning opportunities, strong industry partnerships, and regular networking events keep our students at the forefront of industry developments and enable them to consistently keep pace with rapid industry changes.
In particular, the Rutgers MBS in Engineering Management program is distinguished by the following advantages:
Strategically Located: Rutgers is positioned within the NJ/NY telecommunications and high-tech industry corridor and is closely aligned with New Jersey's pharmaceutical, healthcare, chemical, biomedical and biotechnology industries.
Strong Alumni Network: We boast a robust, involved, and active alumni network that provides accessible mentoring and abundant networking opportunities. We host regular student-alumni mixers, and our graduates work for some of the nation's leading corporations.
Individualized Career Planning: Our students can meet with our executive coaches to explore career options, write effective resumes, and prepare for interviews. Our student advisors work with each student to understand their specific professional goals and then help them personalize their curriculum journeys.
Experiential Learning Opportunities: Through our corporate outreach, we continue to build a vast network of industry connections and, as a result, a thriving externship and internship program that yields full-time positions for a majority of our participating students.
Last updated Oct 2019
About the School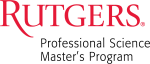 The Master of Business & Science degree is part of a national movement of Professional Science Master's (PSM) programs that brings together master's level study in science or engineering with "plu ... Read More
The Master of Business & Science degree is part of a national movement of Professional Science Master's (PSM) programs that brings together master's level study in science or engineering with "plus" courses in business and policy. Rutgers is the only university in New Jersey that offers a statewide Master of Business and Science degree.
Read Less
Visit the school's website