Programme Description
Overview
In this Master of Business Enterprise Resource Planning Systems course, you'll discover how to apply business and technology trends to real-world problems by learning from teachers who are experts in their field.
In this world-class course, you'll develop the computing and business skills to implement and maintain Enterprise Resource Planning (ERP) systems. Importantly, this course will give you an understanding of the implications these systems have on business.
You'll learn on the latest SAP modules, so can hit the ground running when working in an ERP/SAP role.
Gain in-depth knowledge of Systems Applications and Products (SAP) software through hands-on experience and 24-hour online access. You'll learn important skills including:
business information warehouse
business objects
business intelligence
customer relationship management
advance planner and optimizer
solution manager
Industry & international connections
We have strong industry partnerships including with Linfox and SAP and you'll have the opportunity for industry experience in SAP-related fields. Our extensive international network includes partners in China, Singapore, Malaysia, India, and France. Many of our local and international students also have work experience that includes SAP, enriching the learning experience for all.
World-class ERP program
We offer an internationally-recognized, comprehensive masters program and the only ERP course at this level in Australia.
With the in-demand skills needed to implement and maintain ERP systems, many of our graduates have gone on to careers in large organizations such as Accenture, Australia Post, and IBM.
Careers
Graduates of Victoria University's Master of Business (Enterprise Resource Planning Systems) are highly sought-after in the ERP/SAP industry. Graduates are employed in a range of specialist fields of ERP/SAP and have been employed by global organizations including:
AGL
BHPBilliton
British Petroleum (UK)
Cadbury Schweppes
Carter Holt Harvey
China Air Express
Ernest & Young
Exxon Mobil Ltd
IBM
Linfox
Siemens
Unisys.
Course Structure
To attain the Master of Business (Enterprise Resource Planning Systems), students will be required to complete 192 credit points consisting of:
48 credit points college core units
24 credit points business core units
84 credit points professional core units
36 credit points research units
Research Option 1
12 credit points business research project, and
24 credit points elective units. Students to select units from any College of Business Post Graduate Course (subject to availability). Please check any pre-requisite requirements prior to enrolling.
Research Option 2
12 credit points business research proposal, and
24 credit points business research thesis.
Learning Outcomes
On successful completion of this course, students will be able to:
| | |
| --- | --- |
| 1. | Critically reflect upon theoretical approaches and analyse their application to achieve effective use of Enterprise Systems to support operations and management practice; |
| 2. | Justify and interpret theoretical propositions and related bodies of knowledge to critically evaluate the resolution of business problems and make recommendations/recommend actions in contemporary Enterprise Systems; |
| 3. | Critically apply cross-disciplinary knowledge with creativity in decision making supporting the selection, implementation, and use of Enterprise Systems; |
| 4. | Demonstrate accountability in autonomous and collaborative judgments and innovative strategic thinking in response to contemporary and future business challenges; |
| 5. | Work as a reflective practitioner to formulate, implement and evaluate industry-specific investigations to resolve complex professional problems and inform management decision-making and how Enterprise Systems and associated Information Systems can support this decision making; |
| 6. | Communicate effectively to specialist and non-specialist audiences including multi-disciplinary teams, diverse cultural communities, and business and other professional organizations; |
| 7. | Plan and execute a substantial research-based project or evidence-based capstone experience linked to an Enterprise Resource Planning System to generate and evaluate complex ideas and concepts at abstract and practical levels; |
| 8. | Exemplify initiative and inspirational leadership in a dynamic 21st-century work environment, acting consistently, ethically and socially responsible. |
Entry requirements
Completion of an Australian Bachelor degree (or equivalent) in any discipline
OR
Completion of an Australian Graduate Diploma (or equivalent) in a similar discipline
PLUS
IELTS (or equivalent): Overall score of 6.5 (with no band less than 6.0 in Listening, Reading, Writing and Speaking)
Find out if you meet the entry requirements, including English language and academic requirements.
Pathways from VU courses
There are many ways you can start your education journey at VU. Pathways offer an easy transition between courses at different levels so that you can start with a certificate and progress right through to postgraduate study.
Last updated Jul 2019
About the School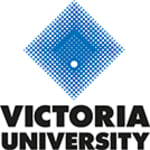 At Victoria University (VU), we want you to follow your passion and excel in the industry you've always dreamed of.
At Victoria University (VU), we want you to follow your passion and excel in the industry you've always dreamed of.
Read Less
Saint Albans ,
Melbourne ,
Melbourne ,
Melbourne ,
Melbourne ,
Footscray ,
Saint Albans ,
Sunshine ,
Footscray ,
Sydney ,
Werribee
+ 10 More
Less