Master of Arts in Character Animation and Animated Filmmaking
Home ›
MA ›
Master of Arts in Character Animation and Animated Filmmaking
Programme Description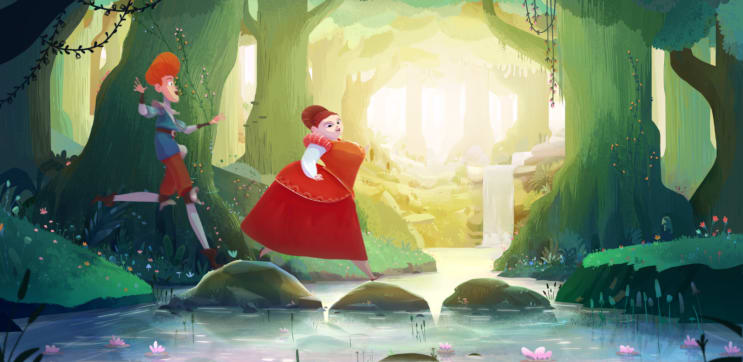 You wish to join the third year of the main Animation program of GOBELINS: you can either choose the French Track CONCEPTEUR REALISATEUR DE FILM D'ANIMATION or the English Track CHARACTER ANIMATION AND ANIMATED FILMMAKING.
This cycle of two years, entirely in English, allows for the integration of the GOBELINS curriculum so as to reach a professional level, particularly in terms of character design and character animation, directing and storytelling. After exercises in writing, design, storyboard and sophisticated animation (mixed techniques, interacting characters), students participate in an open-themed end of studies film in conditions close to those practiced in the professional workplace. They will work in project teams and will gain an excellent level of versatility recognized by professionals, in France and internationally.
SUBJECTS TAUGHT
Character animation is at the heart of the program.
Advanced courses in character animation 2D and 3D.
Scripting and direction methodology, dividing the film into sequences, character definition, and characterization, graphic design, storyboarding.
Filmmaking: 2D and/or 3D layout, character and background modelling, setup, skinning, rigging, acting, character and special effects animation, rendering, compositing.
Introduction to production context and framework.
Complying with specifications, choice of production pipeline according to technical and artistic choices, assessing and monitoring production planning.
Teaching is centered on teamwork. During the second year, the film teams will be a mix of the Character Animation and Animated Filmmaking programs in French and in English.
Immersive experience in the industry (internship report)
PROJECT: Production, in multicultural groups, of an end-of-studies short film.
SKILLS
Strengthen technical and artistic skills in 2D and 3D animation (in particular character animation)
Command of storytelling, writing, storyboarding, all pre-production and 2D and 3D animated films
THE ASSETS
Lessons, conferences in English and hands-on exercises are offered by professionals from the world of animation cinema.
Students benefit from tailored follow-up and are offered help in entering the professional world (copyrights, legal status, etc.)
Creation of a making of, demo reel, portfolio
Equipment: HD and 3D equipped movie theatre, professional sound studio, multi-layer animation stands
Each student has a dedicated workstation
The school is located in the heart of Paris, close to museums and cultural sites
90% of faculty members are professionals in the sector of relevance
Strong importance is given to diversity and multicultural experience
GOBELINS organizes a speed-recruitment session during Annecy International Animation Festival and in Paris after the graduation jury for all the last year students
GOBELINS is a member of RECA, the French Animation School Network, and a member
TARGET AUDIENCE
Students (no age limit):
Bachelor or equivalent in animation and/or professional experience in the field
Excellent command of the drawing techniques related to the field of animation (dynamic and expressive sketching, perspective, graphic originality)
Skills in 2D Animation and 3D animation
Skills in at least 2 of the following fields: background design, colour, storyboarding, character design
Knowledge of traditional animation tools and software such as Photoshop, Premiere, Flash, TV Paint
Knowledge of composing with After Effects and of animation with Maya
ADMISSION
Admission process : 3 sessions
1st session:
opening of applications: 1st November 2016
applications close: 1st January 2017
admission interviews* : 17th & 18th January 2017
2nd session:
opening of applications: 1st February 2017
applications close: 20th March 2017
admission interviews* : 20th & 21st April 2017
3rd session:
opening of applications: 1st April 2017
applications close: 8th May 2017
admission interviews* : 30th & 31st May 2017
Last updated Jan 2018
About the School
French Tech, French Touch, Gobelin'sTouch. For almost 50 years, GOBELINS, l'école de l'image has been a global reference in the fields of digital communication, interactive design and entertainment. R ... Read More
French Tech, French Touch, Gobelin'sTouch. For almost 50 years, GOBELINS, l'école de l'image has been a global reference in the fields of digital communication, interactive design and entertainment. Renowned as one of the best schools in the world, GOBELINS offers courses in Photography, Animated Filmmaking, 3D Animation, Motion Design and Video Gaming. GOBELINS, l'école de l'image has developed a range of programmes and international services to cater to the needs of international students, professionals, schools, businesses, festivalsand even cultural services of embassies.
Read Less