Master in Russian Studies
Programme Description
New programme. First intake in 2019.
Russian Studies is a new Master's programme offered by the Faculty of Social Sciences that aspires to train students to work in Russia and with Russia by providing them with multifaceted theoretical and applied knowledge about today's Russia. We train you to unwrap the mysteries of Russia and resolve its riddles.
The programme is intended both for international students who wish to pursue a career requiring knowledge of Russia, and Russians who desire to understand the world of Russia and the country's role globally.
The Russian Studies programme includes basic courses in political science alongside a wide range of specialized courses on Russian politics, society, economics, and business, as well as communication with Russia and Russians. The programme's competitive advantage is its multidisciplinary approach: to comprehend Russia, one has to be versed in more than one academic field. The second advantage is its unique faculty team, which includes renowned Russian researchers and practitioners. HSE's Faculty of Social Sciences constitutes Russia's largest school of comparative politics and is a home to top experts in Russian regional politics, as well as a number of experts working with Russian government agencies in various fields of public administration.
Studying Russia in the very heart of Russia at one of the country's best universities: can you imagine a better career start?
Programme Overview
HSE's Master's Programme aspires 'Russian Studies' to train professionals with both a knowledge of the country's rich history and cultural heritage and the ability to comprehend with reason its contemporary reality, with its achievements and problems, successes and challenges.
Our programme aspires to help students coming from diverse backgrounds — Western and Oriental, and certainly Russians as well — learn to understand and analyse how Russia lives and works. We believe we have a yardstick to measure it. And together we can surely try to unwrap at least some of this country's mysteries.
Why choose 'Russian Studies' at HSE?
Study Russia in Russia's capital at the country's leading university (among the top 100 universities in 'Politics and International Studies' category, according to QS World University Rankings by Subject);
Prepare for real-life work with and in Russia with an interdisciplinary curriculum;
Cooperate with many of the leading Russian studies researchers, including opportunities to join research teams of well-known academics both in Russia and abroad;
HSE's faculty team includes renowned specialists in comparative, regional, political studies and more from around the world;
Benefit from the programme's comparative approach to research, which combines materials on Russian politics and society with interregional (e.g., Post-Soviet) and global trends.
What Can I Study?
Required Courses in Political Science:
Modern Political Science;
Methodology and Methods of Political Research.
Required Basic Courses in Russian Studies:
Explaining Contemporary Russian Politics: Institutions and Beyond;
Regions of Russia and the World in Comparative Perspective;
Russia in the Global World: International Relations and Foreign Policy of Russia;
Business and State in Russia.
Elective Courses:
Russian Population Structures;
Political Economy of Public Goods in Russia;
The culture of Modern Russian Society: Sociological Analysis;
Russian Media System;
China and Russia: Great Powers in an Era of Global Disorder;
Informal Economy and Entrepreneurship in Contemporary Russia;
Modern Russian City and Life in a Megapolis;
Demographic Development and Migration in the Post-Soviet Space;
Russian Criminal Justice System;
Russia and the Muslim World;
Gender Politics in Russia;
Parties and Elections in Russian Regions.
And also:
Intensive courses in Russian as a foreign language;
Research internships at leading Russian institutions and companies.
Last updated Feb 2020
About the School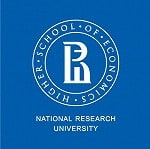 Consistently ranked as one of Russia's top three universities, the National Research University Higher School of Economics (HSE University) sets itself apart by its internationally-minded, research-dr ... Read More
Consistently ranked as one of Russia's top three universities, the National Research University Higher School of Economics (HSE University) sets itself apart by its internationally-minded, research-driven approach to higher education. Based in the vibrant centre of Moscow, with campuses in St. Petersburg, Nizhny Novgorod and Perm, HSE offers outstanding academics at all levels and includes more than 40 English-taught Master's programmes and 8 English-taught Bachelor's degree programmes.
Read Less