Master in New Media Communication and Interaction Design
Home ›
Master ›
Master in New Media Communication and Interaction Design
Programme Description
Contemporary society moves its first steps towards "artificial intelligence". This expression may sound bombastic, but the essence of the phenomenon can be synthesized in a few words: many tiring activities that today weigh mainly on human intelligence are steadily being transferred to computers, which are finally able to read the semantic meaning of raw information, creating a vast network of benefits and profits.
Modern digital environments and the "artificial" intelligence that are developed in and from them are deeply changing jobs in every sector, at every level. Many new professions are being developed in this setting, and it's not a case that most of the EU funding being placed in 2014 and onwards is going towards a "digital agenda".
IAAD Master in New Media and Interaction Design has been conceived to help fill the gaps in the current educational system regarding this very strategic sector, answering the growing demand from companies, private and public organisation for professionals with specific and diversified skills linked to the development and the new opportunities of the digital world.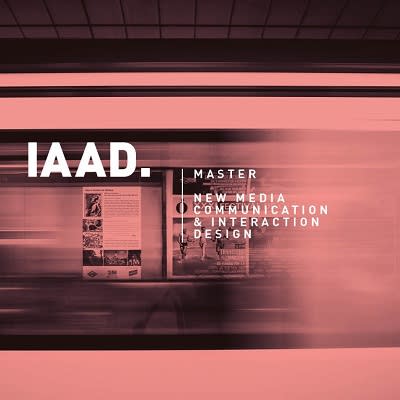 Master objectives and method.
The Master's key objective is to form professionals capable of dialoguing through digital media, who comply with "netiquette" and community participation modalities, and, above all, are able not only to realize an integrated platform or a digital marketing campaign but also to evaluate their performance and development potential.
The Master's ambition is to work as an innovation hub, a place in which aspiring communicators can be trained in a continuous interchange between theoretical, practical and experimental phases, allowing comprehension and management of all stages of new media design.
To train young professionals, IAAD recreates a professional environment in its didactic plan. One of the distinctive traits of IAAD method is the constant collaboration with sector-specific companies and firms in order to realize bound projects. Both the partner companies' business requirements and IAAD's teaching requirements converge in these projects, creating a situation that is doubly positive: aspiring designers have the opportunity to work with companies that are leaders in their sectors and companies can monitor and invest on future talent. This system also allows simulating working conditions in a professional environment: work is conducted under specific deadlines, correcting projects during their execution phase by following client feedback, through a team and objective-oriented work.
The Master Programme is structured in 3 macro areas. One is focused on specifically "creative" skills (Creativity Techniques, Art Direction in New Media Environments, Content Editing in New Media Environments, Web Platforms Design, Mobile App Design, Audiovisual Broadcasting Design, Digital PR & Social Media Networking), another on the cultural and informative background necessary to those looking to perform these new professions (Digital Economy Sociological Models, History of New Media, Digital Marketing Models, Big Data &Internet of Things), and the third one on technical skills and competences (User Interface Design, Project Development Techniques, Web Platforms Development, Mobile App Development, Edge Interactive Technologies).
A strong focus is also placed on Semantic technologies (Semantic Web, Semantic Engineering, Ontology Application Development) representing the culmination and the fulfillment of all the didactic path.
These disciplines are taught and examined in depth not only from a theoretical-conceptual point of view but also looking at their actual application in media, marketing (R&D, design, advertising), educational and entertainment.
Students will be asked not only to recognize the business aspects of the project but also to gain the marketing skills to promote themselves - essential to present and explain one's works and talents. Presentations and contests are highly rated during the Master. Students are encouraged to prepare presentations for their work and supported in participating in international and national contests.
Master module - three macro areas
Design & Development
In new media, it's very hard to separate the actual design phase (graphic design, interface design) from the application development. This is why the Master addresses these two proficiencies conjunctly, declining them by type of communication instrument: web platforms, mobile applications, and audiovisual platforms.
Digital PR
Many new professions, focused more on multimedia content than on the implantation of technical solutions, are flourishing in new media: community and social media manager, professional blogger, e-reputation manager, transmedia web editor, all line advertiser, etc. Roles and accordingly different work undertones abound. The Master allows gaining familiarity with the main skills involved: benchmarking analysis, digital metric analysis, real-time monitoring, influencers selection and hire, etc.
Semantic, Big Data & Internet of Things
Semantic technologies allow computers to read the meaning of messages and then act or react accordingly. Among others, two remarkable relapses take place: it possible to intercept and analyse huge fluxes of information, often of different origin and format, to obtain new statistical informations (big data), and connect entire network of computers to allow them to communicate and interact without the necessity of human intervention (internet of things). The master dedicates many didactic resources to these branches of knowledge.
During the academic year, IAAD will organise didactic visits to companies, exhibits, and museums, special workshops, meetings with prominent sector professionals (possible costs will be at the student's expense).
FACULTY
Professionals working in the respective academic subject sectors, who know the main players of the sector and the skills needed to be competitive in the job market, make up IAAD teaching staff. Lecturers will be instrumental in helping students improve and comprehend which aspects of one's professionalism need to be perfected to enter the job market with a lead.
Contributions of excellence
IAAD believes in the value of cultural and experiential contamination, opening the doors of the university to professionals known nationally and internationally, experts who contribute to the didactic, leading workshops, seminars, and lectures.
Students will have the unique opportunity to interact with "gurus" of the sector, who will join IAAD faculty as Visiting professors.
Requirements and admission procedure.
Preliminary module
Preliminary can be accessed by graduates and postgraduates in Computer Science, Economy, Humanities, Communication Sciences, Liberal Arts, Educational Sciences, and professionals seeking a specialization in new media.
Admission depends on the evaluation of the candidacy, which will have to be presented through a cover letter, curriculum vitae, and portfolio. IAAD reserves the right to ask the candidate when deemed necessary, an additional interview at the head office or via Skype.
Master module
Admission to Master from Preliminary depends on the positive result of the exams undertaken during Preliminary.
Access to Master is possible only with the authorization of the Coordinator based on the evaluation of academic titles, professional curriculum, and portfolio.
Admission procedure
Applications need to be submitted via e-mail or traditional mail. Applications have to contain these documents:
Curriculum Vitae
Cover letter
Portfolio
The Master Coordinator, assisted by an academic board belonging to the Communication Design department, will communicate the results of applications.
IAAD reserves the right to ask the candidate when deemed necessary, an additional interview at the head office or via Skype.
Last updated Mar 2018
About the School

According to IAAD, design is culture of the project, is a system capable of linking production with end users dealing with research and innovation to provide social value, cultural significance to goo ... Read More
According to IAAD, design is culture of the project, is a system capable of linking production with end users dealing with research and innovation to provide social value, cultural significance to goods and services: meaning, form and function are the cornerstones of a conscious design. IAAD invests in the quality of teaching and in the human and professional value of professors. The EABHES accreditation, the partnership with the French Écoles de Condé, the new premises in the future Lavazza headquarters, collaboration with institutions, organizations, associations and companies for the development of cultural projects, research, educational and work experience, the evolution of the inner structure and the creation of an international scientific committee are the surest signs of a IAAD of the present and of the near future.
Read Less