Master in Hospitality and Tourism Management (HTM)
Programme Description
Why HTM
The Master's Degree in Tourism Management continues to update and evolve. For its 13th edition, MTM has become the Master's Degree in Hospitality and Tourism Management (HTM), an English language pathway to make the most of your talent and start a brilliant career in Tourism.
The Master's degree in Hospitality and Tourism Management (HTM), with limited numbers and compulsory attendance, features
course content entirely in English,
international student mix,
teachers from top international research centres,
unique field experience to implement innovative projects,
hands-on approach with managers from foremost tourism companies,
6-month tailored internship in Italy or abroad,
87% of graduates working as tourism professionals within 3 months thanks to HTM placement support,
50% of graduates hired by their internship host company.
From 2017, the Master in Hospitality and Tourism Management (HTM) will offer the opportunity to do a second year at UCF - Rosen College in Orlando (Florida) specializing in hospitality with a Dual Degree (Master's Degree at IULM + M.Sc. at UCF – Rosen College) and, after completion, to take a step further with an internship (OPT) in the USA. Some advantages:
earn both an Italian and an American degree,
2-year full English programmes across 2 countries,
eligibility for 12 months of study-related employment in the USA after graduation,
over 80% of graduates extend their stay in the USA thanks to UCF company,
partnership network, and
80% of alumni work outside of their country of origin.
Programme
I. Introductory Module: distance learning to acquire the basics.
II. Core module: Strategic Marketing, Tourist Information Systems, Accounting, Business Finance, Human Resources Management, Competitive Strategy, Event Management, Entrepreneurship & New Project Development, Managerial Communication, Destination Marketing and Branding.
III. Specialisation Majors:
Hospitality management
Commercial managers in the tourism sector
Online Travel and digital marketing
Meetings, incentives, conferences, exhibitions (MICE) and event management
Experience design and destination management
IV. Consultancy project: a field project relevant to a real tourism company, guided by senior consultants and tourism professionals.
V. Internship: an individual project in a tourism firm flanked by both a company and an academic tutor who jointly guide and evaluate the work.
HTM covers a wide range of managerial skills and specialist expertise in all areas of tourism. Its learning mix will engage you: at a distance with virtual classes, in the classroom with academics and skilled professionals, in the companies with training on the job and in the field with hands-on projects.
From day 1, you will:
engage in a learning style based on case discussions and business games
discuss strategy issues with professionals who share their wisdom and know-how with you
work under pressure to challenging deadlines
be actively involved in experiences that closely match an authentic working environment
Projects
Projects are a prominent part of the programme. Partner companies ask you to develop a project relevant or their business. You and your group, supervised by senior consultants and your professors, carry out research, applying what you have learned, to generate proposals for implementation.
You are in the field with sponsor companies, real tasks and real goals.
Careers
HTM is committed to your goal–a future career in tourism. That's why our partner companies are involved in every step of the Master programme.
HTM supports you in designing your career in 5 fields of specialization:
Hospitality management,
Commercial managers in the tourism sector,
Online Travel and digital marketing,
Meetings, incentives, conferences, exhibitions (MICE) and event management,
Experience design and destination management.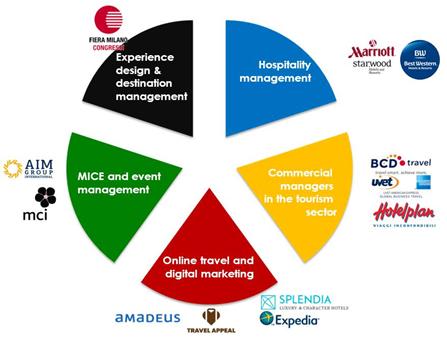 Launch your career!
Thanks to HTM Placement support, you will accelerate your career with a 6-month internship tailored to your profile and selected according to 3 criteria:
matching the experience to the skills and aptitudes of the candidate,
value of the internship as a learning experience,
possibilities of being hired after the internship.
Operating in close connection with Made in Italy, Luxury and Tourism, your internship adds value to your CV, published in a CV book sent to HTM's entire business network.
Some career facts:
over 500 companies are partners in internship & placement,
50% of HTM graduates are hired by their internship company,
87% of HTM graduates have managerial, consultancy or entrepreneurial roles in tourism,
Companies who have recruited from HTM become loyal recruiters.
Alumni connection
Alumni are the true legacy of HTM — a worldwide network of highly skilled professionals with successful careers in a wide range of tourism domains. Many of our alumni have become influencers in their own spheres and now observe the upcoming graduates of HTM as potential future colleagues.
Over 300 alumni in 38 countries,
Companies who have recruited from HTM become loyal recruiters.
Admissions
The HTM admission process takes place from June 23rd to December 31st in 3 steps:
Online application,
Selection,
Admission.
1. Online application
Go to http://servizionline.iulm.it/
Select the English flag
Click on "Register and pre-enrol"
Insert your email address
log in to http://servizionline.iulm.it/ with the username and password sent to your email
fill in all the information requested and print the application form: You can generate a provisional tax code (codice fiscale) at www.codicefiscale.com/
To complete the online application, you must send via email to master.turismo@iulm.it:
the application form, printable after having completed the online pre-enrolment registration, called dichiarazione sostitutiva di certificazione (self-certification)
the payment receipt of the application fee of 100 €
a copy of your identity card or passport
your curriculum vitae
2. Selection
Selected candidates are invited to an evaluative interview. Interviews take place at IULM University, via phone or Skype and take into consideration:
aptitude, skills and motivation
English language competence
A 6-month job experience and possession of a recent TOEFL score or equivalent qualification is an advantage.
3. Admission
If the candidate passes the selection, he/she is admitted for the enrolment in the MTM programme.
International candidates will be granted preliminary admittance pending receipt and University Board review of all required documents.
HTM Tuition fee for EU- students: 12.000 €
Application fee €100,00 (deducted from the enrolment fee)
HTM Tuition fee for NON-EU students: 14.400€
HTM Tuition fee includes:
courses,
teaching materials,
use of the IULM's classrooms and facilities,
tutoring by the HTM team,
forums and meetings organized by the HTM,
career book distributed to 500 partner companies.
Financial Aid
International scholarships
Students from Vietnam, Indonesia, Turkey, Azerbaijan, Kazakhstan, Colombia, Egypt, Ethiopia and Ghana* are eligible for "Invest your Talent in Italy" scholarships, which will entirely cover tuition fees and provide an annual grant of € 8,000.
*Country list subject to change
How?
Apply for HTM> Pass our selection HTM interviews > Run for IYT scholarship project!
Students life
Why study tourism in Milano?
To experience Italy's unique mix of design, culture, art, fashion and food while studying in a leading research centre for tourism and destination management.
University campus
At IULM campus you'll find reading/multimedia rooms, book/computer/document loans, full cafeteria, snack bar and literary café, bookshop and bank all in one place.
Living in Milano
Apartment sharing, grocery shopping, bikes, scooters, public transport and happy hours are essential parts of the student's lifestyle. Your budget? About 1,000 euros per month (estimate based on previous students' experience).
Last updated Jan 2018
About the School

The Istituto Universitario di Lingue Moderne (I.U.L.M.) was founded in 1968 by the Fondazione Scuola Superiore per Interpreti e Traduttori, under the inspiration of Senator Carlo Bo and Professor Silv ... Read More
The Istituto Universitario di Lingue Moderne (I.U.L.M.) was founded in 1968 by the Fondazione Scuola Superiore per Interpreti e Traduttori, under the inspiration of Senator Carlo Bo and Professor Silvio Baridon. From the very beginning the idea behind the project was to satisfy the demands of the labour markets based on analyses of current trends.
Read Less