Programme Description
Barreira A + D's Master in Graphic Design, Creativity and Communication is a high-performance program focused on the changing professional world in which graphic design currently operates.
The objective of the program is to provide students with the necessary tools to carry out their work within the complex current moment of design, and to educate their criteria from the broadest and most novel perspectives in order to generate professionals in constant contact with the most demanded trends. and current.
The master offers a professional and multidisciplinary path in which students will develop projects from different disciplines always with the most influential professionals in each of the subjects.
Why this master and not another
Because the main difference between this master's degree and a university degree in graphic design is that this master provides you with much more real, current, professional and above all, more attractive notions. It should be borne in mind that the main objective of a university master's degree is to compete for or opt for a doctorate course.
You will carry out real projects that will allow you to obtain a competitive portfolio to apply for the most ambitious jobs.
Because it includes a training experience in New York, where Alex Trochut's studio in Brooklyn will be visited, a workshop will be held with teachers from The New School PARSONS, and the agency Traffic Creative Artist Management will be known.
Also, a workshop will be held at the famous Vasava agency, in Barcelona.
We will put you in contact with design professionals who set the path to follow within each of the fundamental disciplines in current graphic design.
Because you will create a transversal project that will be your own digital portfolio through the projects that you have been carrying out during this master.
Because its objective is to place our students in the professional market with an exceptional position for the competencies completed throughout this ambitious program.
Because during the course students are endowed with a unique and personal professional criterion, which consolidates their knowledge, expands it and maximizes their talent and aptitudes.
There is a maximum of 20 students to guarantee personalized learning.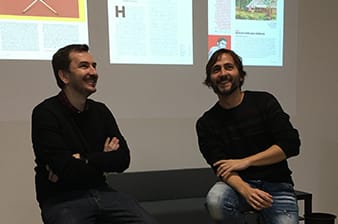 The best teachers
Enric Jardí, Diego Areso from the newspaper El País, Dani Matoses from IMPRESUM, Pepe Gimno from Gimeno Gràfic, Africa Moya from Ogilvi, VASAVA studio, Sergio González from Webedia, Alfredo Merelo from AUDAX studio, among others.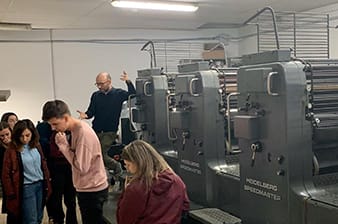 Addressed to
Design students, BBAA students, Advertising students who want to specialize in Design, graphic designers recently graduated or with some experience and who want to enhance their creativity, knowledge and portfolio in the hands of high-level professionals.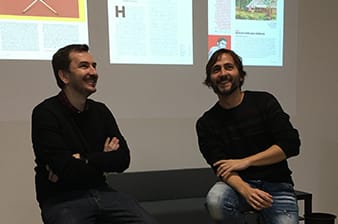 Student access and admission
Sending the application with a CV and an attached motivation letter, afterwards the obligatory interview will take place.
International training
Currently, in the labour world, having international training and experience is key to guarantee you a successful professional future.
The Master in Graphic Design, Creativity and Communication offers two training experiences in its program which include travel, accommodation and training:
New York - Workshop with teachers from Parsons The New School for Design (one of the most important university centers in design in the world), masterclass in Alex Trochut's studio and at TRAFFIC agency (6 days).
Barcelona - Workshop in Vasava (3 days).
Schedule
Friday 4pm to 8pm
Saturday 10am to 2pm
Temary
60 ECTS credits
Module 1 - Graphic Identity
Module 2 - Packaging
Module 3 - Editorial Design
Module 4 - Advertising Graphics
Module 5 - Digital Product
Module 6 - Portfolio Creation
Module 7 - Final Master's Thesis
Module 8 - External Practices
Workshop - Graphic Project Management
Workshop - Production and Printing Management
Workshop - Production Processes
Workshop - Art Direction for social networks
Workshop - Anatomy of a hashtag
Testimonials
In this block you can check the training experiences of the students of the current 2019/20 edition of the Master in Graphic Design, Creativity and Communication.
Access and financing of the master
What do I have to do to be admitted?
Step 1: Prepare CV / Portfolio and cover letter
Maximum CV of 2 sheets, maximum portfolio 10 mb, motivation letter maximum 1 sheet.
* If you do not have experience do not worry, there are many other factors to make the decision to be admitted.
Step 2: Interview with the director of the master
It is mandatory to be admitted (can be done by phone or Skype).
Step 3: Reserve your place
In case you want to secure a place in the master, we recommend making the reservation payment of € 300. If you are not admitted, the full amount of the reservation will be refunded. You can make the reservation by transfer or online payment.
Step 4: Admission
In a maximum period of 5 days we will notify you if you have been admitted to the master.
Step 5: Follow up
Our admissions team will contact you regularly to carry out the following steps regarding final enrollment in the master.
Economic options
Early bird 10% discount until June 15 (Only a limited number of places in each master can benefit from these conditions).
We have a BBVA Studies Loan * agreement through which you can finance your studies in Barreira A + D: with this system students decide when to pay back the amount borrowed. As in the Anglo-Saxon model, you will only pay when you finish your studies, when you find a job, or when you choose. We take care of managing a tailored financing for you.
* Financing conditions subject to the approval of the bank.
For active professionals the course can be subsidized by the State Foundation for Employment Training (formerly Tripartite).
Making the cash payment of the master you benefit from a 3% discount (cumulative discount).
If you are or have been a student of Barreira A + D in any official degree you will have a 15% discount .
If you are self-employed you can benefit from a 5% discount (not cumulative).
Possibility of making the payment of the master in three installments .
"Tutor" scholarship (30%) and merit scholarship (15%) (subject to the criteria of the director and the centre).
Last updated Aug 2020
About the School
Elegir estudiar en Barreira A+D es elegir entrar un ambiente diferente, diverso, creativo; un ambiente donde puedes ser quien tú quieras, porque alumnos y profesores no solo respetan la diferencia, si ... Read More
Elegir estudiar en Barreira A+D es elegir entrar un ambiente diferente, diverso, creativo; un ambiente donde puedes ser quien tú quieras, porque alumnos y profesores no solo respetan la diferencia, sino que se estimula la construcción de la personalidad, el talento y la voz propia.
Read Less