Master in Governance of Science, Technology, and Innovation (STI)
Home ›
Master ›
Master in Governance of Science, Technology, and Innovation (STI)
Programme Description
Programme Overview
The programme prepares students for careers in management and policy for science, technology and innovation, covering the full spectrum from generating knowledge to applying and using it for technology and innovation. Among the topics covered is practical technology and innovation management (including strategy making and implementation), idea generation, finance and marketing innovation. Advanced courses teach policy for science, technology and innovation, measurement and economics of innovation, regional policy and public-private partnerships for science and innovation. There is no other programme in the world that addresses these issues from this specific angle.
An emphasis is placed on interactive learning. Lectures and seminars provoke lively discussions between professors and students, providing bilateral consultation for ambitious students who share our vision. The programme seeks to educate and train self-motivated experts who are fearless when it comes to raising issues and initiating change.
Based in Moscow, the programme also offers students opportunities to take courses at HSE's international partner universities, do internships in Russia or abroad, and write a Master's thesis during their final semester of study.
This programme combines theoretical education and practical experience, and with a focus on international expertise and experience. The personal qualities and intellectual potential of the students enrolled in the programme will be enriched and developed so that they will be able to apply policy and management skills in science, technology, and innovation to work undertaken during their subsequent careers with major companies, organizations and government bodies.
Curriculum
Core courses
Core courses are mainly included in the first year of the programme. These courses are preparatory in nature and help set the ground for further specialisation. Core courses include lectures, seminars and self-study. During lectures, assignments are given to students. Seminars are topic specific, each student writes essays on a chosen topic and gives a presentation or engages in targeted project work.
Economics of Innovation
Foresight and Strategic Planning
Measurement of STI
Scientific Research Methods for STI
STI Policy
Strategies in STI Management
Elective courses
Elective courses are specific courses for a specialised education (STI management or STI policy) providing in-depth state of the art knowledge on respective challenges and problems. A student has to choose at least 6 elective courses which are necessary to meet the final degree requirements.
Business Model Innovation
Corporate Foresight
Finance of Innovation
Innovation Strategies in Fintech
Intellectual Property Management
Managing Creativity and Innovation
Marketing Innovation
Massive Open Online Courses (MOOCs)
Public-Private Partnerships for STI
Regional STI Policy
Risk Management in Innovation Projects
Social Studies of STI
University Pool Discipline
University pool discipline
During the 3rd module of the first year, students should take one discipline from the University pool they are most interested in. It is awarded 3 credits and should preferably be in English.
Massive Open Online Courses
One Massive Open Online Course (MOOC) is chosen by students every year from the list of MOOCs proposed by the programme.
Coursework
During the first year of studying students, complete course works in either an essay form or a project form.
Research seminar
During the research seminar, students are trained to work on scientific projects, academic writing, presentation skills and essay preparation in the first 2 modules. In the subsequent modules, students carry out independent research tasks and write an essay in each module. Essay writing is complemented by presentations of the essay and discussion among the students.
Master thesis
The Master Thesis is prepared during the final 2 modules (2nd year, modules 3 and 4) accompanied by practical work. The Master thesis theme will be defined according to the Master programme topics. The practical work should follow the Master thesis topic with special emphasis on solving practical problems using knowledge and competencies acquired during the programme and preparing the Master thesis. The Master thesis is awarded 24 credits.
Internship
The internship programme is designed to allow students to engage in professional relationships with ministries, agencies and corporations. The internships will be negotiated by the student with the prospective employer. NRU HSE will approve the agreements and assure that internship positions are in accordance with the Master programme curriculum and guidelines. After the practical work students prepare a report outlining the major duties and results of their internship. 15 credits will be awarded for the internship.
Highlights
Opportunities
Stipends, tuition waivers, scholarships for top students
International lecturers from University of Manchester, University of Ottawa, Seoul National University (Republic of Korea), Middle East Technical University (Turkey), George Washington University (USA), OECD and the other leading centres
Opportunity to study 1–2 modules at partner universities: Seoul National University (Republic of Korea), Middle East Technical University (Turkey), University of Bremen (Germany), Maastricht University (the Netherlands)
Double degree programmes with Maastricht University (the Netherlands) and Technische Universitaet Berlin (Germany)
Benefits for Students
The Programme pioneers Masters Education by taking account of the complexity of science, technology and innovation management and policy
It broadens students' horizon beyond science or technology or innovation towards an integrated understanding
The programme targets at equipping students with competencies which are frequently in short supply to companies and public institutions
It combines theoretical education and practical experience and includes international expertise and experience
The programme teaches students a thorough understanding of how innovations are generated in daily operations and also of how the political framework conditions are developed, set and implemented and their impact on innovation management
Requirements
Obligatory documents:
In order to be considered for the Master's programme "Governance of Science, Technology and Innovation", an applicant is required to prepare the following application package:
1. Obligatory documents:
Bachelor, Master or Specialist diploma with all attachments
Letter of motivation (up to 3000 letters)
Curriculum Vitae in English, preferably using standard CV, e.g. Europass
For double degree diploma candidates: a valid English language certificate is also required. The certificate has to be obtained during the last 2 years. TOEFL (minimum 90 points), IELTS (minimum 6.5), a Cambridge Proficiency Certificate (grade A, B, C), a Cambridge Advanced Certificate (grade A, B, C) or the similar English language certificates are accepted.
2. Advantageous (not obligatory) documents:
Overview /copies of scientific published and reviewed works, articles, contributions to research projects
Active contribution(s) to foreign language conferences/seminars, receipt of scholarships/grants
Letters of recommendation
Valid English language certificates (obtained during the last 2 years)
In addition to the application package, the successful applicants are interviewed via Skype.
Last updated Feb 2020
About the School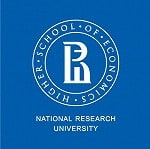 Consistently ranked as one of Russia's top three universities, the National Research University Higher School of Economics (HSE University) sets itself apart by its internationally-minded, research-dr ... Read More
Consistently ranked as one of Russia's top three universities, the National Research University Higher School of Economics (HSE University) sets itself apart by its internationally-minded, research-driven approach to higher education. Based in the vibrant centre of Moscow, with campuses in St. Petersburg, Nizhny Novgorod and Perm, HSE offers outstanding academics at all levels and includes more than 40 English-taught Master's programmes and 8 English-taught Bachelor's degree programmes.
Read Less