Master in Digital Marketing
Programme Description
Differentiating Factors
This master has a clear international approach and will enable you to work with marketing teams and markets worldwide. 100% of the program is taught in English, therefore it'll strengthen your career to grow internationally.
EPAS Certified. This is the only Master's degree in Digital Marketing with a top-quality certification with global recognition, given by EFMD EPAS. This means that the program's objectives and intended learning outcomes are one of a kind.
Double Diploma awarded upon completion. You´ll receive the Master in Digital Marketing from ESIC Business&Marketing School and the European Diploma in Digital Marketing from FEDMA- Federation of European Direct & Interactive Marketing. Both of them are recognized by the Pan-European Education and Accreditation Committee.
The MDM is a master that enhances the international reach and potential of our student's professional careers, therefore they must choose between 3 unique International Business Experiences, in either London or China.
Professional development centre. We offer support for graduates in their professional development after finishing the program of studies. This unit is responsible for giving advice, services, and related resources to help you to uplift your professional career.
Employment Rate
6 months after completing the program: 94%
1 year after completing the program: 100%
Alumni data
Functional areas of our alumni
55% Marketing
35% Communications & advertising
5% Business Development
5% Sales
Geographical areas where our alumni work
86% Spain
10% LATAM
3% Europe
1% Asia
Methodology
The methodology of the course is focussed on student learning through the combination of sufficient individual effort, proven ability, and involvement in teamwork.
Tutors, mentors, and lecturers facilitate the process of understanding and applying knowledge and the transmission of skills.
The purpose of our methodology is to create a virtuous circle of action-feedback-analysis-action in the students on our course.
Our strategy is based on the following three principles: development of critical thinking, promotion of independent learning (student-centered learning) and providing guidance and professional and academic support.
Sessions oriented to decision-making with the right balance of the theoretical and the practical.
Individual demand based on assessments, cases, and exercises.
Defense through the team-based presentation of company cases with incremental complexity.
Group-based preparation, presentation, and defence of a final project or business plan, with individual assessment.
Methodological Criteria
Theoretical Component
Practical Component
Work and Cases
Final Project
Individual Evaluations
Group Evaluations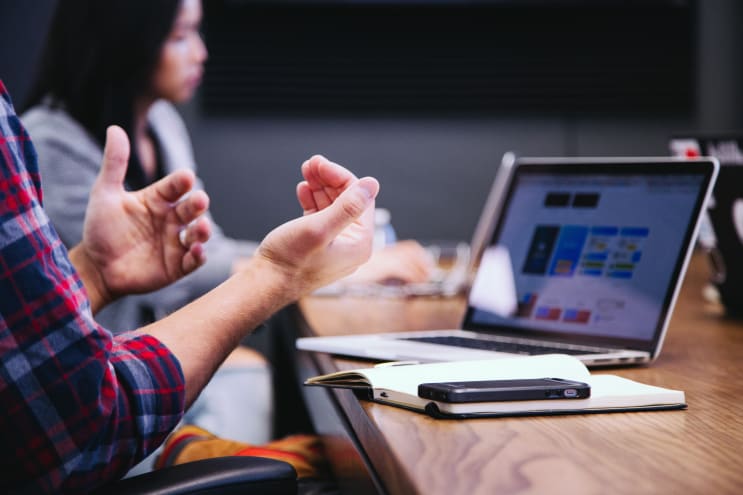 Headway / Unsplash
Academic Structure
The Master in Digital Marketing is an innovative, academically sound, practice-driven, and digital marketing-focused program, reflecting the current challenges of the marketplace. The main objective of the MDM is to help and support students to make the transition into strategic management, in the area of digital marketing in particular.
This Master aims to reinforce students' international careers with the International Business Experience. It offers 3 unique options to strengthen the participants' professional development. Students must choose one of the following to complement their training:
IBE London (Chartered Institute of Marketing)
IBE Shanghai (Shanghai University)
CIM Postgraduate Diploma
*Choosing one of the options is mandatory to complete the program.
*Options are subject to place availability and/or to change.
*Extra fees may apply.
Core Modules
Digital Marketing Strategy
Learn to design Digital Marketing plans that respond to new Customer Journey trends
Web & Mobile Marketing across environments: SEO & ASO
Master the on-page and off-page factors that will gain visibility and traffic for your website.
SEM & Lead Generation Media
Design search, display, email and affiliate campaigns in the principal platforms and searchers that will increase your conversion rate.
Global and local Social Media
Learn how to manage audiences and prepare campaigns for specific segments using the most popular social media tools.
Media Planning & Creativity
Learn to create a media planning strategy that allows you to adapt your presence and omnichannel communication.
Marketing Automation, AI & Big Data
Evolve your Inbound Marketing strategy by applying the latest tools based on Artificial Intelligence and Big Data.
E-commerce
Learn how to create an e-commerce and selling on different digital platforms
Transversal Sessions
Project presentations
Personal tutorials
Entrepreneurship
Effective presentations
Creativity Workshops
Lifelong Learning and supplementary training: Workshops and events; 100% networking
TFM
TFM

Business Plan
Marketing Plan + International Experience
Marketing Plan + Internship/Project in a company
Rankings
#27 ESIC among the 27 best international Business Schools that offer MBA - Bloomberg Business
TOP - ESIC in the top 250 MBA best business schools in the world - QS
TOP - ESIC in the top rankings of universities and business schools - U-Multirank
Last updated Apr. 2020
About the School
ESIC is a group of leading business schools in Spain, with an experience of over fifty years of training business and marketing professionals. We strive to incentivize, promote, and maintain a direct ... Read More
ESIC is a group of leading business schools in Spain, with an experience of over fifty years of training business and marketing professionals. We strive to incentivize, promote, and maintain a direct relationship with the business environment in order to provide you with practical academic training that focuses on the needs of the labor market. We offer training with values, to engage successfully as a highly qualified professional with excellent command and knowledge of the latest trends.
Read Less
Madrid ,
Barcelona ,
Valencia ,
Seville ,
Zaragoza ,
Málaga ,
A Coruña ,
Pamplona ,
Bilbao ,
Granada ,
Vigo ,
Spain Online
+ 11 More
Less