Master in Data Science for Decision Making
Home ›
MSc ›
Master in Data Science for Decision Making
Programme Description
Master's programme in Data Science for Decision Making
In today's world, there is an abundance of information, data and knowledge that can be explored and brought together, to gain a deeper understanding of underlying mechanisms in order to be able to make better decisions. Data Science for Decision Making (DSDM) is the young and modern discipline that aims to achieve just that, with the help of state-of-the-art scientific techniques and software. The master's programme in Data Science for Decision Making examines the use of applied mathematics to analyse processes, problems and operations to determine their purpose and effectiveness in order to gain the maximum level of efficiency.
The information age has generated a wide variety of applications for Data Science for Decision Making in key areas of modern society including economics, telecommunications, bio-informatics, engineering, healthcare, ICT, logistics and process industry.
Career opportunities
The master's programme in Data Science for Decision Making provides you with excellent qualifications to pursue a career in professional business, consultancy, industry, or scientific research. The Data Science for Decision Making programme is based on the Project-Centred Learning (PCL) education system.Through the programme, you acquire a thorough knowledge of state-of-the-art methods, techniques, and algorithms that are used to address all major issues in mathematical modelling and decision making. It also offers effective hands-on experience in applying this knowledge, by means of computer classes, the group research project, and the master's thesis research project. The PCL education system incorporates a number of important skills, including working in teams, interview techniques, project planning and presentation. Each of these skills will be important to future employers. The unique and modern blend of courses within this programme equips our graduates with all the required flexibility to develop a successful professional career in an area of personal interest. The comprehensive education, practical skills and international orientation of the programme will open the world to you.
Graduates of the master's programme Data Science for Decision Making have previously found doctoral and management positions at universities, research institutes, governmental institutions, and at R&D departments in the industry. Others have taken up consultancy and management positions in companies involving mathematical modelling, logistics, and the planning and scheduling of production processes. There is a growing demand for graduates of the master's programme Data Science for Decision Making from the areas of biomedical engineering and bioinformatics. When applying for positions, graduates from the master's programme in Data Science for Decision Making are often preferred because of their problem-solving attitude, their modern scientific skills, their flexibility and their ability to model and analyse complex problems from a variety of application domains.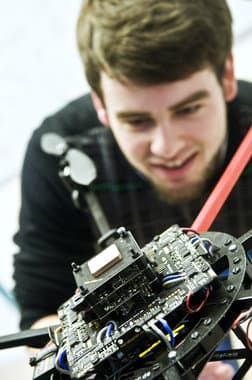 Programme information
The master's programme in Data Science for Decision Making is a two-year programme and leads to the title Master of Science (M.Sc.). Data Science for Decision Making is the discipline concerned with optimisation and decision making, using tools and models from applied mathematics.
During the first year of the programme, students participate in two research projects that incorporate knowledge gained from the followed courses.
During the first semester of the second year, the programme allows you to pursue personal interests. You can partake in an international exchange, an elective semester, do a company or a research internship. In the second semester of the second year, you will work on your master's thesis on a research topic of your personal interest, under the supervision of one of the academic staff members. You can do this master's thesis research internally or externally at a company or in collaboration with one of the partner universities of DKE.
Programme description
The master's programme in Data Science for Decision Making covers a wide range of topics in applied and theoretical areas, with emphasis on the following topics:
- optimisation of continuous functions and of problems of a combinatorial nature
- business IT concepts, production planning, scheduling and supply chain management
- modelling and decision making under randomness, for instance in queuing theory and simulation
- signal and image processing with emphasis on wavelet analysis and applications in the biomedical domain
- bio-informatics: gene and protein interaction networks, inheritance trees from DNA and data-mining for sequences in DNA
- estimation and identification of mathematical models, and fitting models to data
- dynamic game theory, non-cooperative games and strategic decision making with applications in evolutionary game theory and biology
- basics of feedback control design and optimal control, for stabilization and for tracking the desired behaviour
- symbolic computation and exact numerical computation, with attention to speed, efficiency and memory usage.
In addition, master's thesis research projects can be carried out that relate to projects offered by regional institutes and companies. The members of the scientific staff are all actively involved in the department's on-going research programme. As a result, the educational content of the courses in the master's programme in OR relates directly to the research performed.
Schedule of the programme
Year 1
Semester 1
Signal and Image processing
Optimization
Business Intelligence
Stochastic Decision Making
Research project
Semester 2
Dynamic Game Theory
Identification
Topics in Computation and Control
Advanced concepts in Bioinformatics
Research project
Year 2
Semester 1
Optional programme: (international) exchange/internship/research at the department/additional optional courses
Semester 2
Admission requirements and Application procedure
If you wish to apply for the master's programmes in Artificial Intelligence or Data Science for Decision Making, you may apply directly via the My UM portal on the University website (no Studielink registration necessary!).
Please prepare all required documents (i.e., diploma, grade list, a copy of your passport, etc.) before filling out the online application form.
Application deadlines
There are two moments throughout the year when students can begin the programme: at the start of the fall semester in September and at the start of the spring semester in February. Please be aware that the processing and approval of an application by the Board of Admissions takes time. Your application has to be fully completed and approved by the Board of Admission before the 1st of September for the fall semester and before the 1st of February for the spring semester. Therefore, we encourage you to submit your application as soon as possible and we require that you complete your online registration no later than the following deadlines:
1st of August for the fall semester;
6th of January for the spring semester.
If you missed the "online registration" deadline contact our admission office. Please note that if you have not yet obtained the diploma which confirms your eligibility, you can still apply by submitting a certified transcript. Your admission will then be under the condition that you obtain and submit a copy of the above-mentioned diploma.
Non-EU residents should be aware that applying for a visa and the evaluation of your diploma may take longer than two months. Therefore, apply as early as possible.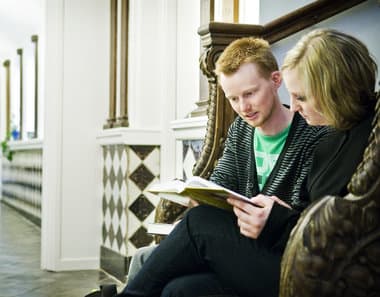 Registration
Once you have applied for one of our master's programmes online and you have been accepted by the Board of Admission of the Department of Knowledge Engineering you will receive an invoice. To complete the application process and formalize your registration as a student you need to send back your signed invoice for payment of tuition fees to the Registration Office.
Please note that to be eligible to participate in the educational programme, each student is required to finish the registration process completely. Therefore, make sure you complete the payment details as the final step of your registration before the above-mentioned deadlines.
Visit us!
Master's Open Days:
Saturday 13 October 2012
Saturday 02 March 2013
Testimonials
"Having received a Top Talent Scholarship from TUDelft and a High Potential Scholarship from UM, I had to decide which master programme and university to choose.
As much as I have enjoyed Computer Science as my background, I cannot forget how excited I got, seeing the course titles of the Artificial Intelligence master programme offered by DKE. Moreover, the reputation of the faculty for its Project-Centred Learning convinced me that this study would provide me with both the theoretic and the pragmatic skills needed for my future career.
I benefited from the dynamic classes, state-of-the-art course material, the cosy atmosphere at DKE, and finding the opportunity to accomplish my internship and thesis project at Philips Research where I have also started my career, after the offer I received from them. I am so content with the choice I made ."
Aisan Maghsoudi, Alumna
"When I reached the end of my bachelor, I wanted to extend my knowledge about the subjects seen in the courses. Thus, I decided to continue with a Master's study. Maastricht was a great choice for it because it had both an innovative and dynamic way of teaching while keeping a great quality. The Project-Centred Learning (PCL) approach made me responsible for my learning by setting milestones while leaving space for my creativity. This gave me the taste for research and is one of the reasons why I am now doing a PhD. The Department of Knowledge Engineering has a great international reputation while being human-sized. This allows for easy contacts with the teaching staff and other students as well as having great career prospects and opportunities.
Today I am not regretting my choice; the knowledge acquired over the years has given me the ability to build a strong basis for my career. The PCL has given me the skill to find the tools I need to perform a task but also to set up short and long-term goals to successfully achieve a task. Not only is it a key for a successful research project like a PhD, but also in the everyday life."
Philippe Uyttendaele, PhD student
Last updated Jan 2018
About the School

The Knowledge Engineering bachelor's and master's programmes are designed around the Project-Centred Learning (PCL) teaching method. The PCL educational model is small-scale and student-oriented. You ... Read More
The Knowledge Engineering bachelor's and master's programmes are designed around the Project-Centred Learning (PCL) teaching method. The PCL educational model is small-scale and student-oriented. You work in small groups on complex and challenging projects that require you to develop a variety of skills such as writing and presentation skills and working in a team. The skills you learn are an important preparation for your future career.
Read Less