Master in Agri-food Technology
Home ›
MSc ›
Master in Agri-food Technology
Read more about this programme on the school's website
Programme Description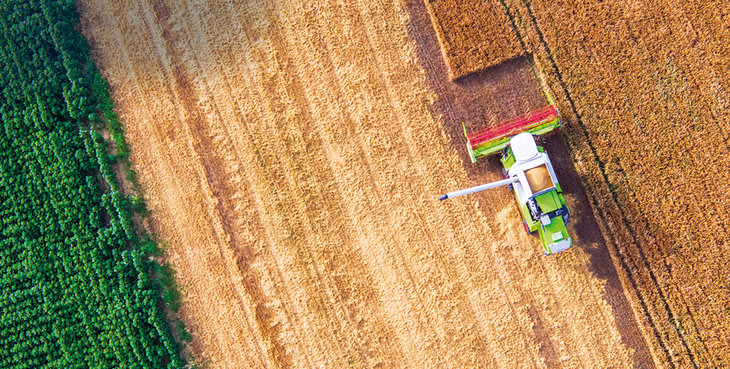 This programme aims to equip students with the advanced skills, knowledge, and expertise to undertake technical and product management roles in the globally important agri-food sector.
The agri-food sector is intrinsically linked to challenges around land and water use, climate change and health and well-being.
Students will have the opportunity to study areas such as advanced crop science, advanced food manufacturing, new product and process development, food safety & technical management, as well as commercial, operational, supply chain and agile management.
Students will also have access to industry-relevant specialist technologies and new equipment at both the University of Lincoln's food and agricultural campuses, the National Centre for Food Manufacturing at Holbeach, and at Riseholme Park.
There will be the chance to undertake a research project either in industry or academia, which provides an opportunity to apply new knowledge in a real-life setting. This will also allow students the opportunity to make invaluable contacts with potential employers prior to completing the course.
Lincoln's research in agriculture, veterinary and food science is internationally acclaimed. It is rated among the best in the UK for the quality of outputs in the latest national assessment of university research standards (REF 2014).
How You Study
This MSc is intentionally wide-ranging, in order to best prepare students for opportunities across this broad and fast-moving environment. This programme acknowledges that in order to optimize performance and best assure/control the food products in the agri-food supply chain, it is being increasingly recognized that a holistic, all-encompassing, farm-to-fork supply chain focus is required.
Programme Modules:
Introduction to Agri-Food Systems
Advanced Crop Science
Commercial and Operational Management
Supply Chain and Agile Management
Agri-Food Robotics
Food Safety & Technical Management
Advanced Food Manufacturing
New Product and Process Development
Research Project
Weekly contact hours on this programme may vary depending on the individual modules and the stage of the study. The postgraduate level study involves a significant proportion of independent study, exploring the material covered in lectures and seminars. As a general guide, for every hour in class students are expected to spend at least two-three hours in an independent study. For more detailed information please contact the programme leader.
How You Are Assessed
A variety of assessment methods are utilized during this course, including essays, examinations, oral presentations, and practicals. These assessments are designed to develop skills that will be useful for your career.
The University of Lincoln's policy on assessment feedback aims to ensure that academics will return in-course assessments to you promptly – usually within 15 working days after the submission date.
Interviews & Applicant Days
All applicants meeting the initial academic requirements for this course are required to undertake an interview with academic staff before a decision concerning the offer of a place can be made. It is expected that applicants will be able to demonstrate a keen interest in agriculture and all aspects of the farm-to-fork process.
In order to make this process available to all applicants, we utilize Skype as the preferred medium for those applicants who are not able to travel to Lincoln prior to the start of the programme.
Entry Requirements
A minimum 2:2 honours degree (or equivalent overseas qualification) in a related discipline. (eg. Biosciences, Engineering, Computer Science, Food Science, Agriculture disciplines).
We will consider applicants from non-related degrees, with relevant experience.
International Students will require the English Language at IELTS 6.0 with no less than 5.5 in each element, or equivalent. http://www.lincoln.ac.uk/englishrequirements
Modules
Advanced Crop Science (Core)
The module typically provides a review of current crop science and its contribution to large-scale food production. This might include new technologies and their part in the future of sustainable crop production. The module considers key components of crop science as individual units through to interacting complexes. Throughout the module, the importance of the microbial interrelationship with plants is considered, covering both pathogens and beneficial. Students will be expected to independently evaluate the topics critically and develop skills leading to the responsive and flexible use of crop science in the production of crops in a wide range of agronomic situations.
Advanced Food Manufacturing (Core)
This module typically covers the key fundamentals in advanced manufacturing within the food industry demanding strong operation skills coupled with an in-depth knowledge of food process unit operations, food preservation, food packaging systems, hygienic food machine design, food factory design, and food process engineering. Students are expected to gain an understanding of the basis of advanced food manufacturing unit operations and their applications in the food industry incorporating how traditional processes are still prevalent with new designs and automation. The students may also gain an understanding of new and novel food production operations.
Agri-Robotics (Core)
This module introduces students to the subject of Agri-Food Engineering and, in particular, to the role of modern automation in developing sophisticated and efficient engineering systems to meet the ever-increasing demand of this sector. After a brief introduction to industrial robotics and automation, a range of applications will be presented to investigate, analyse and propose the use of robotics to automate pre-harvesting and post-harvesting operations in the Agri-Food sector. This might include the innovative Industry 4.0 model as an overall holistic framework to evaluate the impact of the proposed applications on the 'Farm of the Future'.
Commercial and Operational Management (Core)
The agri-food industry is the UK's largest industry and offers challenging careers at all levels. Careers in Food Business Management are continuing to develop in a dynamic and consumer-focused food industry. The food supply chain extends from farmer to processor to retailer and the consumer. This module typically examines these important business links and relationships and provides career opportunities encompassing the effective management and development of these key stages in the food supply chain. This Master's degree course has been designed to ensure students possess the key skills required to operate effectively as managers in the food supply industry. New entrants to the food industry must be capable of managing change in a competitive global marketplace and participating in the professional development of staff in the industry. Career prospects may include a range of managerial posts in areas such as retailing, purchasing, distribution and logistics, along with research, consultancy and lecturing opportunities. Postgraduates might develop the skills enabling them to make strategic decisions, analyse problems, provide solutions, develop action plans and effectively manage resources.
Food Safety & Technical Management (Core)
This module typically covers the key quality assurance and technical roles within the food industry with management skills coupled with knowledge of product safety, quality, and legality with a demonstration of attention to detail alongside good communication and interpersonal skills. Students are expected to consider how to define the "Technical Standards" of a food manufacturing business, including a review of legislative requirements, necessary accreditation standards, customer expectations and incorporation of a manufacturer's own particular business requirements. Food industry enforcement bodies/government agencies and the business technical function interaction with such authorities will be considered, as will the role of product recall and crisis management systems during challenging circumstances.
Independent Agri-food Research Project (Core)
Students are able to choose a research topic from a very broad spectrum of agri-food options, primarily linked to the research focuses on the teaching staff. A wide range of industry and academic expertise exist within LIAT, NCFM and Riseholme Park, and students may be provided with an opportunity to develop the project guided by the interests of members of staff. As an individual, the student will negotiate with his/her "client", be it an academic supervisor or an external sponsor, plan the project, and present the work through meetings, reports, and oral presentation. The module allows for the opportunity to hypothesize, implement, analyse, interpret and write up a substantial piece of empirical work. Students develop research skills, such as methodological and analytic awareness and critical insight, in preparation for their own research through discussion of topics and publications in the virtual learning environment.
Introduction to Agrifood Systems (Core)
This module provides an introductory overview of sustainable food production systems from primary production to manufacturing and the supply chain. The current challenges within the agri-food environment including the impact on biodiversity, climate change, resource depletion, pesticide resistance, animal health and welfare management are considered.
The module also introduces key requirements of food manufacture technologies, food security and the evaluation of moving consumer trends. Students will be expected to evaluate the topics critically and develop the ability to analyse a wide range of issues relating to agricultural systems, food and their interdependence with wider society.
New Product & Process Development (Core)
The module content typically covers the aspects of food innovation, product, and process development and investigates the impact of new technologies for the formulation of healthy nutritional foods. The student considers critique and appraises the way in which food manufacturers develop new products to reflect customer, consumer, and other market driver demands. The module considers the new food product development areas linked to health, nutrition, sensory science and emerging technologies.
Supply Chain and Agile Management (Core)
This module explores how the key aspects of the external environment faced by agri-food companies: the market; governmental policy frameworks, impact on businesses in the sector. The module is likely to challenge students to think about agri-food companies responding proactively and effectively to external challenges with agility and pragmatism.
Features
Special Features
You will have access to industry-relevant specialist technologies and new equipment at both the University of Lincoln's food and agricultural campuses, the National Centre for Food Manufacturing (NCFM) at Holbeach, and at Riseholme Park. Travel costs between campuses will be covered by the Lincoln Institute for Agri-food Technology.
The University of Lincoln's National Centre for Food Manufacturing is committed to helping the sector innovate. We work with employers and partners towards this goal, aided by our partnership with leading equipment suppliers, and our specialist facilities, food factory and cutting-edge automation.
Students on this course will have the opportunity to study at Riseholme Park, situated just three miles north of Lincoln in a beautiful parkland campus. Riseholme is home to the University's Department of Agriculture. Life Sciences students studying courses in animal behaviour also study at our facilities at Riseholme.
The programme will host a variety of industry specialist guest speakers.
Careers
Career and Personal Development
This programme is designed to prepare you for a career in the world's biggest industry, agri-food. Agriculture companies, food manufacturers, producers, and retailers are large employers, as are government departments which develop food policy. You may advance your career in technical, marketing, distribution, plant supervision and product development. You may also choose to form your own company, with the support of the University of Lincoln Enterprise hub.
The University Careers and Employability Team offer qualified advisors who can work with you to provide tailored, individual support and careers advice during your time at the University. As a member of our alumni we also offer one-to-one support in the first year after completing your course, including access to events, vacancy information, and website resources; with access to online vacancies and virtual and website resources for the following two years.
This service can include one-to-one coaching, CV advice, and interview preparation to help you maximize your future opportunities. The service works closely with local, national and international employers, acting as a gateway to the business world.
Fees
Other Costs
For each course, you may find that there are additional costs. These may be with regard to the specific clothing, materials or equipment required. Some courses provide opportunities for you to undertake fieldwork or field trips. Where these are compulsory, the cost of travel and accommodation will be covered by the University and so is included in your fee. Where these are optional, you will normally be required to pay your own transport, accommodation, and general living costs.
With regards to textbooks, the University provides students who enrol with a comprehensive reading list and you will find that our extensive library holds either material or virtual versions of the core texts that you are required to read. However, you may prefer to purchase some of these for yourself and you will be responsible for this cost.
Tuition Fees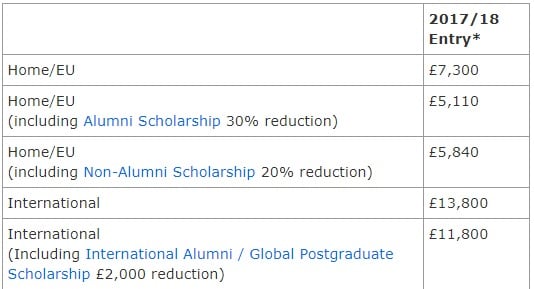 * Academic year September- July
** Subject to eligibility
Loans
A new system of postgraduate loans for Master's courses will be introduced in the UK, beginning from the 2016-17 academic year. Find out if you are eligible.
Scholarships
As a postgraduate student, you may be eligible for scholarships in addition to those shown above.
Guidance for Postgraduate Fees
To complete a standard Master's Taught programme, you must complete 180 credit points.
Full-time students will be invoiced for the programme in full upon initial enrolment.
The information contained on this page is correct as of October 24, 2017. For the most up to date course information, please visit https://www.lincoln.ac.uk/home/course/agrfdtms/
Last updated Jan 2020
About the School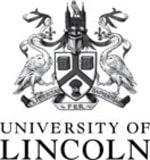 Since being opened by Queen Elizabeth II in 1996, the University of Lincoln has invested more than £300 million in its buildings and facilities.
Since being opened by Queen Elizabeth II in 1996, the University of Lincoln has invested more than £300 million in its buildings and facilities.
Read Less