Read more about this programme on the school's website
Programme Description
Your Masters in Accounting Leads to Measurable Success
The Wake Forest Master of Science in Accountancy (MSA) degree program is one of the most highly ranked programs of its kind in the nation. Our program has a proven history of teaching excellence, unmatched CPA pass rate performance, robust career services, and a strong reputation among leading firms which enables us to consistently achieve nearly 100% employment at graduation.
The MSA program is a two-semester, 30-credit hour masters degree program that begins each summer and offers structured CPA Exam prep at the conclusion of the spring semester, with graduation in May.
We also offer an optional third semester that includes the opportunity to pursue a paid internship — a major benefit of the Wake Forest MSA program. This nine-week paid position provides real-world experience during the busy season. This is great for those who enter the program without previous internship experience, or those who want to gain additional experience with a company prior to accepting a full-time offer.
Master of Science in Accountancy
Unmatched CPA Performance
Wake Forest students have earned the #1 CPA Pass Rate more than any other school in the past 20 years, and have been in the top 5 for 19 of those years.
Premier Access
A history of being a 'key' recruiting school for top accounting firms nationally.
Career Success
A dedicated career services team ensures our graduates are market-ready and achieve strong employment outcomes.
Optional Internship
An optional third semester available for students seeking a paid, nine-week public accounting internship.
Open to Any Major
30% of our graduates are non-accounting majors, half of which are from the liberal arts or sciences.
World-Class Faculty
Learn from outstanding teacher-scholars who understand what it takes to succeed in the business world.
Three Distinct Tracks
Choose from assurance services, tax consulting, and financial transaction services (exclusive to Wake Forest), based on your career interests.
Available Scholarships
The MSA program offers several types of scholarships, including endowed awards and other scholarship awards offered on a competitive basis. All scholarships will be based on information collected through the admissions application. No separate scholarship application is required.
Choose from Three Career Tracks
Assurance Services – For careers in the assurance/audit practice area. Courses include Advanced Auditing and Assurance Services; Forensic Accounting; and Negotiations.
Financial Transaction Services – Unique to Wake Forest
For careers in the financial transaction and advisory services areas. Courses include Financial Markets, Products and Transactions; Advanced Financial Management; and Business Analysis and Valuation.
Tax Consulting – For careers in the tax services practice area. Courses include Tax Research Methods; Tax Policy and Planning; and Mergers and Acquisitions.
Do More Than Get a Job. Launch a Career
98% Employment at Graduation
Students typically receive multiple job offers with competitive salaries at major regional, national and international accounting and finance firms.
Meet the Firms
During the twice-yearly "Meet the Firms" events in April and July, you'll network with leading accounting financial services firms while refining your career goals and making invaluable connections.
Paid Internships
A nine-week paid position during busy season provides real-world experience for students in our three-semester program.
Career Prep
The Center for Market Readiness & Employment offers programs and resources to help you grow in your professional development.
One-on-one career coaching
Mock interview sessions
Summer workshops and career panels
Resume review
Last updated Aug 2019
About the School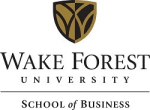 Founded in 1834, Wake Forest is a private, coeducational collegiate university based in Winston-Salem, North Carolina. One of the leading institutions of its kind, Wake Forest blends the intimacy of a ... Read More
Founded in 1834, Wake Forest is a private, coeducational collegiate university based in Winston-Salem, North Carolina. One of the leading institutions of its kind, Wake Forest blends the intimacy of a liberal arts college with the academic vitality of a research university. At the heart of Wake Forest is the teacher-scholar ideal. Professors are committed to personalized teaching and to their students' individual development. Guided by our motto Pro Humanitate (For Humanity), Wake Forest is dedicated to an ethically informed education in a climate that values personal growth, community interaction and individual honor.
Read Less