Master of interior designer architect
Home ›
Master ›
Master of interior designer architect
Programme Description
Architect Interior Designer, demonstrates creativity and boldness. He directed, renovates, restores life to a place, offers new solutions, clever, aesthetic. Combining sensitivity and technique, the space designer offer, from a precise specifications, solutions adapted to the lifestyle of a group of individuals or operation of a business in accordance with the material constraints, budget and environmental-specific space.
This vocational training is high based on creativity, professionalism, and also the acquisition of knowledge and cultural skills, sociological, semiotic, philosophical, visual (drawing, colors, volumes), graphs, infographics, conceptual, creative technical, legislative, descriptive.
The teaching is based on a principle of theoretical courses and personal work to be done by the student (of a course to another) corresponding to a precise and targeted request from teachers (research, references, reports , exhibitions visits, readings, sketches ...). The pedagogy of this training is to establish convergences and transversalities between the subjects taught, around the themes addressed in the creative workshop in interior architecture or scenography.
The great project of the second year, which will allow the validation of the diploma should be a choice between the "inner architecture" and the "scenography", or combine the two into a multifunctional project. An internship of 25 weeks of mandatory training in agency gives the student the opportunity to be in contact with the professional reality. It facilitates its future integration into working life, integration in multidisciplinary teams, studies or architecture agencies offices, interior architecture, design, fashion design agencies, creative and communication.
Formation's goal :
Mastering the methodology for developing a project: research, analysis, programming, feasibility, design, implementation, communication of the project, preparation of technical documents, normative, descriptive. Validate a double degree: a title recognized by the State Level II and an international diploma (Bac + 5).
entry requirement:
Hold a title or diploma level II (Bachelor, Bachelor) and have completed schooling of three years of higher education in the field of interior architecture or design space.
Trades:
Architect Interior Designer is a creative space within existing buildings. He conceives of planning and design projects related to household behavior, cultural and human professionals. It is involved in areas as diverse as housing, workplaces, (tertiary, commercial, industrial), places of entertainment, hospitality, ephemeral architecture (set design, events, stand), and furniture design .
Testimony of a former student of Master Designer Interior Designer:
Anne Sophie
"After a year Manaa, I joined the BTS Design Space in Autograf school. Later, as I felt good Autograf and that I could validate my Bachelor of equivalence, I continued on the Master of Interior Designer Architect. These formations have clearly taught me to better understand the space to exercise my eye and have reflexes that, in the workplace, are essential.
BTS in Design Space, professor and landscape architect Fuchs Magali taught me the basics and the crucial stages of an interior designer: look at the space and decode it, consider its location and its history .
Master a logical continuation of BTS Space Design, this specialized training builds on ideas previously acquired with more autonomy. It is more focused on the workplace and preparing to enter the workforce through partnerships between Autograf and some businesses.
During my first year Master, our two referees trainers Frédéric Dupressoir professor / architect DESA and Marie Begel, teacher, designer and colourist, have set up a collaboration between the school and the Post Autograf to achieve a "research project ". It was to "redesign" and rethink Post offices in rural areas. This experience has allowed us to confront a real demand and defend our proposals to a jury of professionals.
Today, thanks to Autograf and Pierre-Yves Graffe (architect, design studio professor and technical feasibility), that for several years now, I work in architecture and design agency FDL is located in Beijing with my trusty comrade Thomas who also followed the same course as me to Autograf. We are working on various projects throughout China bars, bookstores, 5 star hotels, shops, cinemas, apartments ... You should know that China has a work rate that differs greatly from ours. This is an accelerated rate that requires an adjustment period, support and great battery life. All the knowledge acquired at school are very important because they are constantly solicited in the workplace.
For example, the implementation phase of an APS (preliminary design) in China for a 500m2 project can be completed in 4 days: Day 1: studies and references to image searches. Day 2: conceptualization of space on Autocad. Day 3: 3D modelling space. 4th day: presentation on power point with boards of client materials. These different stages of project development are identical to those that we learn in school.
Moreover, as in any architectural firm, the oral presentation of a project is essential and almost constant. Daily, to be convinced about the reasons that led us to prefer a certain type of design over another. Now I understand why trainers have always insisted on making us work and improve our ability to express ourselves orally. That said, we play much at school and at the agency because we realize the wildest designs. The Chinese customer likes the original ideas. "
Last updated Jan 2017
About the School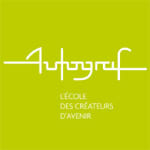 Fondée en 1982 et située au cœur du 20ème arrondissement de Paris, Autograf, école historique dans les domaines du Graphisme, du Digital, du Design d'Espace et du jeu vidéo, propose des formations val ... Read More
Fondée en 1982 et située au cœur du 20ème arrondissement de Paris, Autograf, école historique dans les domaines du Graphisme, du Digital, du Design d'Espace et du jeu vidéo, propose des formations validées par des diplômes d'état ou reconnus par l'état. Ecole à taille humaine, chaque étudiant bénéficie d'un accompagnement individualisé par les professeurs et l'équipe pédagogique.
Read Less