Programme Description
Master in Agribusiness Development
Aeres University of Applied Sciences offers a Master in Agribusiness Development for Bachelor graduates or young professionals.
International corporations in the agrifood sector increasingly need professionals qualified in change management, who can act locally and think globally. All graduates from this Master programme will have first-hand knowledge of change processes in a business context outside their own branch and will have acquired valuable insights into the differences in international business cultures and work ethics and the role they can play to deal with these issues in change processes. These people bring the science of life to the business of food.
To complete this the Master in Agribusiness Development aims at the integration of personal development, business analysis, environmental analysis, and business strategy, to successfully design and implement change processes.
ProfileThis Master is the ideal environment for you if you know that the agrifood sector is unique in its adaptability and rapid development of new concepts. To be successful here, you need to be enterprising, experienced in dealing with widely differing business environments, and sensitive to the cultures of organisations and the people who shape them. The graduate from this Master's course has excellent business insight and practice and has a proven track record of enterprising development. He or she comes with a strong network and can apply research to innovation in this sector.
You will find this graduate either self-employed or in a larger company in one of the following positions:
business analyst
business developer
manager key projects
operational manager

Mainly in an international and intercultural setting.


Qualification
After successfully completing this 12-month programme you will receive the Master degree in Agribusiness Development. This degree is a state-recognised Master of Applied Science, validated and accredited by the Dutch-Flemish Accreditation Organisation.
Phases
There are four phases in which you build a learning portfolio, and these phases are all related to a company where you work for the duration of the programme. The contribution you will make to the company is crucial, it should be stimulated in developing internationally, within the sector, in renewing its business processes, and operating sustainably.
The phases are:

1. Free mover - Exploring the Master company and reflection on improvement options, research and analysis.
2. Young potential - Elaborating improvement options, respecting the international business context of the company.
3. Manager - Proposing change and gaining support to implement intervention strategies for improvement.
4. Researcher - You will analyse and reflect on the impact of the intervention strategies and write a Master Thesis on this topic. Consequently, you will defend the Thesis at the Master company and reflect on your own learning experience.
Community of Practice
Every month you will meet at one of the Master companies to exchange experiences with colleague Master students in Communities of Practice. The Master student working for that company will present the company. Afterwards you will return to CAH Vilentum University of Applied Sciences to acquire more knowledge on concepts and the latest theoretical insights related to the tasks you have at your Master company.
The Master Company
You will conduct a large part of your education at one of our selected Master companies. These international agribusiness companies, operating at the top of the market, offer the opportunity to a Master student to conduct an independent analysis of the business. You have to explore the company on your own initiative but you will be coached by both a teacher of CAH Vilentum University of Applied Sciences and an in-company coach.
Admission criteria
• Bachelor degree in agribusiness or equivalent
• English proficiency requirements (TOEFL 577/IELTS 6.5)
• Proficiency in Statistical Analysis
• A vision of the chosen area of interest and strong motivation to be successful in the agri- and food sector
• Team spirit and a flexible attitude in an international working environment
Selection
Three positive reference letters, an online occupational personality test, a motivation letter and interview are essential elements of the selection procedure. The Boot Camp week in Iceland is the final phase of the selection procedure.
How to apply
To apply for this Master programme in Agribusiness Development, please complete our application form and make sure you attach the requested documents (motivation letter, CV, scan of most relevant diploma and list of marks).
Your costs
• Handling fee € 150 (including online assessment report)
• 5 instalments: € 4.500 in October, € 1.500 in November and January, February and March € 1.000 each
• Contribution Boot Camp in Iceland € 600
• Books and other materials € 350
Your compensation
• Guaranteed payment of the Master Company € 250 per month
• Compensation regarding travel and accommodation costs negotiable
It is important to realize that you enter the labour market at a strategic position, one year before other Master graduates.
Professional Master
The professional HBO (Higher Vocational Education) masters programme is dedicated to practical experience.This professional experience serves as a stepping stone for further development of the participant. This is mainly reflected in the form of an assessment (often papers and business cases that participants must apply to their own practical situation) and the continuous link to professional situations during the lectures.

A university masters degree is a masters programme with a scientific context in which the performing of associated scientific research is pivotal. The emphasis in this type of masters programme is on theory.This is reflected in the assessment (primarily written exams and emphasis in the thesis on the scientific foundation) and the lectures.
Last updated Feb 2018
About the School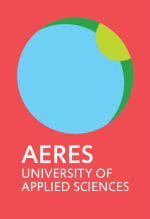 Talent to grow. That is what Aeres University of Applied Sciences stands for. Our university is rooted in the agricultural and educational higher education. We focus on education, research and sharing ... Read More
Talent to grow. That is what Aeres University of Applied Sciences stands for. Our university is rooted in the agricultural and educational higher education. We focus on education, research and sharing knowledge. This is how we contribute to the development of innovative professionals. Professionals who are capable of taking responsible decisions in a complex world, with a natural talent for acting sustainable.
Read Less