Mastère Spécialisé® Expert in Big Analytics and Metrics
Programme Description
BIG DATA: BOOST YOUR CAREER WITH MANAGEMENT AND ANALYSIS OF DIGITAL DATA!
In the era of Big Data, it is essential for companies and organizations make sense of the collected volumes of data and build support for decision-making tools.
The objective of theExpert Big Analytics and Metrics is to design, develop and pilot innovative solutions to resolve the complexity of managing and analyzing these large amounts of data. It uses computer skills, mathematics, statistics, as well as human and social sciences. The central position of the expert Big Data allows him tosupport the company in its technological change and consolidate the strategic positioning of the latter. In everyday life, graduates of this Master Spécialisé® Big Data can lead a team of data scientists responsible for enhancing corporate data, provide advisory mission Development processes or applications related to the exploration of large amounts of data, or accompany, as "data strategist" large groups, SMEs, government services and communities in control and governance of their data.
This training Bac +6 is accredited by the Conférence des Grandes Ecoles (CGE) and is intended for engineers (newly graduates or post for a few years) and business executives from all business sectors.
They trust us
"(...) The project was considered relevant and perfectly used in line with our Digital strategy focused on offering big data and Atos what makes an innovative full. Therefore, this diploma course is an opportunity to support our business ambitions and respond firstly to our needs with experts jobs Big Data or Data Scientists and also our skills development needs ( ...) our interest in this high level training focused on big data technologies and Big Analytics (...) "
They argue that Master Spécialisé®

opportunities
various functions
Director of Policy Data / chief data officer / Data Strategist
Data Scientist / Data Analyst / Expert Trend & Metrics
Big Data Project Manager / Consultant & Big Data Analytics
Data Risk Manager / Data Protection Officer
Big Data Architect / Master Data Manager
different companies
large groups
Startups and SMEs
Local authorities & public enterprises
Different sectors
All sectors generating and manipulating data, such as:
Transportation
The (cyber) security
safety
The energy networks
Media, marketing, etc.
Strong points
A profile sought by companies
Training including 65% of practical work
A faculty composed of faculty UTT and industry professionals
Programme
The training is divided into 5 blocks 70h skills each.
Each module consists of two units of value (UV), taught by lecturers and professionals. Teaching includes much practical activities: Hands (TP), case studies (E2C) and Projects.
The student will perform a 4-month internship minimum in business or public administration on a theme related to Big Data, a report and supporting a professional thesis at the end of the course.
5 conferences are organized during the program: "Big data and new professions digital", "Big data: future smart cities", "Social Media Analysis", "CRM Revolution 3.0" and "Monitoring of large networks."
block 1
General and notions about Big data

Introduction to Big data
enterprise data governance, and security strategies
block 2
actionability techniques of data

reusable data storage
Data Intelligence and Data as a Service (DaaS)
block 3
Databases and Advanced Programming

advanced database design and management: BigTable, NoSQL
Programming languages ​​and tools: R, Python, Scala, Java, MapReduce, ElasticSearch
block 4
Processing Large Data masses

Artificial intelligence in large
distributed processing
block 5
Big Analytics and Visualization Business Intelligence

Information Retrieval (Information Extraction)
dynamic display
Admission & Prerequisites level
Admission by application and personal interview Candidates must hold the following qualifications:
Diploma engineer authorized by the Engineering Title Commission (CTI list)
Degree from a qualified business school to deliver the degree of Master (CEFDG list)
3rd cycle diploma accredited by the university authorities (DEA's degree ...) or professional degree consistent with the bac + 5
M1 degree or equivalent, for listeners who have at least three years of professional experience
Standard registered RNCP level 1
foreign degree equivalent to the French diplomas required above
The results will be sent by mail and e-mail at the end of each maintenance period.
Rate
Students / Job seekers € 11,500
Employers / Companies € 17,500
Last updated Mar 2020
About the School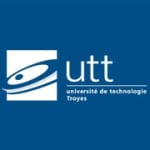 UTT's core missions are to conduct research, deliver education & training and facilitate technology transfer. UTT is a French institution of higher education established in 1994. It is today one o ... Read More
UTT's core missions are to conduct research, deliver education & training and facilitate technology transfer. UTT is a French institution of higher education established in 1994. It is today one of the largest engineering schools in France. Over 2,500 students are registered at the University, enrolled on undergraduate, postgraduate and doctoral study programs.
Read Less