Programme Description
MSc/PgDip/PgCert in Urban Design
Recent data and predictions on the forthcoming rate of urbanisation make cities the most common living environment of the future.
What kind of life will it be for the seven billion people who will live in existing or developing cities? Cities hold tremendous potential, but at the same time are sources of stress, inequalities and pollution. We're working to improve cities to better support fulfilling and diverse lifestyles.
Urban design has an important role in determining both the current and future form of cities. The responsibility for the development and management of cities is becoming increasingly shared.
This course is designed for practitioners and students to enhance their understanding of the city as a complex and dynamic system.
While your focus will be on physical planning and the design of urban spaces and buildings, the various influencing factors that affect form will also be considered.
The major topic is the European metropolis, or city region, within the context of globalisation. You'll learn to develop appropriate strategies for sustainable urban development. This will encompass social, political, economic, environmental, architectural, aesthetic and psychological aspects.
You'll study
Your course is delivered through studio work, lectures, seminars and a research project.
The studio involves work on the design of a complex urban area. This includes the levels of the entire city, the neighbourhood and the individual public space defined by urban architecture.
The course is strongly linked to the Urban Design Studies Unit's research agenda. All that is taught in both classes and studio is based on our excellent research record and helps advance it.
The department is on a partnership board with the Department of Urban Studies at Glasgow University. Its renowned teachers and researchers contribute a real estate and policy and practice overview of the course.
Classes
The combination of taught elements and studio design elements constitute the PgDip part of the course.
Urban Design History
Urban Theory
Development Process & Urban Design Policy & Practice
Urban Transport Planning
Urban Landscape Design
Urban Design Representation
Sustainability
Studio
Dissertation
Learning & teaching
Courses are taught through lectures, seminars and studio work as well as a piece of research (MSc students only).
Lectures and seminars are delivered through a variety of modes including short intensive sessions to allow for flexible booking by CPD and part-time students. There are also occasional site visits.
The taught element of the course starts from a solid grounding in urban design history and theory. It then concentrates on current urban challenges, from climate change to the pressures for development in both developed and developing countries. It culminates with the research work carried out in the Urban Design Studies Unit and teaches you the unit's ethos and approach to urbanism.
Entry requirements
An Honours degree, or equivalent, in a discipline related to the built environment and the city (e.g. architecture, planning, engineering, landscape architecture, sociology, history). Candidates with alternative professional experience may also be considered.
The course is open to students with various backgrounds related to the built and natural environment. If you come from design-based disciplines (ie. Architecture, landscape architecture), please submit a portfolio of design work, to illustrate the range of scales and variety of projects you've been involved in, as well as your graphic skills.
If you come from a non-design based discipline, please explain in your Statement of Purpose where your interest in urbanism comes from, and try and give us an overview of your knowledge in the area. We would be delighted to review a portfolio, if you have one, of any work you might have collected relevant to the subject of the course.
English Language Requirement
IELTs 6.5 or equivalent
Last updated Mar 2018
About the School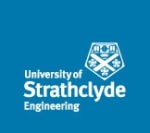 Our Faculty of Engineering is the biggest in Scotland. We're also one of the largest, best equipped engineering faculties in the UK.
Our Faculty of Engineering is the biggest in Scotland. We're also one of the largest, best equipped engineering faculties in the UK.
Read Less