Read more about this programme on the school's website
Programme Description
Our MSc will give you an in-depth knowledge of marketing from both an academic and practitioner's perspective, enabling you to address marketing challenges in critical and creative ways. The programme is designed to help those from general business or management-related disciplines develop into innovative marketing professionals who can drive strategic decisions in the creation of successful products and services.
Programme overview
Our MSc in Marketing will give you a theoretical understanding of consumer behaviour, marketing research methods and marketing management, as well as the competence and creativity to apply this knowledge in real-life marketing situations. The programme will also provide you with ample opportunity to build key management skills such as communication and independent action, through group work and individual presentations. The MSc incorporates current and emerging trends in marketing theory and practice to give you the research-led knowledge and skills that are required by companies and employers.
Programme structure
The first term (Sep-Dec) of the programme will consist of a comprehensive welcome week followed by four core courses. In the second term (Jan-May) you will have the opportunity to choose four option courses that will enable you to tailor your studies towards your chosen career path. The final dissertation is written over the summer term (Jun-Aug) and is overseen by an academic supervisor. As a whole, our programme is structured with a career focus, allowing students to study aspects of marketing related to their interests and intended profession.
Industry links
Our MSc attracts a broad range of marketing practitioners and academics from around the world, allowing you to benefit from their expertise throughout your studies. Previous guest speakers have included the Vice-Chairman of Ogilvy & Mather UK, the Marketing Director of Mackie's and the Digital Strategy Manager of TescoBank. In addition to guest speakers embedded into individual courses, students can also partake in programme-wide workshops and site visits which are organised to allow further engagement with practitioners and to facilitate networking with industry experts.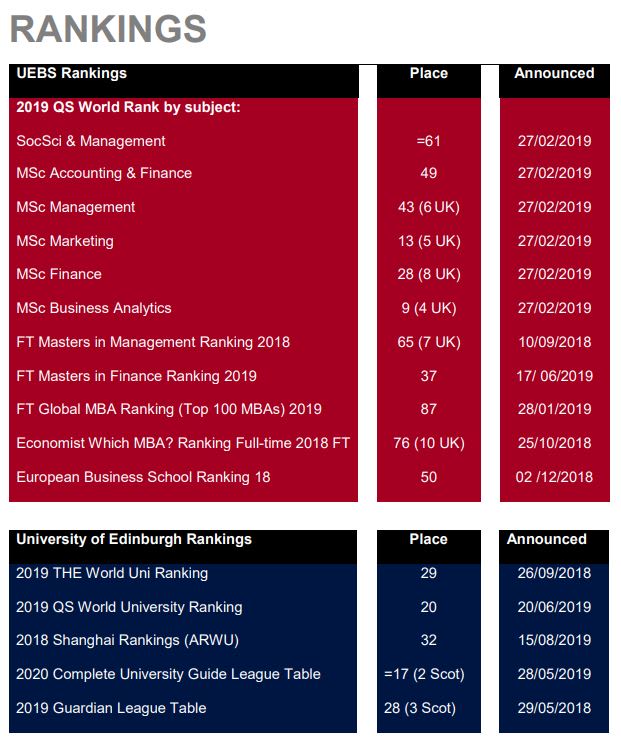 Career opportunities
Our MSc will prepare you for a wide range of business and agency positions across marketing, branding, digital strategy and public relations. Our graduates typically take up roles as varied as marketing manager, advertising director, brand manager, communications coordinator and marketing data analyst. The MSc programme is highly regarded by leading employers who regularly seek to recruit our graduates. Previous students have secured positions with firms including Boston Consultancy Group, Google and Skyscanner.
Learning outcomes
Aimed at graduates from a general business or management-related discipline, the programme aims to produce critical, reflective marketers and emphasises the integration of theory and practice with the skills and knowledge required by employers. This programme aims to provide students with:
A critical appreciation of marketing from both academic and practitioner perspectives
An in-depth and balanced understanding of the theoretical foundations of marketing alongside current and emerging practitioner applications in the applications in marketing management, the analysis of marketing decisions, consumer behaviour and marketing research methods
The competence and creativity to address marketing and issues through flexible, adaptable and innovative approaches
An understanding of how to undertake qualitative and quantitative research and apply this knowledge in the context of a major study such as a dissertation
An opportunity to interact and study with a range of students and to practice multiple management skills, including communication, independent action and teamwork
An opportunity to develop transferable intellectual and study skills which will encourage a positive attitude to continuing personal development and lifelong learning
Entry requirements
Entrance to our MSc programmes is strongly competitive. You can increase your chances of a successful application by exceeding the minimum programme requirements. Academic requirements You will need a UK first-class or 2:1 honours degree from a good university in one of the subjects below, or an equivalent overseas qualification. Academic background
An undergraduate degree in a business or management related subject is normally required.
Candidates with degrees in social sciences, communications, public relations and media or arts-related fields will also be considered.
Those with a very good Honours degree in other disciplinary areas will be considered provided that they have studied a degree with some marketing related content.
Applications from mature students with significant marketing management experience or acceptable professional qualifications will be considered on an individual basis.
Supporting your application Relevant work experience is not required but may increase your chances of acceptance. Preference will be given to those with grades above the minimum requirements due to strong competition for places on this programme. Applications from current undergraduates Final year undergraduate students are welcome to apply, so long as your studies will be completed prior to the MSc programme commencement date.
Last updated Aug 2019
About the School
At the heart of a university with a 400 year heritage that is consistently rated one of the world's best, and centrally located in one of Europe's most stunning business and cultural capitals the Univ ... Read More
At the heart of a university with a 400 year heritage that is consistently rated one of the world's best, and centrally located in one of Europe's most stunning business and cultural capitals the University of Edinburgh Business School offers an experience that few can rival.
Read Less